DEFENSE
/
Military to showcase attack drone, jet simulator at biennial defense show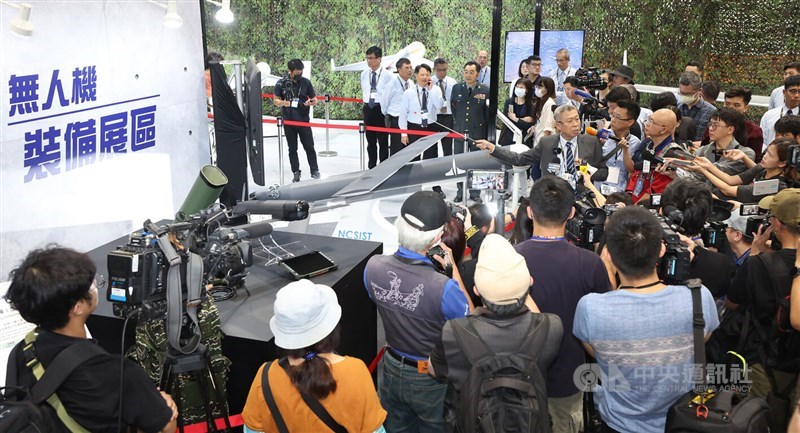 Taipei, Sept. 13 (CNA) Over 50 advanced weapon systems, including a new attack drone, a domestically developed jet trainer simulator, and an exoskeleton suit, will be showcased at the 2023 Taipei Aerospace & Defense Technology Expo (TADTE), a top military official said Wednesday.
At a press event, Major General Lee Chien-ching (李健青) said the Ministry of National Defense's (MND) pavilion at this year's TADTE, which takes place from Thursday to Saturday, would be divided into five major areas featuring 54 items covering joint combat equipment, dual-use technology, unmanned aerial vehicles (UAV) and simulators.
According to Lee, the pavilion will feature contributions from the Army, Navy and Air Force as well as the defense ministry's Armament Bureau and the National Chung-Shan Institute of Science and Technology (NCSIST).
The main purpose of the MND's pavilion at TADTE is to showcase the armed forces' combat readiness as well as reinforce self-defense awareness among people in Taiwan and boost their confidence in the nation's military, Lee said.
According to the MND, some of the latest defense technology that will be on display during the three-day event include NCSIST-developed Loitering Unmanned Aircraft Type II, a multitube launch attack UAV capable of precise beyond-visual-range strike to fix and mobile targets.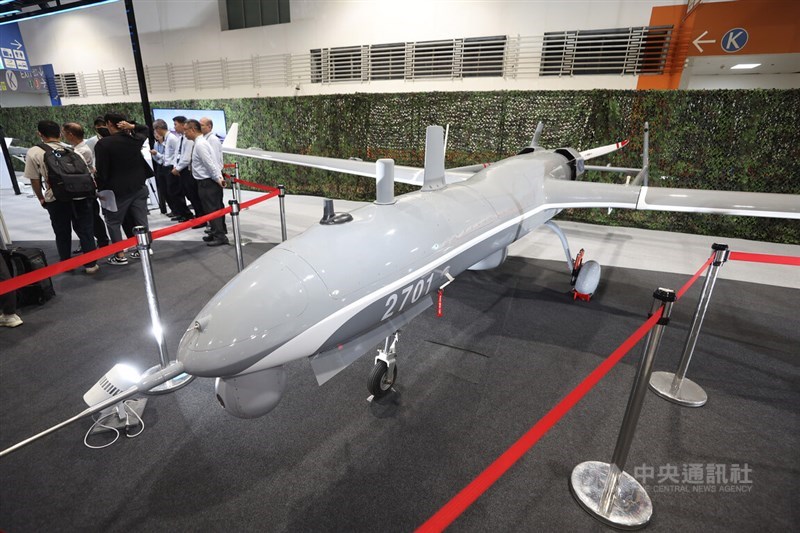 Aside from the small-scale Loitering Unmanned Aircraft Type II, the large-scale indigenous Teng-Yun UAV, which has an endurance of over 20 hours and a maximum range of 1,100 kilometers, is also among the one dozen drones that will be on display in the UAV area, the MND said.
The MND added that a simulator for Taiwan's domestically made Advanced Jet Trainer (AJT) would also be on display for the first time, although visitors will not be allowed to try the simulator for security reasons.
Dubbed the "Brave Eagle," the AJT program, launched in 2017, is part of efforts taken by President Tsai Ing-wen's (蔡英文) administration to domestically design and produce warplanes, warships, and submarines since taking office in 2016.
The first prototype of the new ATJ, with the serial number 11001/08-9001, flew for the first time in June 2020.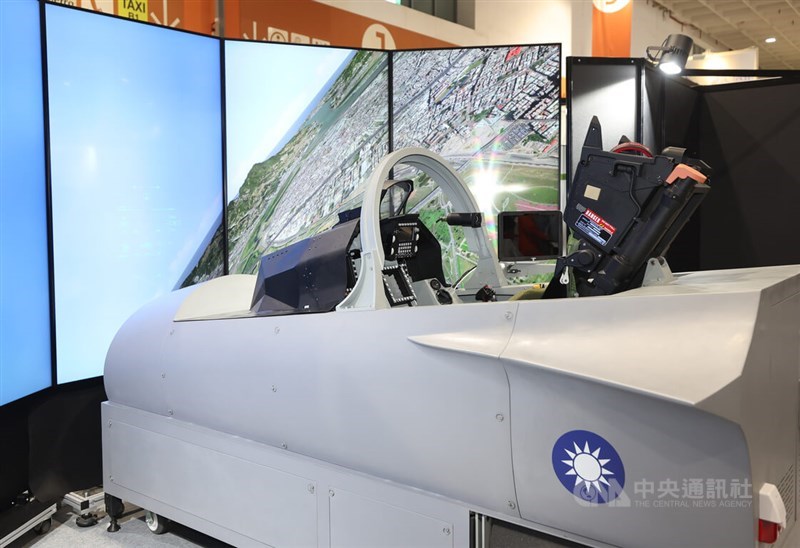 Taiwan's main domestic aircraft developer, Aerospace Industrial Development Corporation (AIDC), is scheduled to deliver 66 advanced trainer aircraft to the Air Force by 2026.
The ATJ will replace both the aging AT-3 trainer and F-5 fighter jets that have been in use for Taiwan's Air Force for decades.
Another two highlights of the MND's pavilion are a new assault rifle, the XT112, and a locally-made powered exoskeleton suit, a mechanized wearable system for use in wartime or post-disaster rescue and relief missions.
Meanwhile, models for Taiwan Air Force's fighter jets, domestically made missiles, armored vehicles and military vessels will also be on display during the show.
According to the event organizers, this year's TADTE at the Taipei Nangang Exhibition Center Hall 1 will be the largest show ever, with nearly 280 exhibitors and 970 booths.
The American Institute in Taiwan, which functions as Washington's de facto embassy in lieu of diplomatic relations, and the Czech-Taiwan Business Chamber have, respectively, also organized a USA Pavilion and Czech Pavilion for the three-day show, TADTE organizers said.
The last time TADTE was held was in 2019. The 2021 edition was canceled due to the COVID-19 pandemic.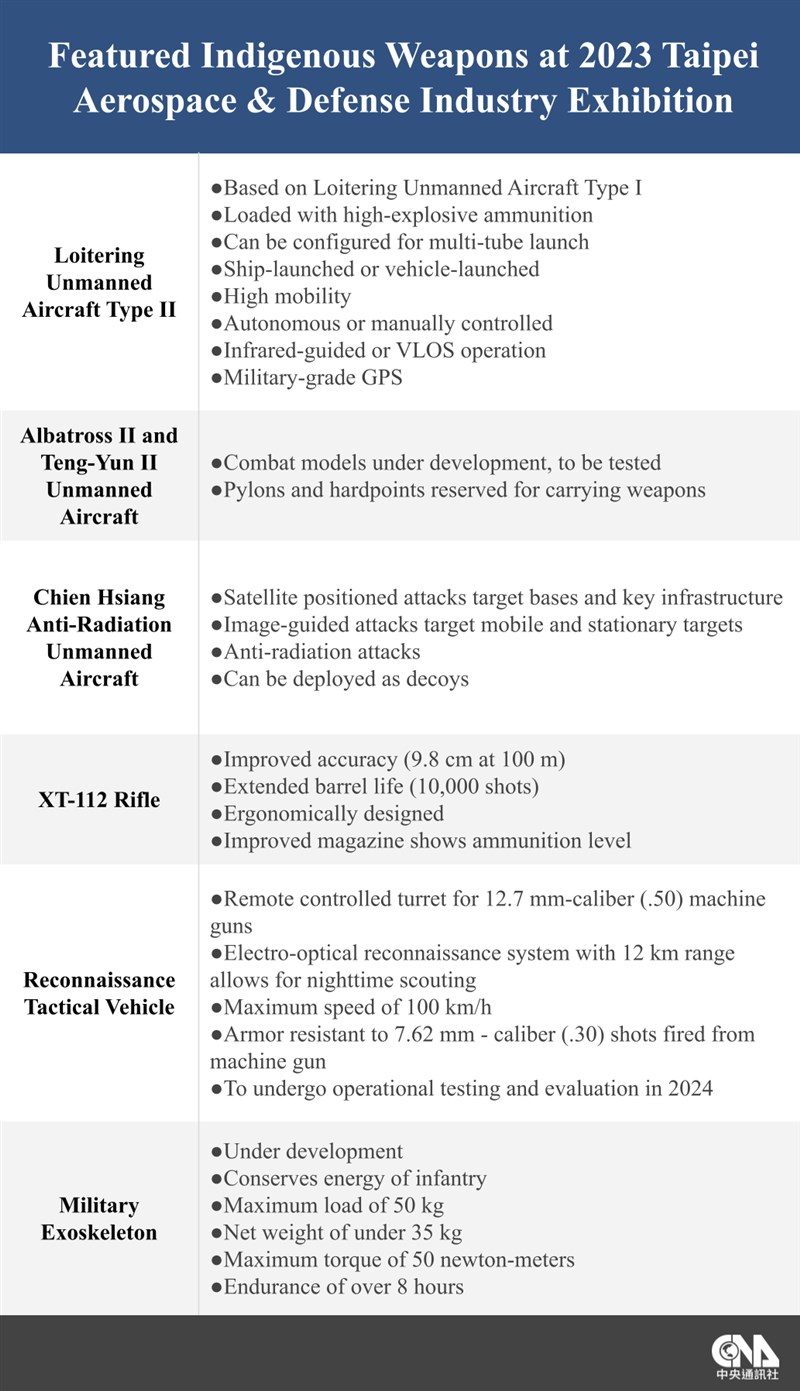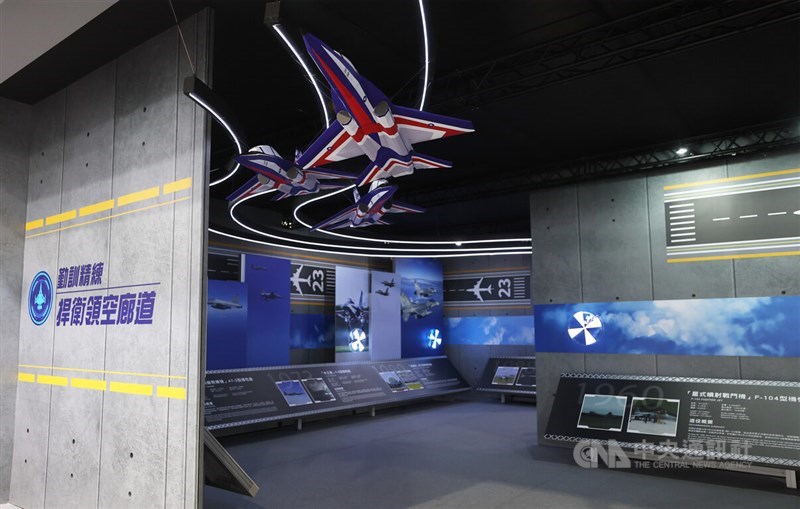 View All