ELECTION 2024
/
AIT chair looking forward to meeting presidential candidates in Taiwan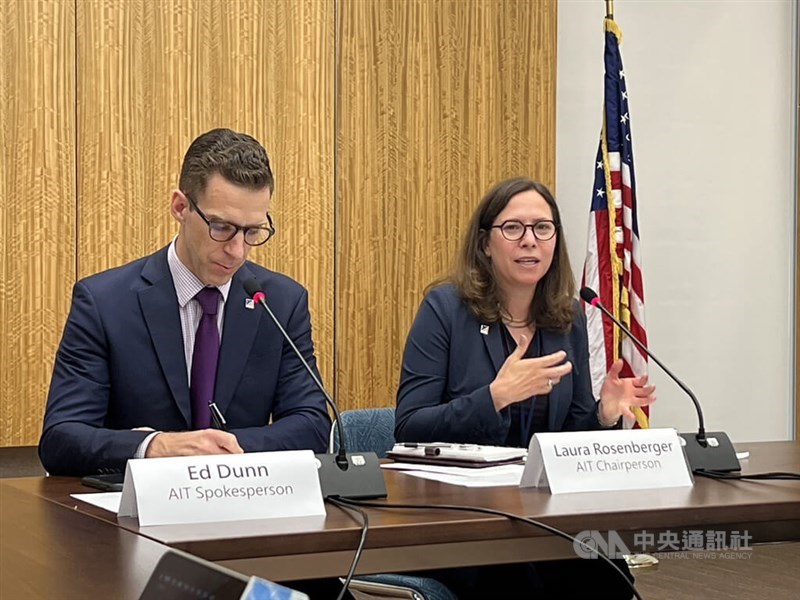 Taipei, June 5 (CNA) The chair of the de facto U.S. embassy to Taiwan says she is looking forward to meeting with presidential candidates during her trip to the country, while also reiterating Washington's pledge that it will cooperate with whichever leaders Taiwanese voters elect in 2024.
American Institute in Taiwan (AIT) Chair Laura Rosenberger, who is making her second visit to Taiwan since assuming the post on March 20, said Monday that during her last visit in April she had the chance to "engage with leaders from across Taiwan's political spectrum."
"And I'm looking forward to doing more of that this week, including spending time with each of the declared presidential candidates," she told reporters in Taipei.
Rosenberger praised Taiwan as a beacon of democracy in the region and said Washington had full confidence in the country's "free and fair elections, democratic system and electoral process."
She reiterated the U.S. stance that it supports Taiwan and looks forward to "working with whichever leaders Taiwanese voters elect in 2024."
"The United States will not take sides and we oppose outside interference or influence in Taiwan's elections," she added.
ANALYSIS / As presidential race kicks off, China policy takes center stage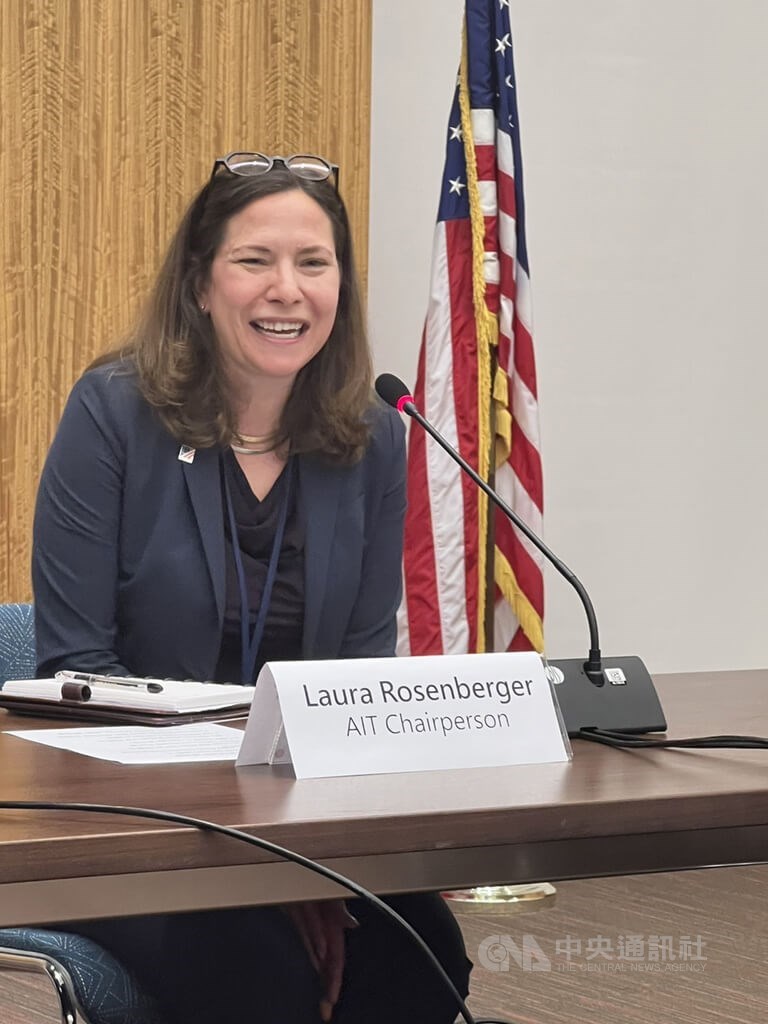 Taiwan's next presidential election is scheduled for Jan. 13, 2024. The race kicked off after the main opposition Kuomintang officially selected New Taipei Mayor Hou Yu-ih (侯友宜) as its candidate on May 17.
The 65-year-old mayor is up against sitting Vice President Lai Ching-te (賴清德), the ruling Democratic Progressive Party nominee, and former Taipei Mayor Ko Wen-je (柯文哲) of the Taiwan People's Party in a race in which issues concerning China are likely to play a central role.
Meanwhile, when asked about the purpose of an ongoing visit of a senior U.S. State Department official to China, Rosenberger said it forms part of U.S. efforts to "responsibly manage competition and the relationship with China."
The United States believes that open lines of communication are important in order to manage competition responsibly, to ensure it does not veer into conflict, and to find ways to address not only issues of bilateral and global concern, but also where possible to identify new ways for the U.S. and PRC (People's Republic of China) to work together on global challenges, she said.
Rosenberger was referring to Assistant Secretary of State for East Asian and Pacific Affairs Daniel Kritenbrink's visit to China and New Zealand from June 4-10.
He is joined by the White House National Security Council's senior director for China and Taiwan affairs, according to the State Department.
Kritenbrink will discuss "key issues in the bilateral relationship" during his visit to China, the State Department said in a statement Saturday.
Rosenberger is visiting Taiwan from Monday through Saturday, and will meet with senior government officials, according to Taiwan's Ministry of Foreign Affairs.
Rosenberger, an expert in U.S. foreign affairs and national security who has also worked in the White House and the Department of State, most recently served as senior national security director for China and Taiwan in the Biden administration before becoming the chair of AIT.
AIT represents U.S. interests in Taiwan in the absence of official diplomatic ties. It is headquartered in Virginia but has a main office in Taipei and a branch office in Kaohsiung. Its Taipei director serves as the top U.S. envoy to Taiwan while its chair serves more of a ceremonial role.
However, a Reuters report published in March, citing four people familiar with the Biden administration's thinking, predicted that Rosenberger would take a more "hands-on approach" to building unofficial ties with Taiwan than her immediate two predecessors.
A major focus of her job, the report said, will be to maintain communication channels with candidates in Taiwan's presidential election in early 2024, a potentially fraught moment between Taipei and Beijing.
Related News
ANALYSIS / China fears 'internationalization' of Taiwan issue: Experts
June 4: TPP presidential candidate Ko Wen-je departs for visit to Japan
June 3: Lai urges voters to vote against China; Hou calls for cross-strait peace
View All