COST OF LIVING
/
Post-COVID spending bill clears Legislature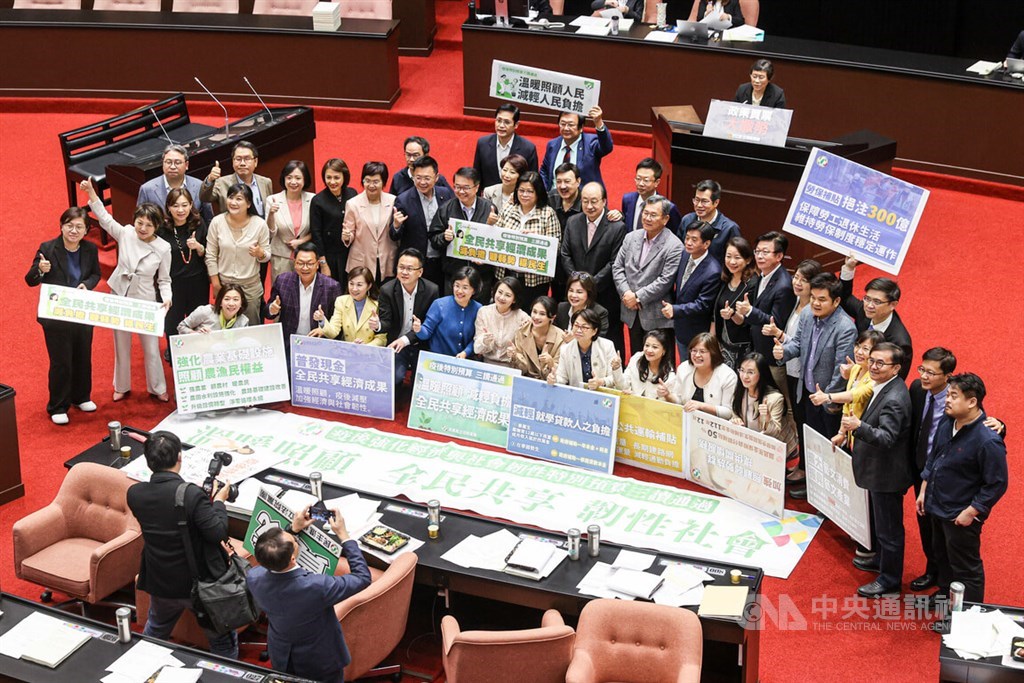 Taipei, March 24 (CNA) A spending plan calling for the disbursal of NT$379.9 billion (US$12.5 billion) from a surplus in projected tax revenues that the government said would boost Taiwan's economy cleared the Legislature on Friday.
The bill, which included a cash handout of NT$6,000 to Taiwanese citizens and eligible foreign nationals, was approved by lawmakers across party lines after they agreed to a funding cut of NT$120 million, or 3.29 percent, from the proposed NT$380 billion.
According to the bill, which was proposed by the Cabinet in late February, the budgeted tax surplus from fiscal 2022 will be used from 2023 to 2025 to cover debts run up by state-run companies and programs and provide incentives to help boost the economy.
A total of NT$141.7 billion was budgeted for the NT$6,000 cash handout that foreign nationals with permanent residency and resident spouses of Taiwanese nationals will be eligible to receive.
Foreign nationals who work and pay taxes in Taiwan but do not have permanent residency are not eligible for the program.
March 20: Taiwan announces dates for NT$6,000 cash payment registration
Other allocations include NT$30 billion to the Labor Insurance fund, NT$20 billion to the National Health Insurance fund, and NT$50 billion to state-run Taiwan Power Co. (Taipower), which have all been operating at a loss.
In addition, the Ministry of Economic Affairs (MOEA) will receive NT$31.7 billion to help fund its subsidies to small and medium-sized enterprises (SMEs) and the manufacturing sector, according to the bill.
Another NT$10.3 billion will go to the Ministry of Health and Welfare (MOHW) to be used for financial assistance to low-income and lower-middle income households, people with disabilities and other disadvantaged groups, including to help them pay their premiums.
The Ministry of Transportation and Communications (MOTC) will receive NT$27.4 billion to subsidize public transportation fares and to provide incentives for foreign tourists to visit Taiwan.
Except for NT$1.3 billion that will be held in reserve, the remaining tax surplus revenues will go to the education, culture and interior ministries for various subsidies and programs.
On Friday, dozens of proposals seeking to make changes to the bill were rejected after being put to vote, including a proposal by the Kuomintang (KMT) to raise the cash handout to NT$10,000.
Speaking after the bill's passage, KMT legislative caucus whip Tseng Ming-chung (曾銘宗) said he hoped the cash handouts would be of some help to Taiwanese citizens, even though his party's bid to increase the amount eventually failed.
Tseng, however, criticized the planned allocation of NT$50 billion of the tax surplus to Taipower, saying the state-run power company's financial problems were caused by the government's "wrong energy policy."
Taipower has denied similar claims and blamed "soaring international fuel prices" for its losses.
The company recorded losses of NT$267.5 billion in 2022 and NT$32.1 billion, before tax, in January, an increase of NT$5.9 billion over the same month last year.
Though the soaring cost of natural gas and other fuels was at the root of the losses, Taipower was not able to pass on the higher costs to power users as the government tried to keep a lid on inflation.
The government has also moved to use natural gas more aggressively in Taiwan's overall power mix as it phases out nuclear power and reduces the use of coal-fired electricity because of emissions concerns, leaving Taiwan more vulnerable to increases in the fuel's price.
Despite the government's reluctance to raise electricity prices, it finally agreed on March 17 to do so to "reflect costs."
According to Taipower's plan, households and small businesses will see an average electricity price increase of 2.6 percent starting April 1, while industries will be affected by a more marked increase of 14.2 percent.
Meanwhile, Premier Chen Chien-jen (陳建仁) thanked lawmakers shortly after the bill was put through and said the government would do its best to get the cash payments to Taiwanese and eligible foreign nationals "as soon as possible."
Online registration for the cash handouts opened on Wednesday. According to the Ministry of Digital Affairs, people who complete registration prior to March 27 will receive their payment as early as April 6.
View All