Tsai administration to begin preparations for Cabinet reshuffle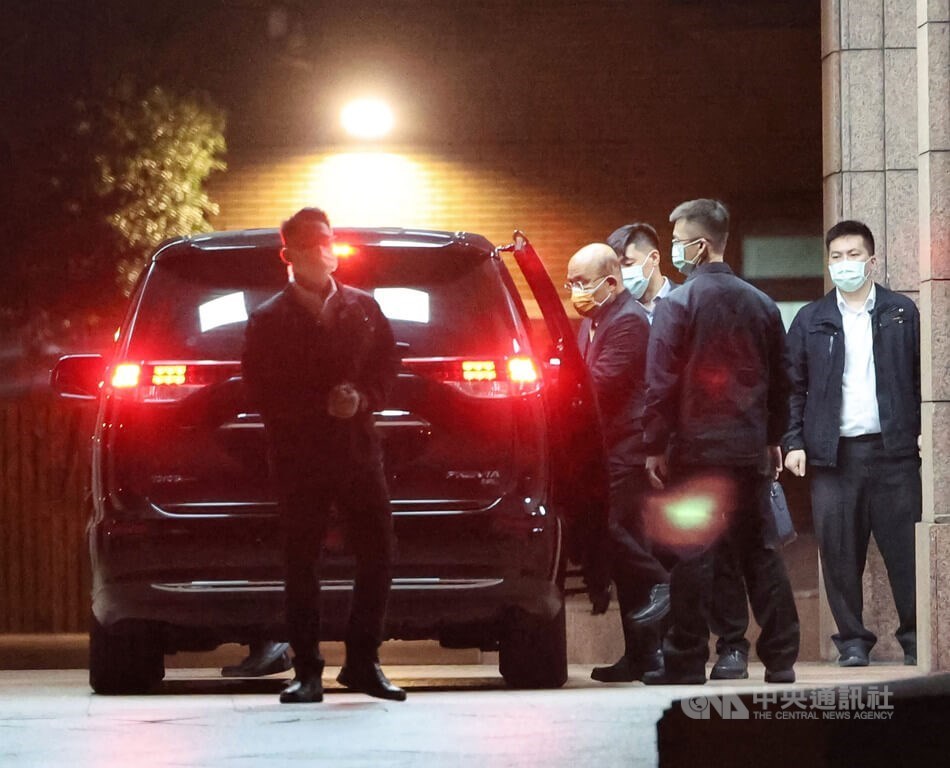 (Story updated at 10:56 p.m. with President Tsai Ing-wen's comments)
Taipei, Jan. 19 (CNA) President Tsai Ing-wen (蔡英文) will begin preparations for a Cabinet reshuffle during the Lunar New Year holiday starting Friday, her spokesperson said Thursday evening, about an hour after Premier Su Tseng-chang (蘇貞昌) announced his resignation.
A new Cabinet is expected to assume post shortly after the holiday ends on Jan. 29, Presidential Office spokesman Xavier Chang (張惇涵) said in a press statement, adding that the government would report to the public as soon as replacements for the current Cabinet are confirmed.
"The new Cabinet will be put in place in the shortest possible time after the Lunar New Year," so that state affairs can be carried out seamlessly and smoothly, Tsai said later that day in a Facebook post, in which she praised Su's commitment and willpower during his tenure as premier.
The announcement by the Presidential Office ended weeks of speculation about a possible reshuffle in the wake of a dismal performance by the ruling Democratic Progressive Party (DPP) in the local government elections on Nov. 26, 2022.
It came shortly after Su said via social media that he had tendered his resignation to Tsai as head of Taiwan's executive branch and called for a Cabinet reshuffle as soon as possible.
According to Su, his earlier offer to step down as premier following last November's elections was turned down by Tsai, who resigned as the DPP's chairperson shortly after the elections results were known.
Su said he had decided to stay on as premier until the central government's general budget plan for fiscal 2023 proposed by the Cabinet was approved by the Legislature. The NT$2.689 trillion (US$88.59 billion) budget plan cleared the Legislature earlier on Thursday following a 1.1 percent funding cut.
Cabinet spokesman Lo Ping-cheng (羅秉成) later said in a statement that Su and his Cabinet would resign en masse soon after Tsai names a new premier.
In the Presidential Office statement, Chang said Tsai expressed her gratitude to Su for his leadership since being appointed premier in January 2019.
Su has been "a key force for national stability" during times of great difficulty such as the COVID-19 pandemic, historic droughts, and the volatile global economy, Chang cited Tsai as saying.
In his social media post, Su, the longest-serving premier since direct presidential elections began in Taiwan in 1996, said it was his "greatest honor" to have "worked for the country and served its people."
He mentioned some of the Cabinet's achievements over the past four years, in particular the swift approval of a plan to allocate a tax surplus for various uses, including a rebate of NT$6,000 to Taiwanese and eligible foreign nationals living in Taiwan.
The plan awaits legislative approval.
The premier, without elaborating, acknowledged that there were still things he wished he could have done better or had more time to do, while thanking people who supported and encouraged him.
Su, 75, previously served as premier under former President Chen Shui-bian (陳水扁) from January 2006 to May 2007.
At the moment, it remains unclear which officials will leave the Cabinet after the planned reshuffle.
Currently, two ministerial posts are vacant, namely the interior and finance ministers.
Former Interior Minister Hsu Kuo-yung (徐國勇) resigned on Dec. 5, 2022 for health reasons, with Finance Minister Su Jain-rong (蘇建榮) stepping down about three weeks later to return to his teaching job at National Taipei University.
According to Taiwan's law, the premier is appointed by the president, with the rest of the Cabinet officials, including vice premier and heads of different ministries, appointed by the president at the recommendation of the premier.