President Tsai offers to help China curb COVID surge in New Year address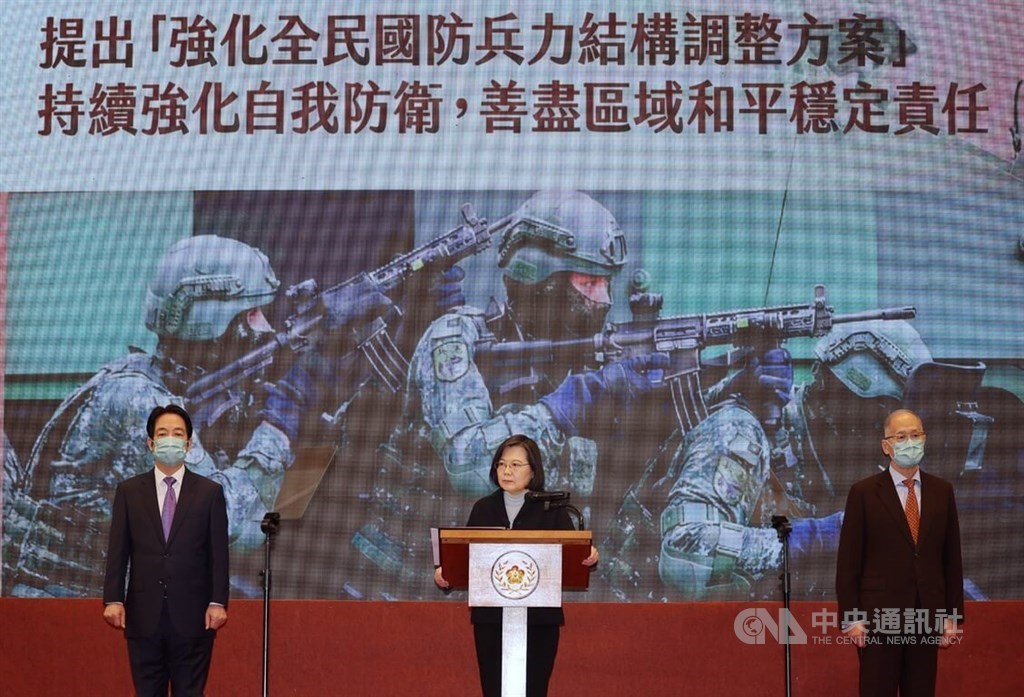 Taipei, Jan. 1 (CNA) President Tsai Ing-wen (蔡英文) in her New Year Address on Sunday offered Taiwan's help to China in dealing with a recent surge in COVID-19 infections if Beijing requests assistance, so that more Chinese people can enjoy a healthy and safe 2023.
"Based on humanitarian concerns, we would like to offer all necessary assistance if needed," she said.
Tsai did not say if China has made such a request so far.
Due to the surge in COVID-19 cases, many countries have imposed stricter pandemic prevention measures against visitors from China, including Taiwan, according to Tsai.
Starting Sunday, Taiwan's Central Epidemic Command Center (CECC) will require travelers from China to undergo a saliva COVID-19 test when they arrive in Taiwan. The policy is currently set to end on Jan. 31.
Tsai also called on people in Taiwan to receive COVID-19 vaccine boosters to protect their health.
On cross-Taiwan Strait relations, President Tsai reiterated her long-time call for Beijing to jointly safeguard cross-Strait peace and stability, saying it is the responsibility of all parties involved.
"War is never an option for resolving differences. Only through dialogue and cooperation under the same goal of promoting regional stable development can we let more people enjoy safety and well-being," Tsai said.
During a follow-up question-and-answer-session, Tsai was asked by a reporter on her view on Chinese President Xi Jinping's (習近平) New Year address made on Saturday, particularly the parts concerning Taiwan.
In his Saturday address, Xi said the people on both sides of the Taiwan Strait "are members of one and the same family."
"I sincerely hope that our compatriots on both sides of the Strait will work together with a unity of purpose to jointly foster lasting prosperity of the Chinese nation," Xi said.
Some local media have speculated that Xi was using a softer tone concerning cross-Strait relations as he did not specifically call for a cross-Strait unification in his Saturday address, though he did imply it.
In response, Tsai said she has noted Xi was using a more "gentle tone" in reference to cross-Strait relations.
However, she reminded Xi that the Chinese People's Liberation Army's military activities near Taiwan is detrimental to the peace and stability of the region.
She also said she is looking forward to the resumption of regular exchanges between the two sides of the Taiwan Strait when the COVID-19 pandemic subsides.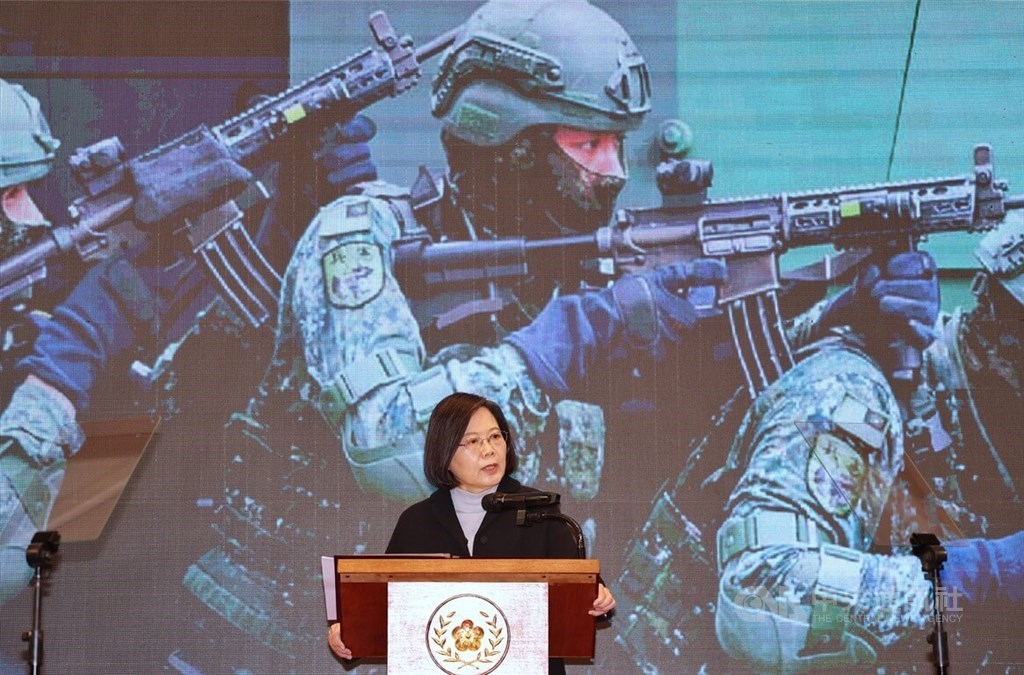 China's military continued its daily flights into Taiwan's self-declared air defense identification zone on New Year's Eve. From 6 a.m. Saturday to 6 a.m. Sunday, Taiwan's Ministry of National Defense detected 24 People's Liberation Army aircraft and four of its navy vessels around Taiwan, with 15 of the aircraft crossing the median line of the Taiwan Strait -- in a slightly higher number than the average daily figure.
Tensions have been high under Tsai's past six years in office and intensified last year after Taiwan welcomed then U.S. House Speaker Nancy Pelosi to visit, marking the first time that anAmerican House speaker has visited in nearly three decades.
Beijing more recently has strongly criticized President Joe Biden's signing of the National Defense Authorization Act and the U.S. Congress' passage of an appropriation bill which will provide US$2 billion in loans to Taipei to buy U.S. weapons, and asked the U.S. administration to treat Taiwan as a non-NATO ally in arms sales, as well as include Taiwan in regional military exercises with America's other allies in East Asia.
Washington and Taipei, however, see increased arms purchases from the U.S. as highly necessary given Beijing's arms buildup and engaging in high-level visits as naturally within Taiwan's power as a de facto independent nation.
Remarking on the fact that there has been different public opinion about her administration's plan to expand mandatory military service from the current four months to one year for all adult males born after 2005, Tsai said she will take the suggestions into consideration and enhance it.
"Safeguarding our homeland is not just the responsibility of the national military but is also the joint responsibility of every citizen," Tsai said.
In her address, Tsai also announced a wide range of subsidies to build a resilient economy and secure Taiwan's advantage in the information technology and semiconductor industries.
The government plans to spend NT$100 billion (US$3.26 billion) of about NT$380 billion in surplus tax revenue raised last year on projects to bolster economic resilience and to ease the financial burdens of Taiwan's health and labor insurance systems as well as subsidize increased electricity prices.
Acknowledging that there are hopes by some people that the government will give Taiwanese taxpayers back some of the unexpected tax revenues in lump sum payments in light of the hard time many have faced under the past three years of COVID, Tsai said that was not the priority at the moment and that it was more important to help those in need and to save some of the budget windfall for emergency needs.
Related News
Jan. 1: President vows to ease people's financial burdens in New Year address
Jan. 1: Ex-President Ma: 2024 vote a choice of war or peace
Dec. 31: Return of 'excess' tax revenues to people ruled out, for now
Dec. 27: Extended military service to include higher pay, longer boot camp: President
Dec. 27: Tsai announces military reforms, introduces U.S. training models
For subtitles in foreign languages, click on CC on the bottom left corner of the video and go to settings to use YouTube's auto-translate feature. Source: Presidential Office