Temple in Taiwan to gift bronze statue of Shinzo Abe to Japan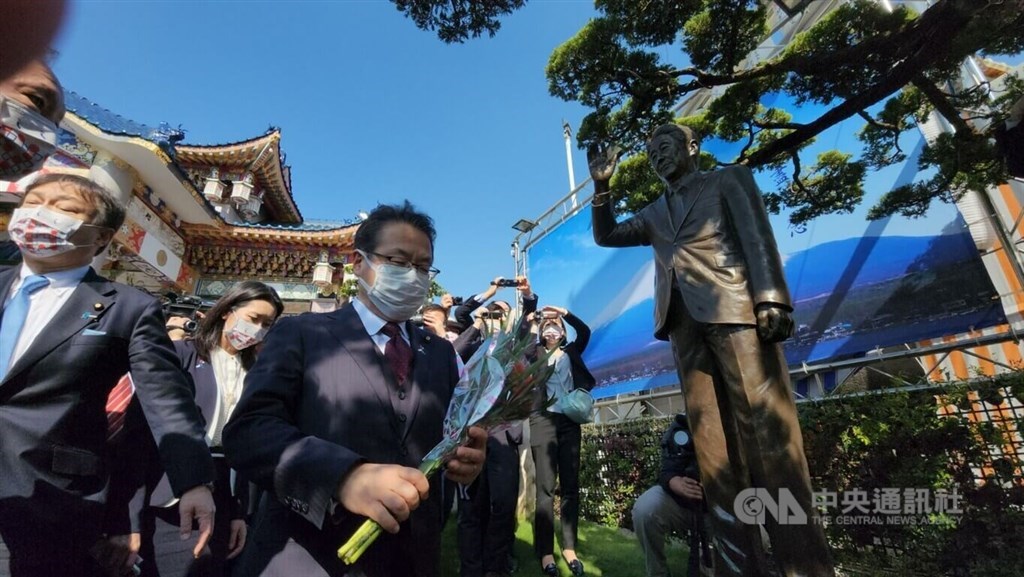 Kaohsiung, Dec. 27 (CNA) A temple in Kaohsiung said it will commission a bronze statue of former Japanese Prime Minister Shinzo Abe to be presented as a gift following a visit by a Japanese parliamentary delegation to the southern Taiwan city on Tuesday.
The delegation led by Hiroshige Seko of Japan's ruling Liberal Democratic Party (LDP) visited Hongmaogang Bao'an Temple in Kaohsiung, and Seko told reporters he was very moved to see a life-sized bronze statue of Abe in the temple.
Seko, who chairs the LDP's Policy Board in the House of Councillors in the Japanese Diet, said the statue of the former Japanese prime minister looked really life-like.
He also said he was touched by Taiwanese people's deep relationship with Japan, as demonstrated by the statue of Abe, which was unveiled in September after the former Japanese prime minister was assassinated during a campaign rally in Japan in early July.
The temple plans to gift another statue of Abe to Japan through Taiwan's government to show appreciation of Abe's support for Taiwan and contribution to Taiwan-Japan relations, temple official Chang Chi-hsiung (張吉雄) told reporters following the visit.
The Japanese delegation, which arrived in Taiwan on Monday for a four-day visit, paid tribute to former President Lee Teng-hui (李登輝) at a military cemetery in New Taipei Tuesday morning, according to a statement released by a foundation headed by Lee's daughter.
The delegation of 12 Japanese lawmakers met with Legislative Speaker Yu Si-kun (游錫堃) Tuesday evening and is scheduled to meet President Tsai Ing-wen Wednesday, said Presidential Office spokesman Xavier Chang (張惇涵).
This is Seko's third visit to Taiwan, according to the Ministry of Foreign Affairs, which said the Japanese lawmaker was behind a resolution supporting Taiwan's participation at the World Health Assembly passed by Japan's House of Councillors in June 2021.