ELECTIONS 2022
/
DPP candidates unveil joint semiconductor development platform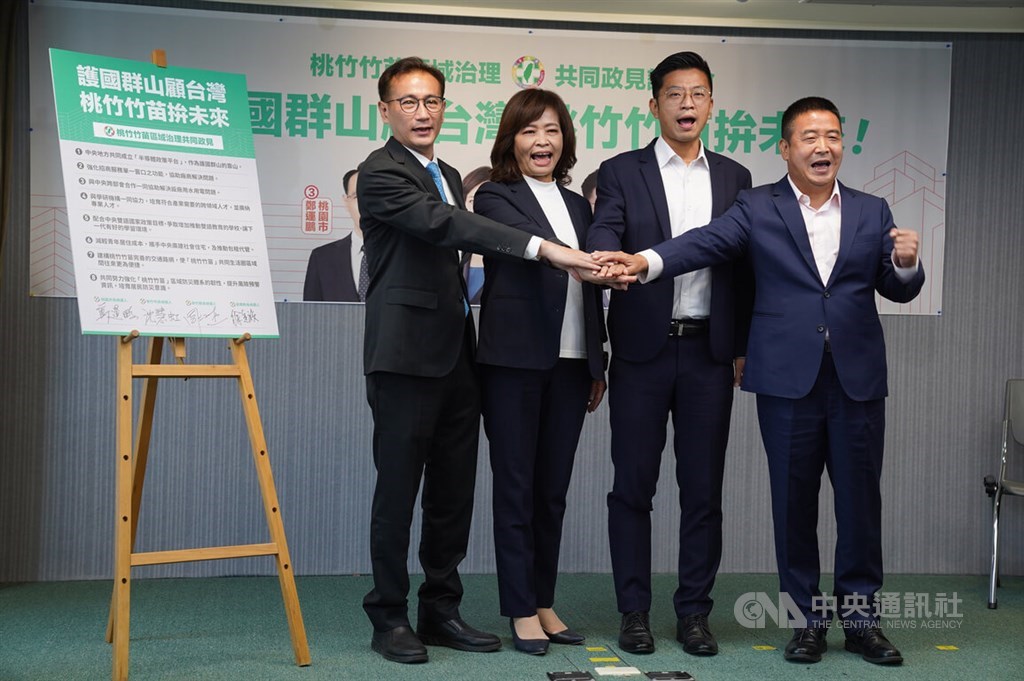 Taipei, Nov. 14 (CNA) Four candidates of the ruling Democratic Progress Party (DPP) in mayoral and magistrate races in northern Taiwan unveiled a joint semiconductor development platform on Monday with the aim of improving the country's tech sector.
Cheng Yun-peng (鄭運鵬), the Taoyuan City mayoral candidate; Shen Hui-hung (沈慧虹), the Hsinchu City mayoral candidate; Chou Chiang-chieh (周江杰), the Hsinchu County magistracy candidate; and Hsu Ting-chen (徐定禎), the Miaoli County magistracy candidate, vowed to solve the problems with water and electricity supplies which have long impacted the local semiconductor industry.
The joint platform also aims to streamline the process to review investment applications by semiconductor suppliers and improve the transportation network to strengthen the local semiconductor cluster and build a stronger "silicon shield" for Taiwan, according to the four candidates.
Hsinchu is renowned for the presence of the Hsinchu Science Park, which houses Taiwan Semiconductor Manufacturing Co. (TSMC), the world's largest contract chipmaker, and many other tech heavyweights such as smartphone IC designer MediaTek Inc.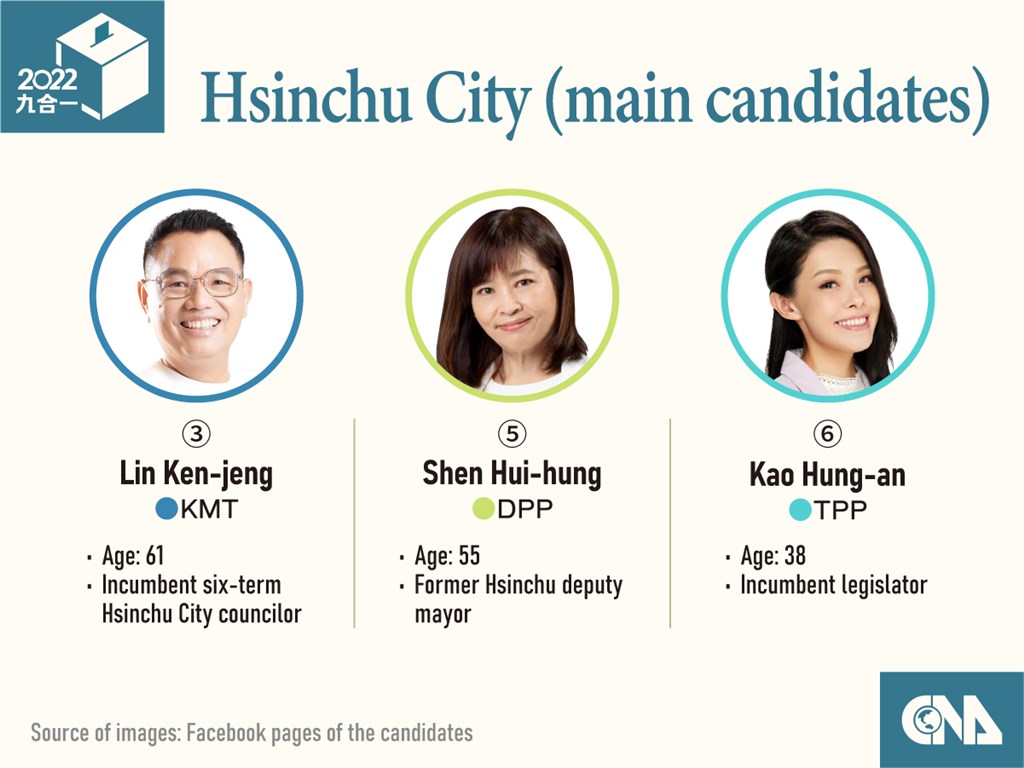 Speaking with reporters, Shen said Hsinchu had become a global semiconductor production hub, and she had faith that she would be able to work with the central government to provide the necessary assistance to semiconductor companies regarding water and power supplies, while Hsinchu City is also determined to provide better infrastructure to allow the local semiconductor industry to grow and compete in the global market.
TSMC is currently developing the advanced 2-nanometer process in Hsinchu, which is scheduled to start mass production in 2025 to maintain the technology lead over its peers such as U.S.-based Intel Corp. and South Korea's Samsung Electronics Co.
A Commercial Times report recently cited an unnamed source as saying that TSMC would set up a factory, using the more sophisticated 1nm process, in the Longtan Science Park in Taoyuan -- a part of the Hsinchu Science Park -- but the semiconductor giant refused to confirm that any decision had been made. Kuomintang (KMT) Taoyuan mayor candidate Simon Chang (張善政) expressed doubt about the report, saying there was no more space for TSMC in the Longtan Science Park.
Cheng said, however, the Longtan Science Park was planning to develop its third phase to expand, and he expected the most advanced technology to be developed in Taoyuan. He added that Taoyuan and Hsinchu cities, and Hsinchu and Miaoli counties had now accommodated a competitive semiconductor cluster and after the 1nm process is produced in Taoyuan, Taiwan's semiconductor supply chain is expected to become more comprehensive through the integration of upstream, middle stream and downstream segments.
According to Cheng, companies based in Taoyuan now manufacture production equipment and chemical materials used by semiconductor suppliers and also provide downstream IC packaging and testing services, while the city has built a sound logistics network and waste treatment facilities.
Cheng said if Chang from the KMT wins the election, which is scheduled for Nov. 26, semiconductor firms are likely to have concerns about the local semiconductor development policy, but if he wins, Taiwan will work more closely with the United States, which has imposed sanctions on chip exports to China, to allow "democratic chips" to flourish.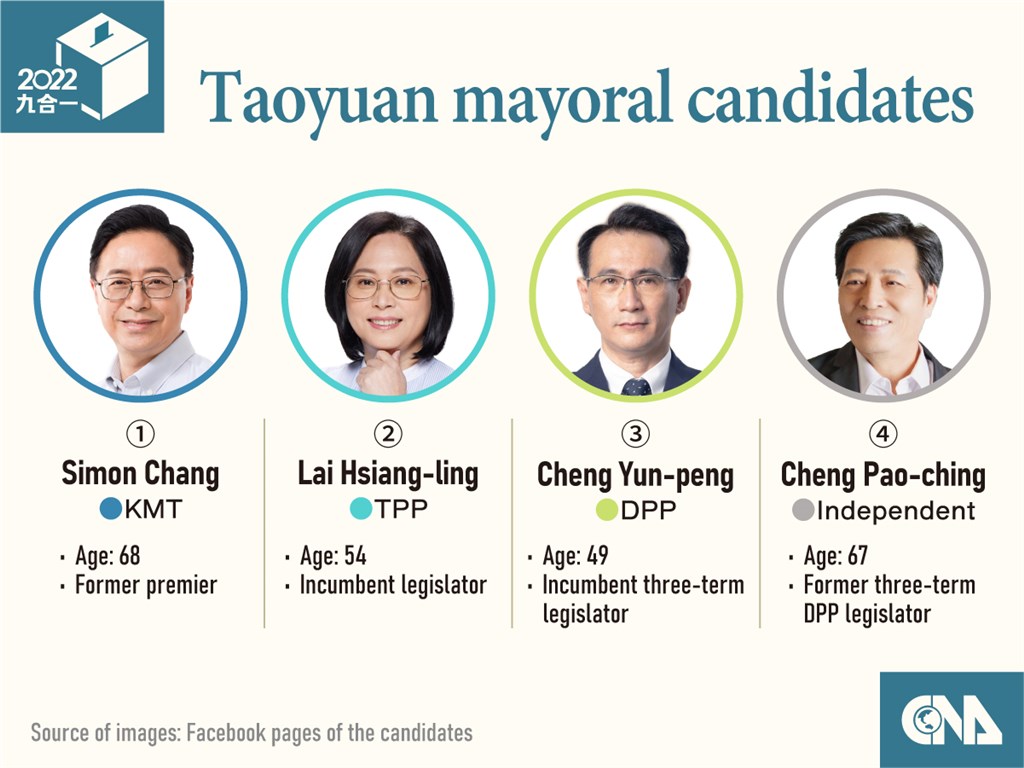 For his part, Chou said Hsinchu County would try its best to improve education, transportation and social housing to persuade tech talent to stay there for future development.
In addition, Hsu said Taoyuan and Hsinchu cities and Hsinchu and Miaoli counties were more than willing to lend their support to the local semiconductor industries. Miaoli should join with Taoyuan and Hsinchu to push for semiconductor development, Hsu said, while also urging the metro system and light rail transportation in Taipei to be extended to Miaoli to allow the county's population to grow.
The four DPP candidates also signed a joint policy platform to push for bilingual education and work with the central government to build more social housing to reduce living costs for the younger generation.
Related News
Nov. 12: Thousands turn out for KMT campaign rally in New Taipei
Nov. 12: DPP heavyweights campaign for Taipei, New Taipei mayoral candidates
Nov. 3: CEC relaunches Chiayi mayoral election, reschedules election day
Oct. 10: Legislative speaker touts support for referendum on lowering voting age
Sept. 24: President campaigns for referendum passage, local election candidates
CNA's special three-part election series 
Part 1: Taiwan's local elections may come down to battles in three northern cities
Part 2: Upstart party hoping to make impact in elections with eye on 2024
Part 3: Local election results could shape expectations of 2024 presidential poll
View All