ELECTIONS 2022
/
KMT's Hsinchu mayoral candidate denies plagiarism allegations
Taipei, Sept. 5 (CNA) Hsinchu City Councilor Lin Ken-jeng (林耕仁), who is running for city mayor on the opposition Kuomintang (KMT) ticket, said Monday there was no truth to the allegations that he had plagiarized some of the information in his master's thesis 12 years ago.
Responding to the plagiarism allegations by officials of the ruling Democratic Progressive Party (DPP), Lin said it was a smear campaign aimed at tarnishing his integrity in the countdown to the Nov. 26 local government elections.
In a statement, Lin said the thesis he had written in 2010 for his master's degree in Management was an analysis of Hsinchu City's public order, traffic and tourism, which could be used by city authorities as reference for management in those sectors.
He said there were six places in the thesis where the source of the information was not cited, and he wished to apologize for that.
There was no plagiarism, however, Lin said, adding that he was about to submit the thesis to the ethics committee at National Yang Ming Chiao Tung University (NYMCTU), where he had studied for his master's degree.
Later in the day, after sending the thesis to the university's ethic committee, Lin called for a thorough and impartial investigation and said he will fully cooperate to defend his reputation, which is wide open to public scrutiny.
The university, meanwhile, has confirmed that it received a complaint about Lin's master's thesis from Hsinchu City Councilor Liu Kang-yan (劉康彥) of the DPP.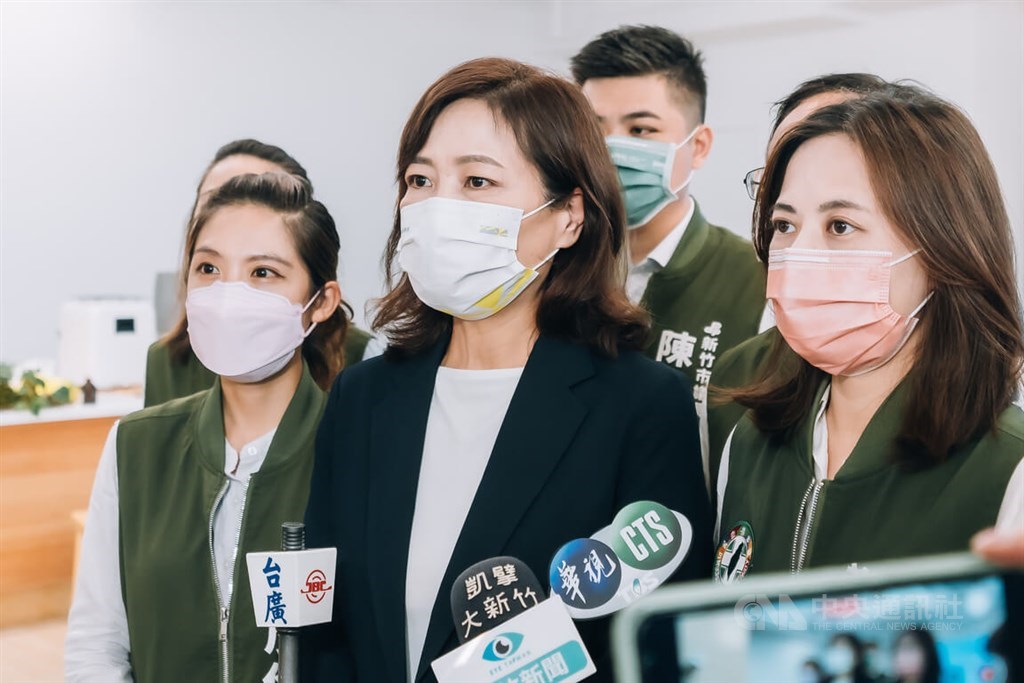 At a news conference earlier Monday, Liu, along with DPP legislators Lin Ching-yi (林靜儀) and Michelle Lin (林楚茵), accused Lin Ken-jeng of plagiarizing most of his thesis, and they called for his withdrawal from the Hsinchu mayoral election and for a probe by NYMCTU into the matter.
According to Lin Ching-yi, 31 of the 54 pages in the thesis appeared to have been xeroxed, while six places in the thesis had no proper citation, and there were 33 segments that had been copied directly from another source.
The tables and graphs in Lin Ken-jeng's thesis were also copied, with 42 graphs and 12 tables taken from government data analyses, Lin Ching-yi said.
Lin Ken-jeng was one of the politicians involved in a spate of plagiarism allegations against former Hsinchu Mayor Lin Chih-chien (林智堅), whose master's degrees were invalidated by National Taiwan University and Chung Hua University last month after an investigation.
Lin Chih-chien subsequently withdrew from the Taoyuan mayoral race, and since then, there has been a series of other plagiarism allegations against candidates for local government leaders in both the DPP and KMT.
Related News
Sept. 5: KMT Taoyuan mayoral candidate denies plagiarism accusations
Sept. 2: COA 'still reviewing' KMT Taoyuan mayoral candidate plagiarism claims
Aug. 12: DPP's Taoyuan mayoral candidate pulls out over thesis plagiarism
Aug. 9: NTU committee determines ex-Hsinchu mayor plagiarized thesis
July: TPP selects Legislator Kao Hung-an for Hsinchu mayoral race
View All