ELECTIONS 2022
/
Taipei mayoral candidates talk up housing, well-being policies
Taipei, Aug. 29 (CNA) The main candidates vying for Taipei mayor in Taiwan's year-end elections have started to outline their policies, with two of them recently focusing on their housing policies and another talking up policies on sports and the well-being of city residents.
Former Deputy Taipei Mayor Huang Shan-shan (黃珊珊) proposed on Monday a revised social housing policy and housing help for elderly residents while Chen Shih-chung (陳時中) of the Democratic Progressive Party (DPP) vowed Sunday to build new social housing units and lower rents.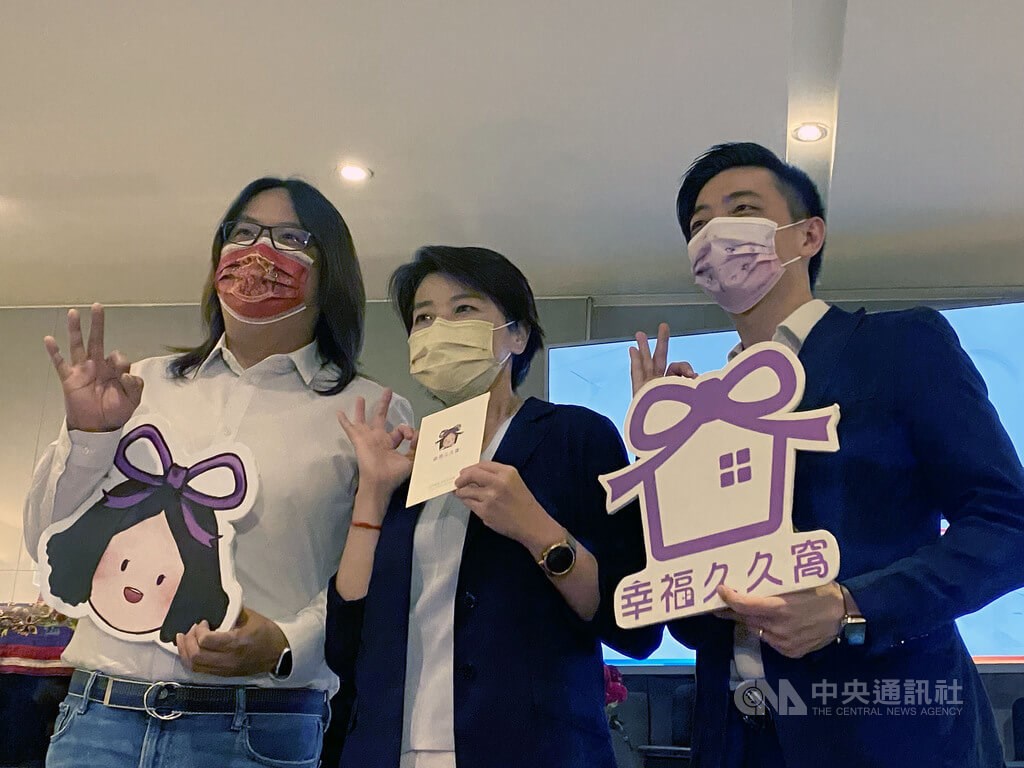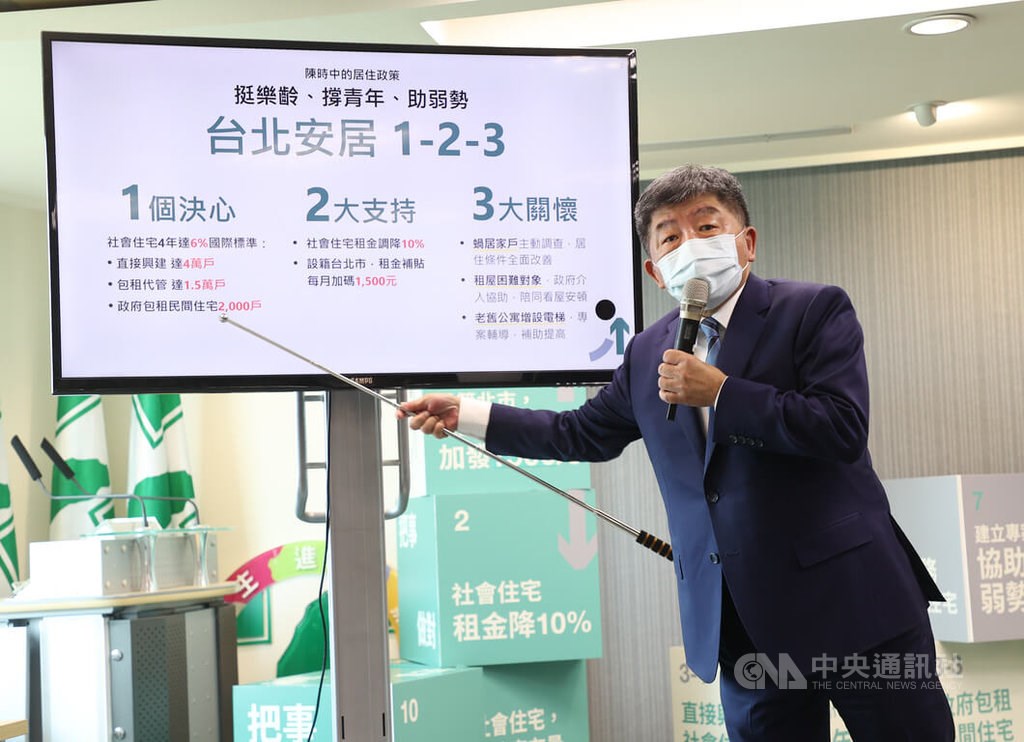 The KMT's Chiang Wan-an (蔣萬安), meanwhile, focused on the health of local residents Sunday, pledging to give city residents free access to public sports and fitness venues.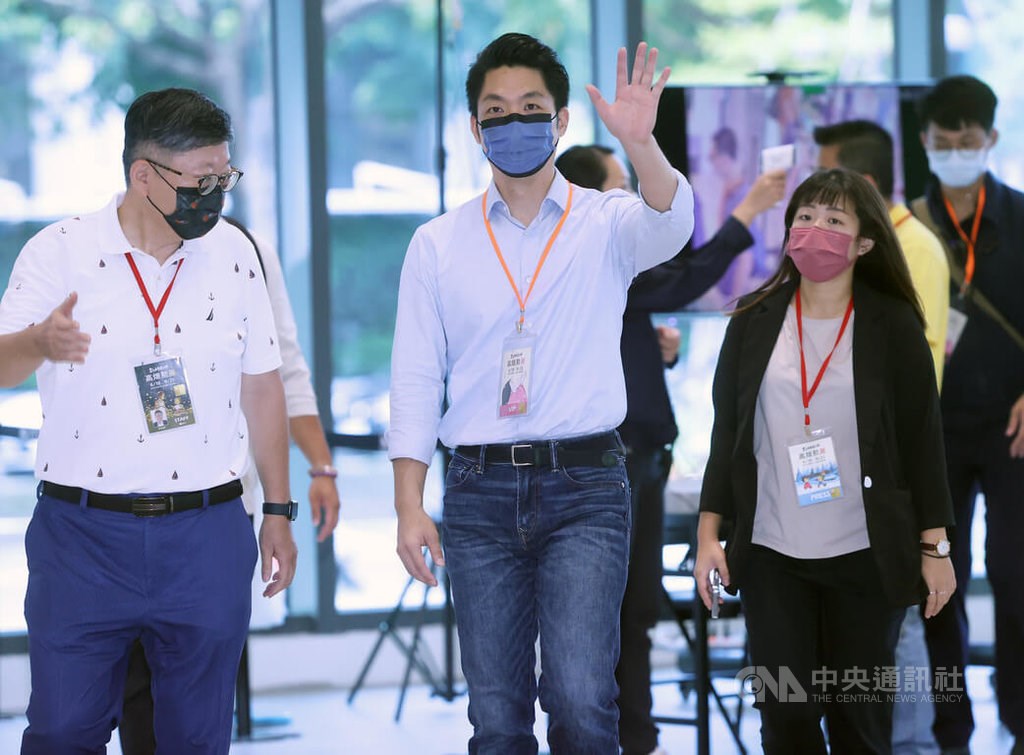 On Monday, Huang, who announced her candidacy on Sunday and is running as an independent with the support of incumbent Taipei Mayor Ko Wen-je (柯文哲), said her social housing approach would focus on encouraging private businesses to convert old hotels and old apartments into residential buildings and then lease and manage them.
She said the cost of procuring land in Taipei was very high, making it impossible for the city government to provide enough housing units for citizens in need in a short period of time.
The city currently has over 40,000 hotel rooms, however, and Huang said hotel owners could be encouraged to convert their property into social housing.
She cited a successful case in Zhongshan District that saw an old hotel that was first leased and then converted into residential units for senior citizens.
Meanwhile, the DPP's Chen pledged to make available at least 57,000 public housing units in Taipei within four years, if elected.
Chen's proposal consisted of about 40,000 new social housing units, 15,000 existing social housing units leased and managed by the government, and about 2,000 existing private residences leased by the government, he said.
He also proposed to lower the rents of social housing units by 10 percent, and increase the rent subsidy for registered Taipei residents by NT$1,500 per month.
Low-to-middle income residents can currently get up to NT$11,000 per month in rent subsidies through the city and a Ministry of the Interior program.
Local politicians have made pledges on social housing in recent years that they have been unable to keep.
President Tsai Ing-wen (蔡英文) of the DPP promised in 2016 to build 200,000 social housing units around Taiwan in eight years, but her government had built only 57,468 units as of the end of April, with another 66,665 units in the planning stages.
Taipei Mayor Ko pledged to build 50,000 units in the city over eight years when he took office in 2014, but will have only made available about 20,000 units by the end of his term this year, including only 12,000 built by the city.
The KMT's Chiang chose to focus his campaigning over the weekend on sports and exercise, pledging Sunday to make "Taipei a sports stadium for all residents" if elected. To achieve the goal, he proposed giving residents free access to public sports and fitness venues.
Chiang also vowed to strengthen the cultivation of young athletes, hold large-scale international sports events, and establish an E-sports venue.
Among his priorities, Chiang said, will be to provide incentives to exercise and take part in sports activities, including giving residents 12 free access passes to sports venues within a 3-month period.
Meanwhile, the city government will create a sports app for city residents to use to accumulate health bonus points, which can be exchanged for bus tickets, admission to art museums, or discounts with vendors who work with the city, he said.
Chiang also proposed providing funding for the establishment of a Taipei sports information center and the expansion of the Taipei Sports Training and Science Center to provide sports science and medical resources for athletes.
At the same time, he envisioned establishing an e-sports stadium as well as Taiwan's first e-sports national training center to train professional e-sports players.
Taiwan's elections for the heads of its 22 cities and counties, including Taipei, will be held Nov. 26.
View All