Ukraine backers rally outside Russian representative office in Taipei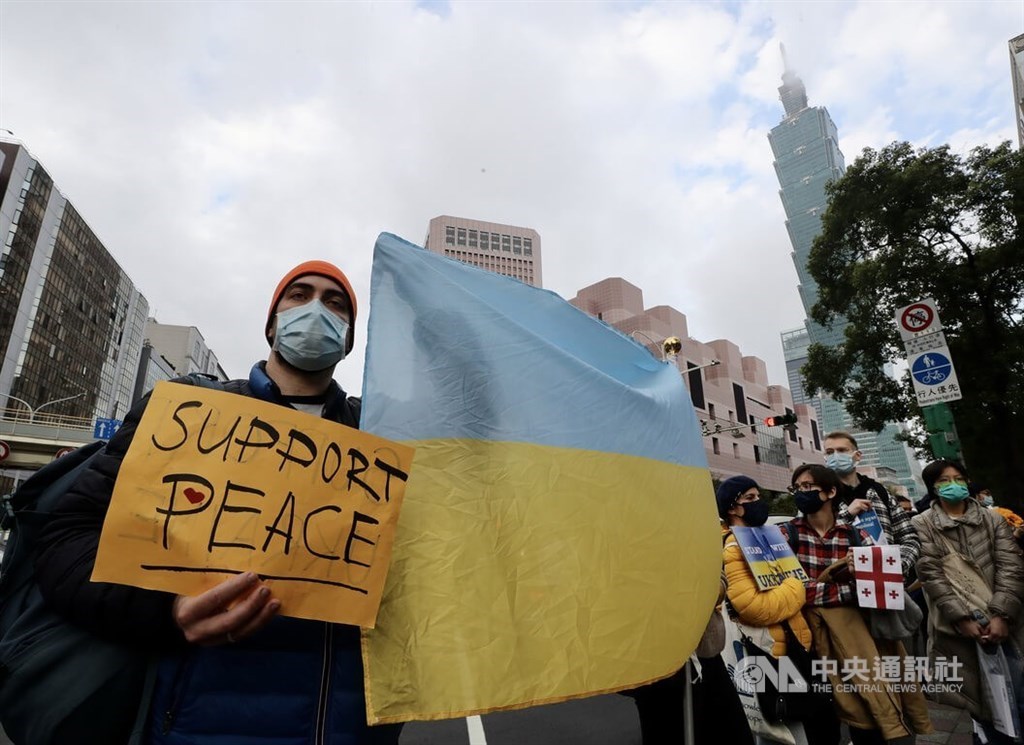 Taipei, Feb. 25 (CNA) Around 50 people rallied outside the Russian representative office in downtown Taipei on Friday, lifting placards that urged people to support Ukraine after Russia invaded the Eastern European country just a day earlier.
Standing on the corner of Xinyi and Keelung roads, the group of close to 50 people, mainly made up of Ukrainians, Europeans, and Taiwanese, spoke to media and pedestrians about the situation in Ukraine and urged that the fighting stop.
Ukrainian Karina Voinikova, who lives in Taiwan with her husband, told CNA that her family is in Kherson near where the Ukrainian military was putting up a fight to keep the Russian army out.
"My family is safe, but they are scared. My grandmother is really scared, my little sister is scared because they hear all these noises, like aircraft, bombs. It's scary," Voinikova said.
She said that all the people want is peace, but the Russian government is misleading its people into believing that Russia's military operation is trying to save Ukrainians.
"So, the Russian people think that the Russian army at the moment is saving Ukraine when they are not saving, but fighting. I understand it's not the people's fault because they are not told the truth and don't know what's happening," Voinikova said.
She wants the Russian people to know the truth behind the invasion and hopes Taiwanese media can help spread the information.
"Please stand with Ukraine, please tell your people what is happening. We didn't ask for this and everything Russia might say about the Ukranians asking for this is not the truth. We didn't, we want peace," Voinikova said.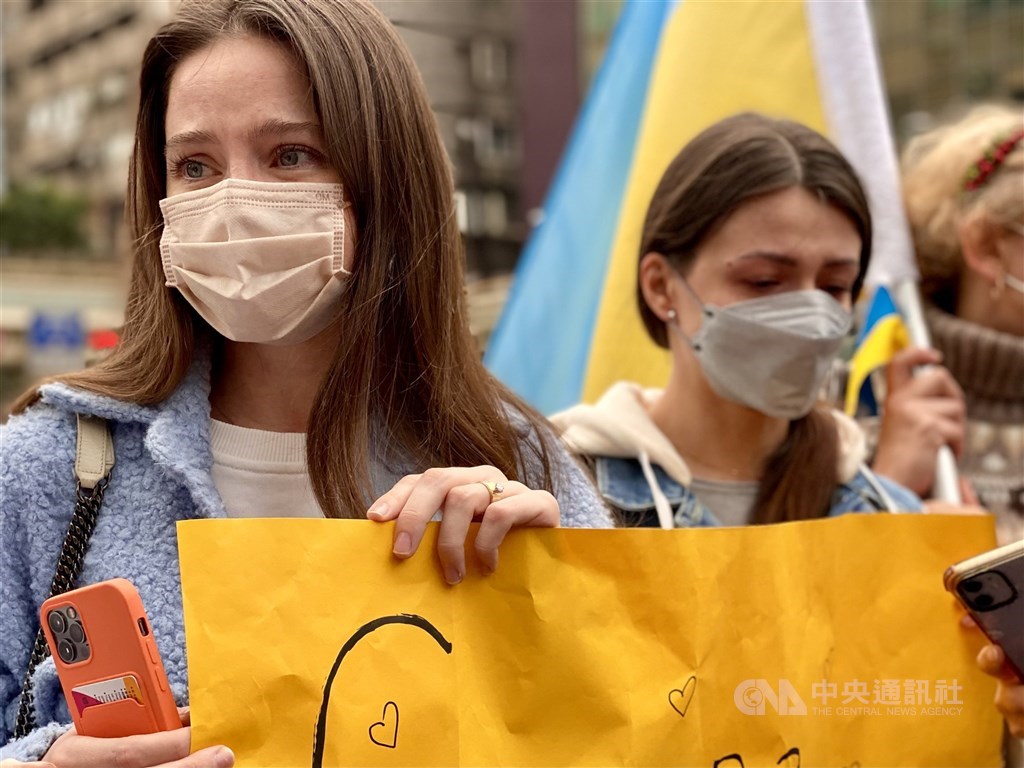 Since Russian President Vladimir Putin announced Russia would launch a "special military operation" during a televised address Thursday morning, Russian military units have attacked several cities in Ukraine and are reported to be closing in on its capital Kyiv, according to media reports from inside the country.
While Putin said the operation is to achieve the "demilitarization and de-Nazification of Ukraine," the Ukrainian government has described it as a full-scale invasion.
Another Ukranian at the rally, who wished to be identified only by the initial N., said his family is from a small village just outside of the capital of Kyiv, and that village is currently cut off by Russian troops.
"The two roads that they can use to escape are already blocked by Russian military and they cannot escape and the only thing we can do right now is only pray that they [Russian military] will not go deep into the village," N. said.
He hopes Taiwan can help Ukraine by not sharing or selling any high technologies to Russia, while also calling for NATO and the United Nations to act.
"If NATO or the U.N. does not do anything right now against such a huge aggression, it will show to Putin that they are defenseless and he will go after Lithuania, Estonia, Poland, and any country that used to be in the USSR," N. said.
A Georgian woman, who wished to be identified as Lali, told CNA she supports Ukraine because of the experiences of her country.
"I really feel sad about the situation in Ukraine because what is happening with them today happened with Georgia in 2008. Russia invaded us and they took 20 percent of our land," Lali said.
She said she was standing in protest on the same corner outside the Representative Office in Taipei for the Moscow-Taipei Coordination Commission on Economic and Cultural Cooperation in 2008 when the Georgian War broke out.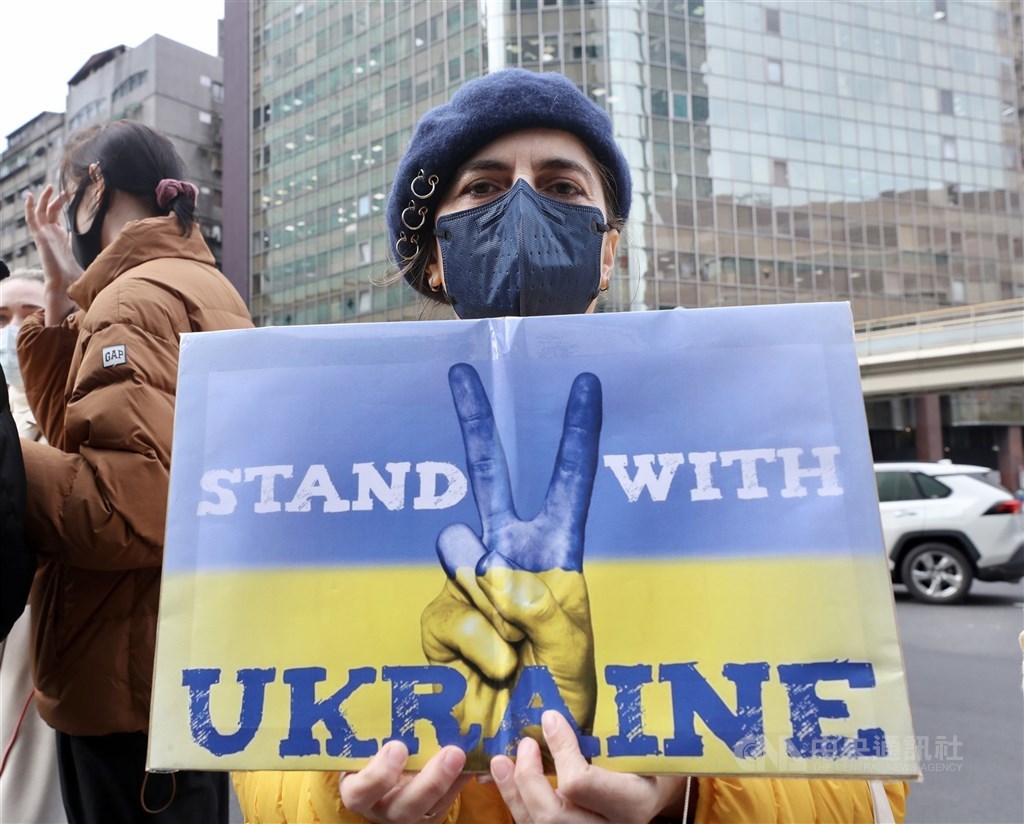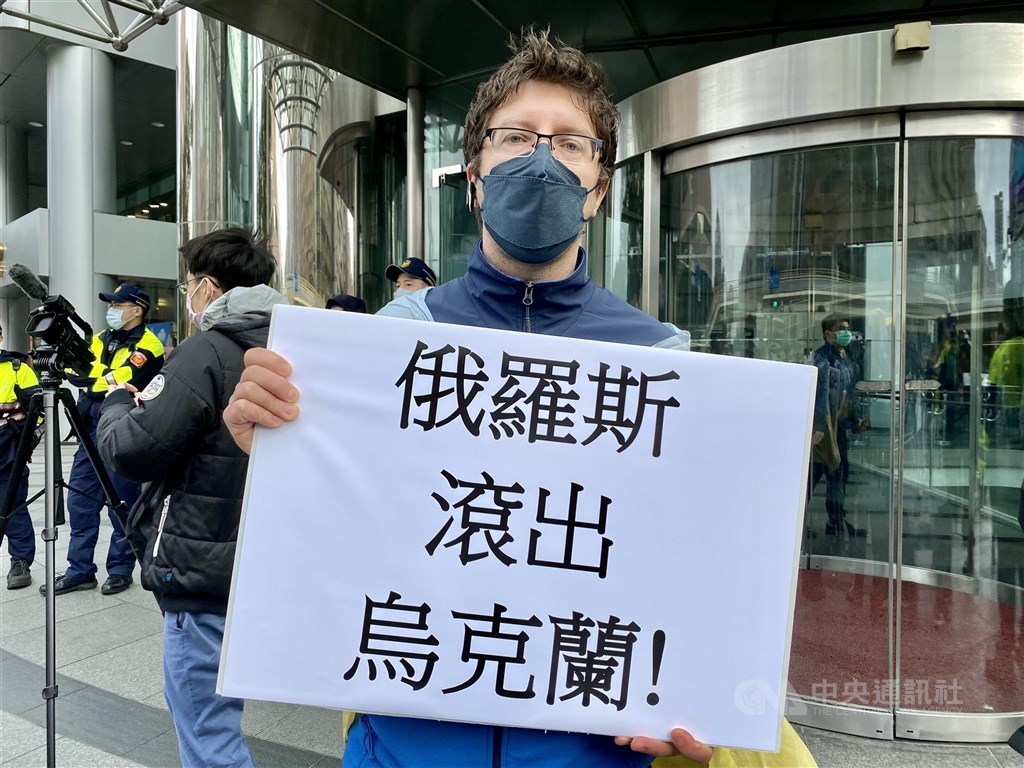 One of the organizers of the rally, Ukranian Alex Khomenko, said people of all nationalities have come to show their support at the event, including those from the former Soviet Union, Europeans, Taiwanese, and people from Hong Kong.
"I was here yesterday all by myself, standing here for three hours with my flag and then I took some pictures and tweeted them out. I asked a few people on Twitter to retweet me and that tweet got a lot of likes and a lot of retweets, and the word spread," Khomenko said.
Update
March 1: Protests continue outside Russian office, urge donations for Ukraine
Feb. 26: Protest continues outside Russian representative office in Taipei
Feb. 25: Taiwan evacuates citizens from Kyiv by bus amid Ukraine crisis