REFERENDUMS 2021
/
Four referendum questions fail to pass on low turnout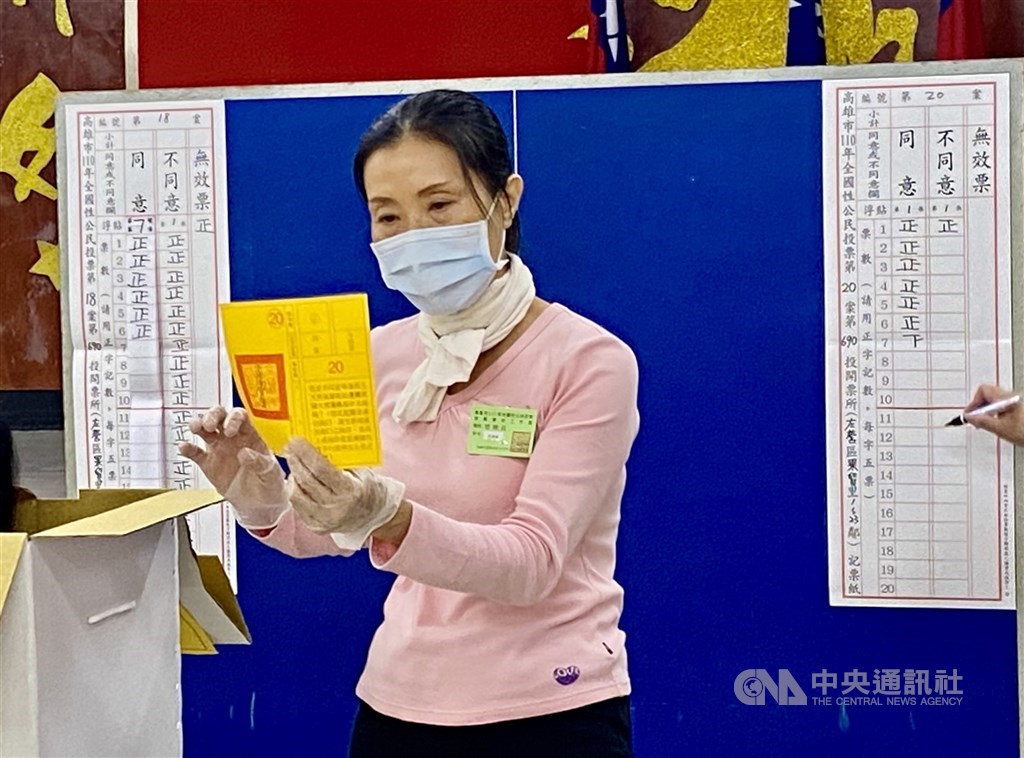 Taipei, Dec. 18 (CNA) Taiwanese voters on Saturday narrowly rejected the four referendum questions put to them in a national vote characterized by a relatively low turnout and nearly identical vote margins on all four issues.
As of 7 p.m., the number of people who voted against the four referendums had all surpassed 4 million, with those who voted in favor of the referendums trailing behind at around 3.85 million, according to Central Election Commission data.
The four initiatives voted on include the issues of nuclear power, pork imports, conservation of algal reefs, and whether future referendums should be held concurrently with national elections.
Under Taiwan's Referendum Act, a referendum only passes if an initiative is supported by at least one-quarter of all eligible voters and the "yes" votes exceed the "no" votes.
According to the Central Election Commission, there were 19,825,468 eligible voters, which meant that any of the initiatives needed at least 4,956,367 votes to have a chance to succeed.
President Tsai Ing-wen (蔡英文) of the Democratic Progress Party (DPP), which campaigned for a "no" vote in all four referendums, is expected to comment on the results at 7:30 p.m. at the Presidential Office.
Votes reported by all 17,479 polling stations around Taiwan at 8:20 p.m.:
(Initial results released by the Central Election Commission)
17: "Do you agree that the Fourth Nuclear Power Plant should be unsealed and operated commercially to generate electricity?"
Yes: 3,804,755 / No: 4,262,451 (47.16 percent / 52.84 percent; turnout: 41.09 percent)
18: "Do you agree that the government should prohibit imports of pork, offal, or other related products that contain the β-agonist, ractopamine?"
Yes: 3,936,554 / No: 4,131,203 (48.79 percent / 51,21 percent; turnout: 41.09 percent)
19: "Do you agree that a referendum should be held concurrently with a national election if it complies with the Referendum Act and if the election is scheduled to take place within six months of the referendum being approved?"
Yes: 3,951,882 / No: 4,120,038 (48.96 percent / 51.04 percent; turnout: 41.08 percent)
20: "Do you agree that CPC Corp.'s planned site for Taiwan's third liquefied natural gas terminal should be relocated from an algal reef off the coast of Datan, Taoyuan, and its adjacent waters?"
Yes: 3,901,171 / No: 4,163,464 (48.37 percent / 51.63 percent; turnout: 41.09 percent)
Update
Dec. 18: Referendum result shows support for government policies: premier
Dec. 18: KMT chair apologizes for referendum defeats
Dec. 18: Referendum results a warning sign to KMT in by-election: professor
Dec. 18: Fourth Nuclear Power Plant referendum defeated
Dec. 18: Failed vote on pork imports to cement U.S.-Taiwan ties: scholars
Dec. 18: U.S. seeking more engagement with Taiwan after referendum: AIT
Dec. 18: More people vote against than for referendum initiatives: CEC
On the Voting Day
Dec. 18: Low referendum turnout brings little voter trouble
Dec. 18: Polls open for four national referendum initiatives
Related News
*Political parties rally to boost turnout for referendums
*Taiwan's upcoming referendums: What are they all about?
*Nearly 4.96 million 'yes' votes needed for referendum approval: CEC
View All