REFERENDUMS 2021
/
City councilor calls nuclear plant 'failed' investment project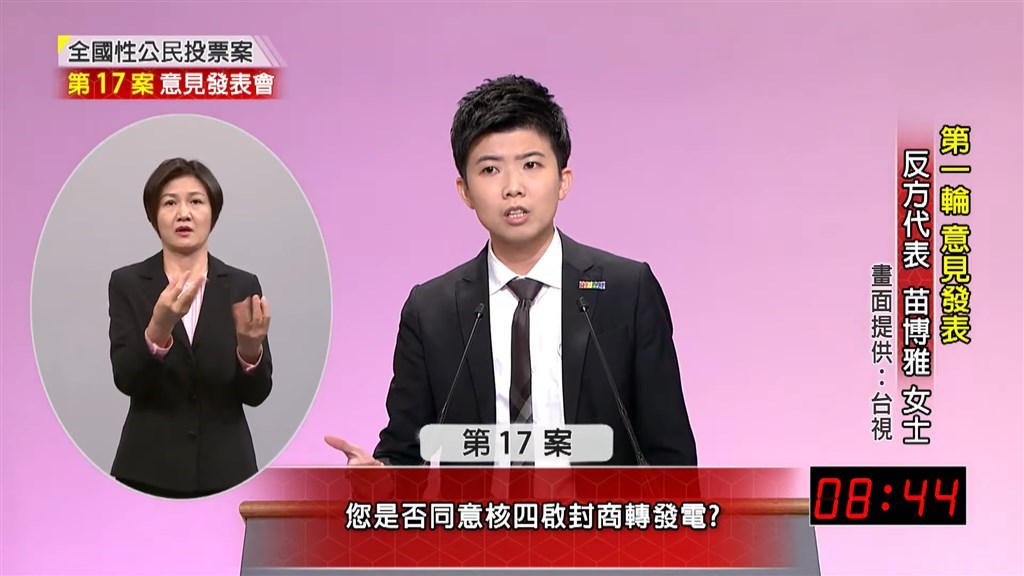 Taipei, Dec. 2 (CNA) Taiwan's long-mothballed Fourth Nuclear Power Plant is a "failed investment project," Taipei City Councilor Miao Po-ya (苗博雅) said at a televised forum Thursday, urging people to vote "no" in an upcoming referendum that will determine the power plant's fate.
As the construction of the plant was never completed, if the referendum about whether to unseal the plant passes, more taxpayers' money will have to be spent before the plant can be operated commercially, Miao said.
She described the plant as a "failed investment project" because it has never generated electricity even though more than NT$300 billion (US$10.70 billion) had been poured into the project.
The construction of the plant in Gongliao District, New Taipei City began in 1999 but was mothballed by then-President Ma Ying-jeou (馬英九) in 2014 due to public concerns.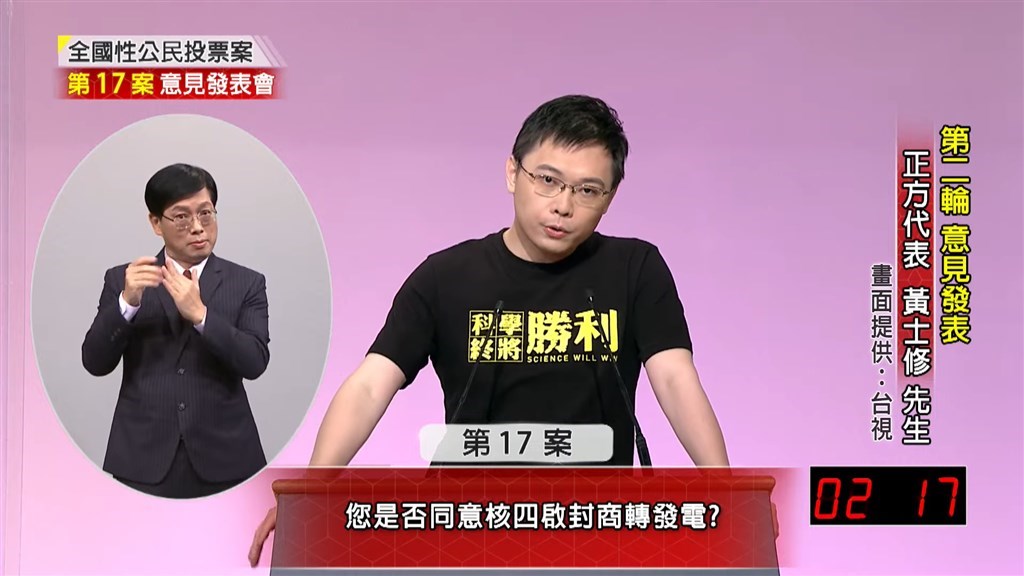 Miao accused nuclear advocate Huang Shih-hsiu (黃士修), who had initiated the campaign for a public vote to unseal the plant, of not revealing the truth about how much it would cost to achieve that goal.
She said the continuation of the project would cost taxpayers an additional NT$80 billion, citing data from the Ministry of Economic Affairs.
In addition, the Atomic Energy Council has estimated that it would take the government 10 years to complete the construction and start operating the plant commercially, she said.
Huang argued that it would only take three to five years with a budget of NT$50 billion. Huang claimed his estimates were based on a Taiwan Power Company (Taipower) proposal, but Taipower has said that was not an official report.
The plant would generate 20 billion kilowatt-hours of electricity per year following its commercial operation, which would save the country NT$60 billion each year compared with using renewable energy, said Huang.
He also contended that the plant would effectively improve the air pollution problems in central and southern Taiwan because the country would be less dependent on coal-fired plants for electricity supply.
Taiwan's reliance on fossil fuels to generate electricity has increased from 80.64 percent in 2015, the year before Tsai took office, to 82.19 percent in 2020, according to Bureau of Energy figures.
Coal-fired plants accounted for 44.95 percent of Taiwan's electricity generation, down slightly from 45.39 percent in 2015, while renewables have risen to 5.47 percent of the total, from 4.06 percent in 2015.
In another forum Thursday on a referendum that seeks to ban pork imports containing the livestock drug ractopamine, clinical psychiatrist Su Wei-shuo (蘇偉碩) made arguments in favor of the proposal, saying no drug residues should be found in human food.
Speaking for the other side, Chiang Chih-kang (姜至剛), a toxicology professor at National Taiwan University, said ractopamine was one of the many livestock drugs being used in animals.
In practice, it is impossible for people to consume so much pork products that the ractopamine level in those products exceeds the maximum residue limit set up by the United Nations food standards body, CODEX, said Chiang.
Thursday's televised forum also included debates on the other two referendums that will be voted on on Dec. 18 -- the conservation of algal reefs, and whether referendums should be held concurrently with major elections.
View All