Three allies urge Taiwan's inclusion in U.N. system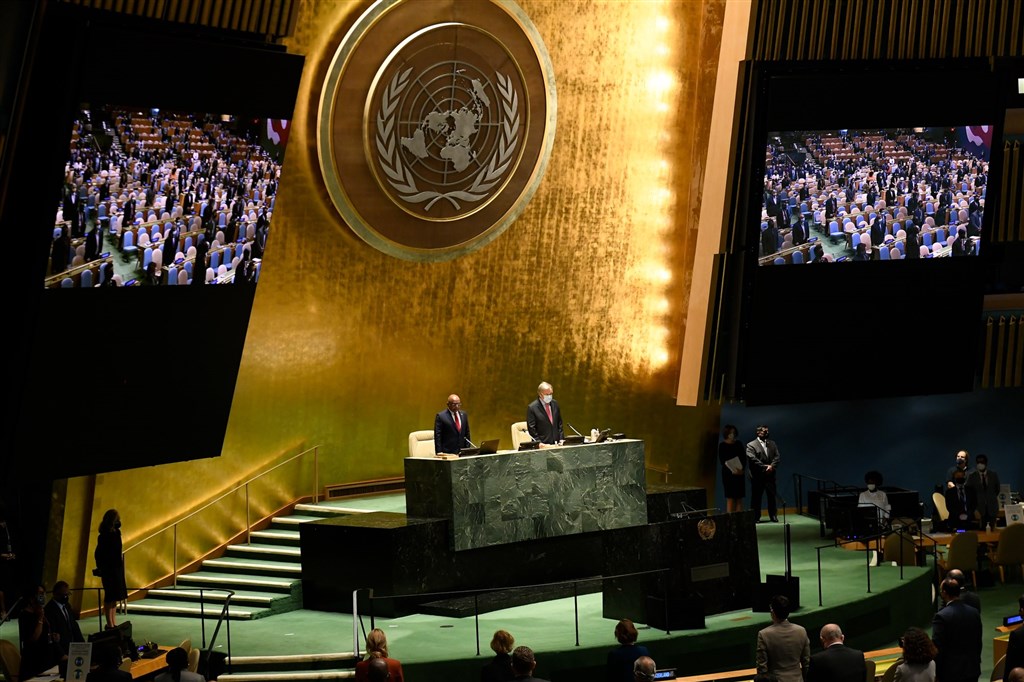 New York, Sept. 24 (CNA) Paraguay, Belize, and Saint Kitts and Nevis, three of the 15 countries which have official diplomatic ties with Taiwan, voiced their support at the United Nations General Assembly on Friday for Taiwan's inclusion in the United Nations (U.N.) system.
In his recorded video that was played during the 76th session of the U.N. General Assembly, Paraguay President Mario Abdo Benítez said in Spanish that universality is a basic principle of the U.N., and based on that principle, "we support the inclusion of Taiwan within the United Nations System."
Taiwan lost its U.N. seat as the Republic of China in 1971 when the People's Republic of China entered the U.N., and most countries in the world soon shifted their recognition to the People's Republic of China.
Since then, Taiwan has been excluded from the U.N.but the country has consistently advocated to return to the U.N. stage, while many of its allies or like-minded countries have urged the U.N. system to include Taiwan.
Echoing the Paraguay president, John Briceño, Belize's Prime Minister, said at the Friday U.N. meeting in person that the U.N.'s multilateral system must be inclusive and able to harness the capacity of all countries to cement international cooperation where it is most needed.
Briceño said Belize's partnership with Taiwan has been built based on democracy, freedom, human rights, and the rule of law shared by the two partners, and his country has benefited significantly from its ties with Taiwan.
The Belize Prime Minister said Taiwan has provided tremendous assistance in medical supplies and financial support to his country to tackle the COVID-19 pandemic and allow it to push for a post-pandemic recovery.
"Belize calls for Taiwan's inclusion in the United Nations and its specialized agencies, which will not only further enhance global cooperation and partnership, but also manifest the United Nation's enshrined principle of universality," Briceño said.
Saint Kitts and Nevis Prime Minister Timothy Harris renewed his country's call for Taiwan's inclusion in the U.N. community.
In a recorded video played in the U.N. session, Harris praised Taiwan's achievements and successes in many areas, saying his country strongly believed that Taiwan has an important and continuing role to play in international development strategies.
"Taiwan has demonstrated that it can be a true partner in health, and we have seen its exemplary response to the pandemic firsthand in Saint Kitts and Nevis and other parts of the world," Harris said. "My country looks forward to Taiwan being included in the U.N. system and its meetings, mechanisms, and activities."
Friday was the fourth day of this year's U.N. General Assembly session and eight of Taiwan's allies have already made their speeches.
Seven of the eight allies -- Palau, Guatemala, the Marshall Islands, Nauru, Paraguay, Belize and Saint Kitts and Nevis -- voiced their support for Taiwan in the U.N., while the eighth, Honduras, did not say anything for Taiwan, the sixth consecutive year the Central American country has refrained from doing so.
Taiwan's other allies -- Saint Lucia, Eswatini, Saint Vincent and the Grenadines, Haiti, Tuvalu and the Holy See -- are scheduled to speak Saturday, while Nicaragua is set to speak on Sept. 27, the last day of the U.N. session.
Allies speak out for Taiwan at U.N. General Assembly:
-Eswatini, Haiti, St. Lucia, Eswatini, Tuvalu, St. Vincent and the Grenadines voice support for Taiwan
-Nauru president touts Taiwan's global record at U.N. General Assembly
-Marshall Islands leader urges U.N. to end 'shameful silence' in excluding Taiwan