U.S. Navy ship sails through Taiwan Strait, 7th time under Biden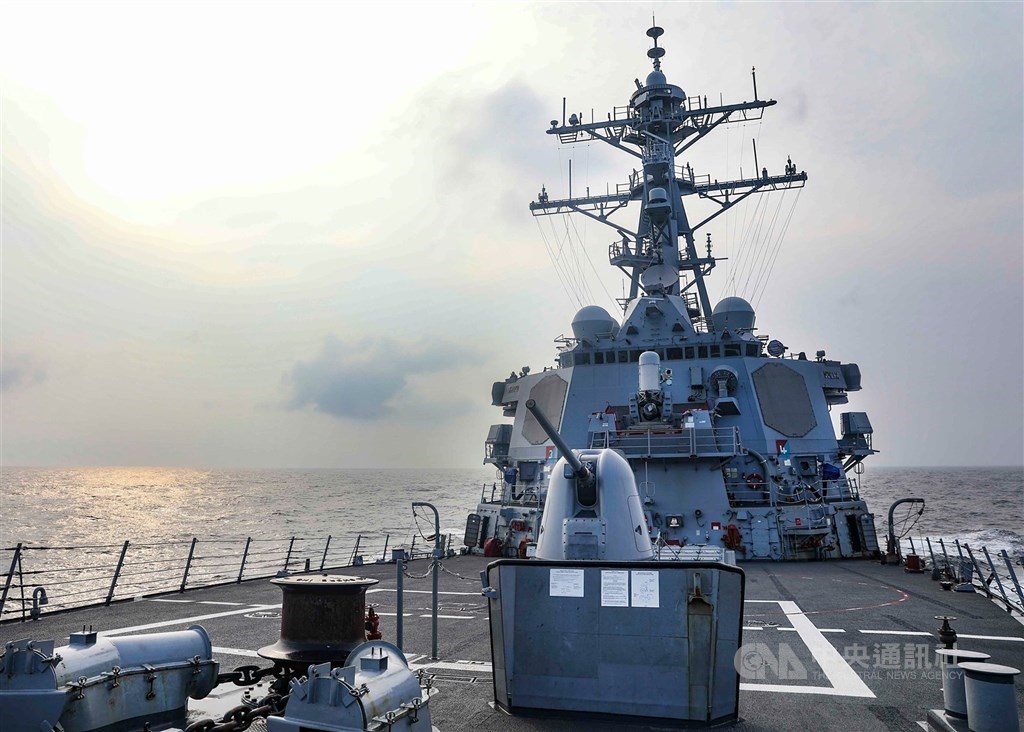 Taipei, July 29 (CNA) A U.S. Navy destroyer transited the Taiwan Strait on Wednesday, the seventh time a U.S. battleship has navigated the waterway separating Taiwan and China since U.S. President Joe Biden assumed office in January.
"The Arleigh Burke-class guided missile destroyer USS Benfold (DDG 65) conducted a routine Taiwan Strait transit on July 28 (local time) through international waters in accordance with international law. The ship's transit through the Taiwan Strait demonstrates the U.S. commitment to a free and open Indo-Pacific,"the U.S. 7th Fleet said in a statement.
"The United States military flies, sails, and operates anywhere international law allows,"it said.
U.S. warships, all Arleigh Burke-class guided missile destroyers, had made similar passages before Wednesday since Biden took office on Jan. 20.
The USS John S. McCain sailed through the waters on Feb. 4 and April 7, the USS Curtis Wilbur on Feb. 24, May 18 and June 22, and the USS John Finn on March 10.
The U.S. has sent warships into the region in recent years in what is seen as an attempt to counterbalance China's growing military presence in the Taiwan Strait, South China Sea and neighboring waters and to show its continued commitment to maintaining peace and stability in Asia.
Taiwan's Ministry of National Defense on Thursday confirmed the passage of a U.S. Navy destroyer through the Strait the previous day.
It said that during the ship's passage, sailing from south to north, the military used joint intelligence, surveillance, and reconnaissance tools to monitor movements at sea and in the air around Taiwan, and described the situation as normal.
The U.S. naval passage, however, was met with strong criticism from China on Thursday.
Shi Yi (施毅), a spokesperson for the Chinese People's Liberation Army (PLA) Eastern Theater Command, described the maneuver as yet another provocative move by the U.S.
"This goes to show that the U.S. is the biggest disrupter to peace and stability in the Taiwan Straits, and the biggest creator of security risks in the region," Shi said in a statement.
China sees U.S. military presence in the region as potentially emboldening the current Taiwan administration, which it suspects of trying to pursue formal independence. It began regularly flying aircraft into the Strait during the Trump years after seeing much more arms sales and closer ties between Washington and Taipei.
The U.S. government, however, sees its military maneuvers as its legitimate right under "freedom of navigation" and as a necessary deterrent in response to China's increased military activity in the Strait in the past two years.