Taiwan Coast Guard takes delivery of second missile corvette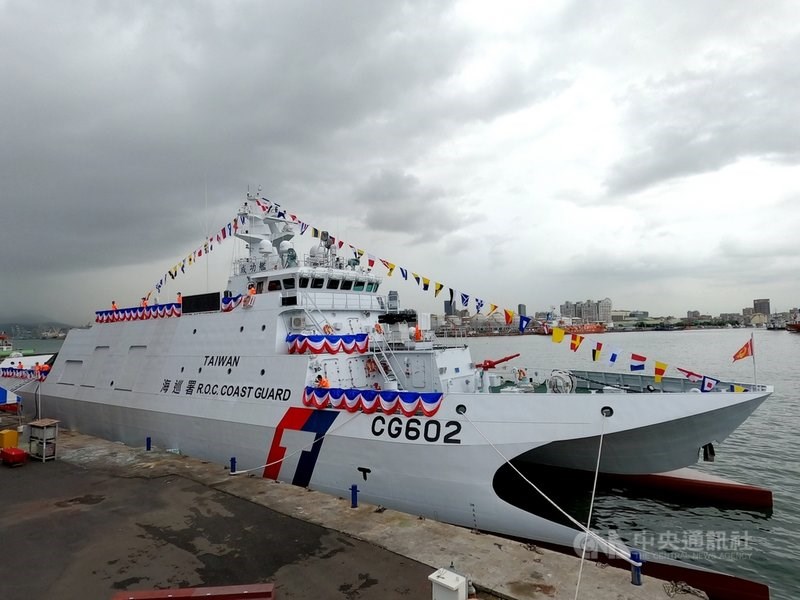 Taipei, June 25 (CNA) Taiwan's Coast Guard Administration (CGA) on Friday took delivery of a new missile corvette, the Chenggong (成功艦), which will be deployed in eastern Taiwan to protect Taiwan's maritime rights and the interests of local fishermen.
A symbolic handover ceremony was held in a shipyard owned by Kaohsiung City-based Jong Shyn Shipbuilding Group, the builder of the vessel, during which the ship's captain was presented with a model of the Chenggong.
The name Chenggong, which means "success" in Chinese, was given by President Tsai Ing-wen (蔡英文) last year. It was originally scheduled to be delivered in October.
According to a statement from the CGA earlier in the day, the Chengong crew have completed vessel handling training and battle systems training will follow shortly.
The Chenggong, hull number CG-602, is its second Anping-class corvette, the CGA said, adding that it will be assigned to the Eastern Sector Flotilla to protect Taiwan's maritime rights and local fishermen operating in waters off eastern Taiwan.
According to the CGA, Anping-class corvettes weigh 600-tons and have a design based on the Navy's Tuo Chiang-class corvette.
They are capable of traveling at over 44 knots and can withstand a wind of 75-88 kilometers per hour, the CGA said, adding that the vessels are designated a rescue operation area and receive a rescue boat to meet the needs of Cost Guard operations.
In terms of armaments, Anping-class corvettes are equipped with a water cannon, high explosive rockets and a 20mm cannon, CGA data shows.
Ships of this class are also fitted for but not actually equipped with Hsiung Feng III and Hsiung Feng II anti-ship missiles. As such, they can be easily converted into fast attack crafts in wartime, data indicates.
In 2018, the CGA announced plans to buy 12 Anping-class corvettes to beef up Taiwan's offshore patrol capabilities.