President exhorts relief efforts after fatal train crash
Update: Death toll rises to 50 in deadliest TRA accident in decades: MOTC
Taipei, April 2 (CNA) President Tsai Ing-wen (蔡英文) on Friday instructed all relevant government agencies to coordinate on relief work after at least 48 passengers died and over 100 were injured when a train carrying over 350 people crashed in Hualien, eastern Taiwan earlier that day, leaving several carriages piled up in a tunnel.
Tsai issued the directive and demanded a thorough investigation into the incident, Presidential Office spokesman Xavier Chang (張惇涵) said.
She also instructed the Ministry of Health and Welfare to initiate an emergency medical and rescue service system, while directing the Ministry of Transportation and Communications and the Taiwan Railways Administration (TRA) to coordinate extra services to provide transport for passengers stranded in eastern Taiwan after the accident, Chang said.
Upon hearing of the crash, Premier Su Tseng-chang (蘇貞昌), Minister of Transportation and Communications Lin Chia-lung (林佳龍) and Interior Minister Hsu Kuo-yung (徐國勇) all made for the site of the accident.
Su demanded the best possible medical care and assistance for the injured passengers.
Lin apologized in a statement to the nation's people and said he will take political responsibility.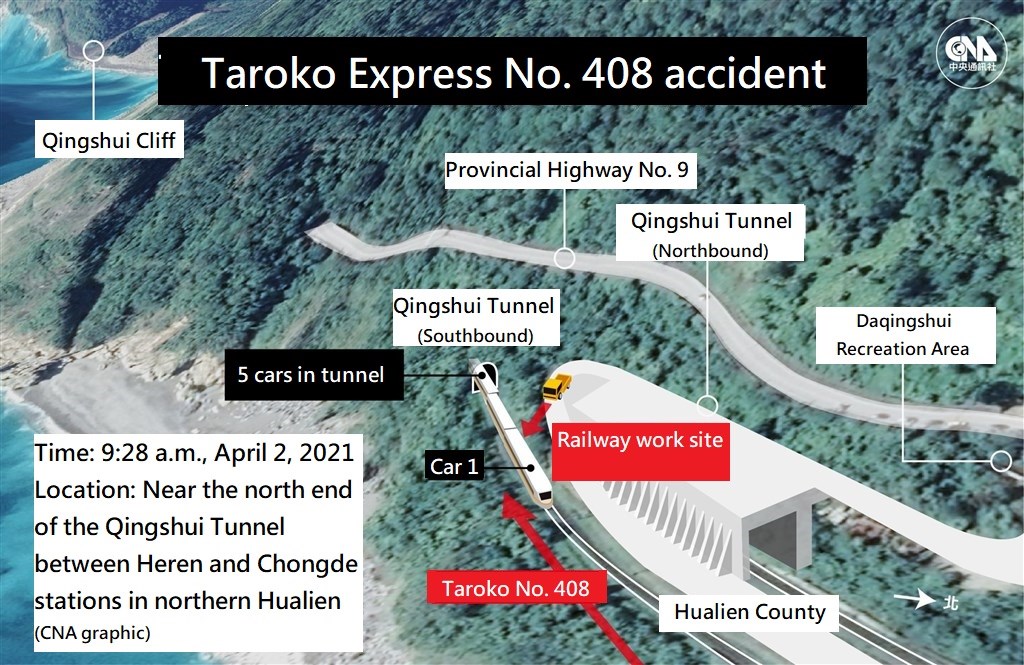 As transportation minister, Lin said, he will make providing relief his top priority and will work to offer extra transport services in eastern Taiwan and facilitate a further investigation into the cause of the accident.
As of 4 p.m. Friday, the military had dispatched 119 personnel and 17 vehicles to help with the relief work.