Differential treatment of Taiwan by Germany 'unacceptable': MOFA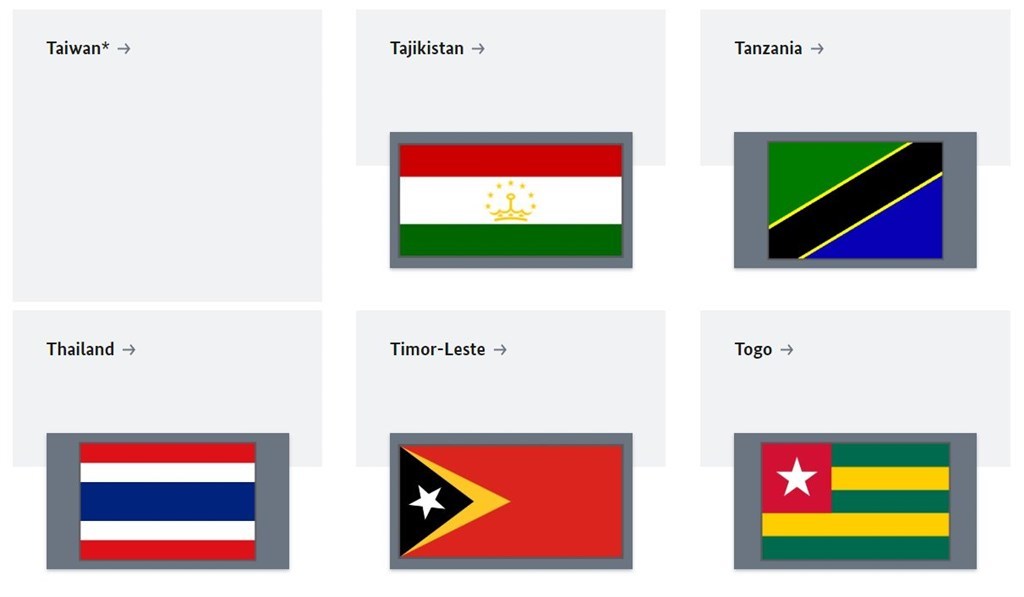 Taipei, July 13 (CNA) Taiwan's government on Monday described as "unacceptable" the German Foreign Office's blanking of a field on its website where the national flag of the Republic of China (ROC), Taiwan's formal name, should be displayed.
The German Federal Foreign Office's "differential treatment" of Taiwan may lead to confusion because its introductory page for Taiwan is different to those of other countries, Taiwan's Ministry of Foreign Affairs (MOFA) said in a statement.
MOFA said it has instructed its representative office in Germany to clarify Taipei's position regarding the issue and hopes the German side will change the design of the web page so it is more "balanced and harmonious."
The statement came after the lack of an ROC flag on the German Foreign Office's Taiwan introduction page caught the attention of a German reporter who raised it at a federal government press briefing on July 10.
According to a YouTube video of the press briefing, Rainer Breul, deputy spokesperson of the German Federal Foreign Office, stressed that the lack of an ROC flag on the web page was not a new development as suggested by the reporter.
Breul also cited the "One China Policy" adhered to by the country to explain the reason Taiwan is treated differently on its website.
Meanwhile, an official in the German Institute Taipei, Germany's de facto embassy in Taiwan due to the absence of formal diplomatic relations, told CNA that the ROC flag has never appeared on the German Federal Foreign Office's website.
"The speculation that Germany removed the ROC flag from its website due to China's pressure is inaccurate," the official said, adding that the management of the website is outsourced to a private entity and hopefully a symbol that represents Taiwan can soon be found to fill the space.
Meanwhile, Shieh Jhy-wey (謝志偉), Taiwan's representative to Germany, noted in a Facebook post on Monday afternoon that the German Federal Foreign Office's website designates Taiwan as simply "Taiwan."
In contrast, many other international organizations or business entities refer Taiwan as "Taiwan, Province of China" or "Taiwan, China."
The German Federal Foreign Office places Taiwan under a list of countries, although the term "country" in the list includes states, provinces and territories to avoid diplomatic controversy, Shieh said.
Most countries maintain diplomatic relations with China, which considers Taiwan to be part of its territory. As a result, such countries have only unofficial relations with Taiwan and do not officially recognize Taiwan as a country.