Taiwan's Foreign Minister blasts WHO for shifting designations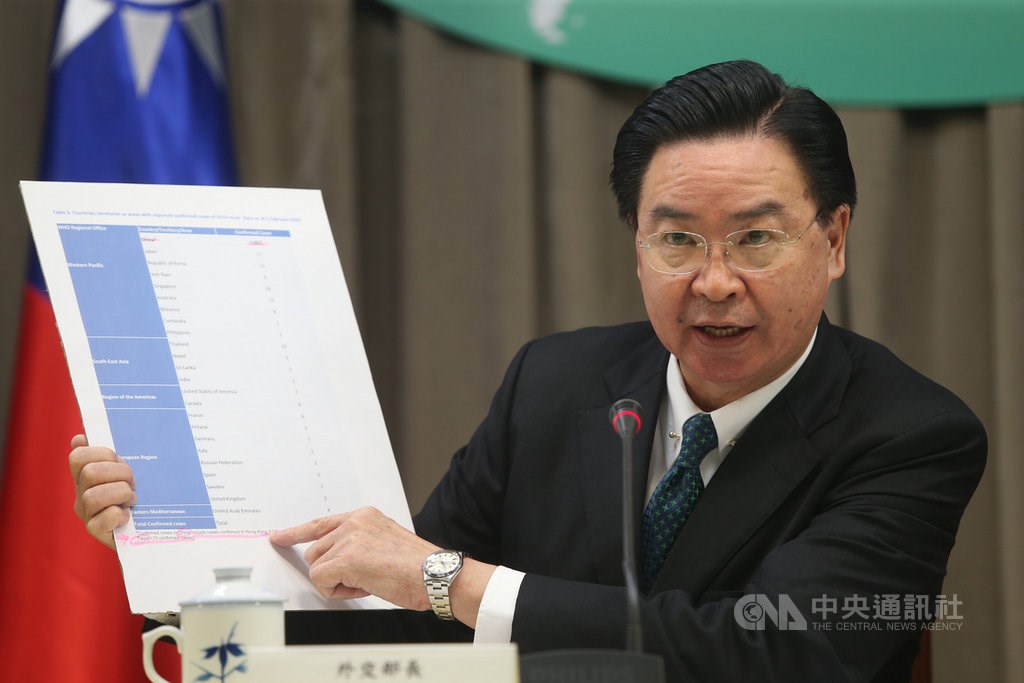 Taipei, Feb. 6 (CNA) Taiwan's foreign minister Joseph Wu (吳釗燮) on Thursday blasted the World Health Organization (WHO) for repeatedly giving Taiwan "inappropriate designations" and reiterated that Taiwan is not part of China.
".@WHO, what's wrong with you? First you called us 'Taiwan, China,' then you changed to 'Taipei.' You misreported the confirmed cases, & now you call us 'Taipei & Environs'," Wu said in a Twitter post.
"Look! Taiwan is #Taiwan & not any part of the #PRC," the tweet further read.
The tweet came in response to the 16th edition of the WHO Novel Coronavirus Situation Report issued on Feb. 5, which referred to Taiwan as "Taipei and environs" under a table of confirmed cases of the coronavirus reported by provinces, regions and cities in China.
On Feb. 4, the WHO's situation report listed the confirmed coronavirus cases in Taiwan as 13, which was three more than Taiwan's official tally at that time, but was later corrected.
The reason the WHO keeps changing its designation for Taiwan, a self-ruled island claimed by China, is unclear.
On Sunday, Wu blamed Italy and Vietnam's decision to ban flights to and from Taiwan earlier this week on "inaccurate information" provided by the WHO, which Wu said includes listing Taiwan as part of China in its epidemic report.
"The healthcare and flight information regions in Taiwan and China are administered by separate and independent authorities," Wu said at that time.
Vietnam has since reversed its decision banning flights from Taiwan after Taiwan's government made clarifications. However, such flights remained prohibited by Italy.
Meanwhile, foreign ministry spokeswoman Joanne Ou (歐江安) described the WHO's "series of inappropriate designations" of Taiwan as "unfactual" and "absurd" at a press conference Thursday.
"We expressed our solemn protest to the WHO after Taiwan's objection with regards to the matter through its representative office in Geneva and several other channels was ignored," she said, adding that Taiwan will continue to demand a correction.
The WHO referred to Taiwan as "Taiwan, China" on Jan. 22 in its second coronavirus situation report. The designation became "Taipei municipality" the next day, then it became "Taipei" on Jan. 25, and "Taipei and environs" on Feb. 5, according to MOFA.
The first WHO situation report on the coronavirus, which was issued one day ahead of its second report, did not mention Taiwan.
Taiwan's Mainland Affairs Council (MAC) on Thursday criticized China for preventing Taiwan from participating in the WHO.
China continues to ignore support for Taiwan's participation in the WHO amid the spread of the Wuhan virus epidemic and prevented Taiwan specialists from attending emergency meetings on the disease, MAC spokesman Chiu Chui-cheng (邱垂正) said at a separate press conference.
"The Beijing authorities wrongly cite certain United Nations and WHO resolutions and connect them with its 'One China Principle' unilaterally. These political maneuvers obviously violate the WHO Constitution and principles of international relations," Chiu said.