Taiwanese beverage shop in Germany caught up in 'One China' row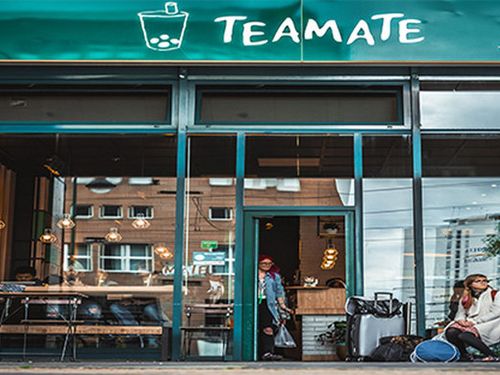 Berlin, Aug. 12 (CNA) The internet storm that engulfed Taiwan-based tea drink shops operating in China last week has spread to Europe, as a Taiwanese-founded shop in Germany was harassed online by jingoistic Chinese netizens for an employee's political views.
A manager of the Düsseldorf shop Teamate posted a message on his Instagram page Sunday supporting "Taiwan independence" and "Taiwan and China -- separate nations on either side of the (Taiwan) Strait."
His post drew a heavy backlash from Chinese netizens, with some leaving slanderous comments about the tea shop, such as "Teamate plays videos showing child pornography at its shop," or threatening to smash the shop on Google review, a popular restaurant review website.
Google later removed the posts and closed the comment section on Teamate, but the incident again showed the reach of Chinese netizens in propagating their country's political line and making life difficult for Taiwanese businesses.
Last week, at least 12 Taiwanese beverage chains were caught in the maelstrom, feeling compelled to appease Chinese internet users who attacked them, often without any justification, for supporting Taiwan independence or the Hong Kong protests and called for a boycott of their stores.
The chains responded by referring to Taiwan as "Taiwan, China," supported Beijing's "one country, two systems" framework, or calling Hong Kong an inseparable part of China on Chinese social media platforms.
That, however, sparked a furious outcry and calls for boycotts from Taiwanese customers, leaving the shops in a bind.
For a company like Yifang Taiwan Fruit Tea, the first chain to earn the wrath of the Chinese on Aug. 5, the stakes are high. Of its 1,500 branches worldwide, over 1,000 of them are in China, 179 are in Taiwan and 29 are in Hong Kong, and it has to keep customers on both sides of the Taiwan Strait happy.
The rabid nature of Chinese internet users makes that difficult. After they harshly attacked Yifang because one of its shops in Hong Kong showed a sign reading "stand together with Hong Kongers," they went on a witch hunt of other Taiwanese tea shops, unleashing the storm that drew in at least a dozen chains.
As of last Saturday afternoon, posts containing the hashtag "Taiwanese bubble tea shops" were read 370 million times and discussed 70,000 times on Sina Weibo, one of China's biggest social media platforms, an indicator of why companies operating there might be concerned.
Those numbers have changed little since then, however, suggesting that the wave of attacks has quieted down, for now.