President Tsai attends Paraguayan president-elect inauguration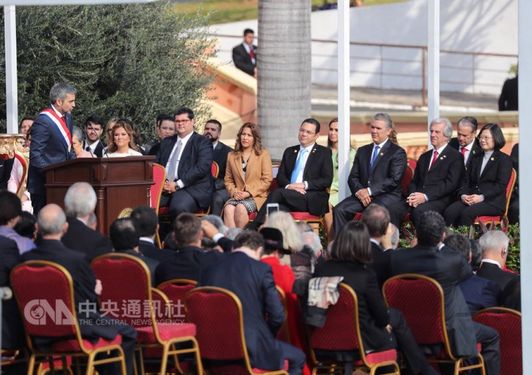 Asuncion, Aug. 15 (CNA) Taiwan President Tsai Ing-wen (蔡英文) attended the inauguration of Paraguayan President-elect Mario Abdo Bernitez and Vice President-elect Hugo Adalberto Velazquez Moreno on Wednesday and extended congratulations to the new leaders.
Tsai was invited to sit on a viewing stand, along with her counterparts from Argentina, Brazil, Uruguay, Colombia, Bolivia and Guatemala, during the ceremony.
Before the start of the ceremony, Tsai spoke briefly with Uruguayan President Tabare Vazquez, who was sitting next to her.
She was also warmly welcomed by Abdo Bernitez when he went on stage to take the oath of office.
Tsai arrived in Paraguay Tuesday for the inauguration of Abdo Benitez and is scheduled to fly to Belize Thursday for a three-day visit.
She is scheduled to return to Taiwan Aug. 20 after concluding the nine-day overseas trip, her fifth since she took office as president in May 2016.