China hindering stability in Asia: Former President Lee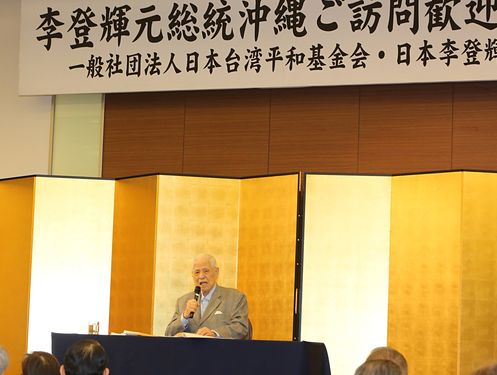 Naha, Japan, June 23 (CNA) Former President Lee Teng-hui (李登輝) said Saturday in Japan that China is the biggest obstacle to maintaining stability in Asia and he urged countries such as Taiwan and Japan to work together to deal with the threat from China.
China never shies away from showing its hegemonic mindset to the world, Lee said at a dinner hosted jointly by the Japan-Taiwan Peace Foundation in Naha City and the Friends of Lee Teng-hui Association in Japan.
The Asia-Pacific region has a vibrant economy and growing global influence thanks to the peaceful development in the region but China's rise could undermine the efforts to maintain stability in the area, Lee said.
He said China has been constantly threatening Taiwan by means of military exercises and has also been expanding its naval forces over the past decade, increasing its military budget by a double digit percentage each year over the past 20 years.
China has been creating tensions with neighboring countries as it expands from the Pacific Ocean into the Indian Ocean, Lee told the 200-plus guests at the dinner.
He said China is involved in conflicts not only in the East China Sea and South China Sea, but also in South Asia, where it has tried to set up military bases, a move that has weakened China-India relations.
On Sunday, Lee, 95, will attend the unveiling of a war memorial dedicated to the memory of Taiwanese soldiers who died in the 1945 Battle of Okinawa during World War II.
Lee's four-day trip is his ninth visit to Japan since his presidency ended in 2000. He is scheduled to return to Taiwan on June 25.