Organizers suspend military pension reform protests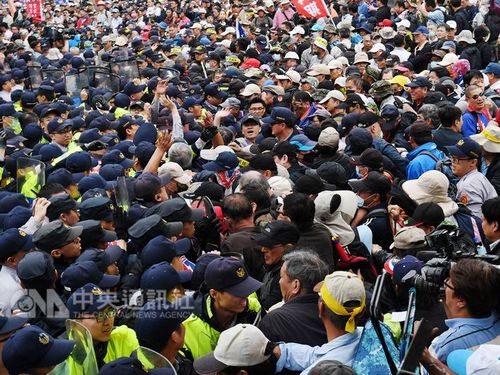 Taipei, April 26 (CNA) After a protest against the military pension reform bill staged outside the Legislative Yuan turned violent, leaving 84 police officers and 12 reporters injured, the event organizers announced on Thursday the suspension of further demonstrations.
Protesters from the veterans group, "800 Warriors," rallied outside the Legislature while the Foreign Affairs and National Defense Committee held a public hearing on the reform proposal on Wednesday.
However, there were clashes with police as protesters tried to tear down barricades and enter the Legislative Yuan compound. As a result, 84 police officers and 12 reporters were injured, while equipment belonging to four of the reporters was damaged, according to the National Police Agency.
In the wake of the incident, Luo Jui-ta (羅睿達), chief executive of the "800 Warriors," apologized for the clashes following the adjournment of a legislative committee review of the government's proposed military pension reform bill on Thursday. He also announced a temporary halt to protests that had continued despite the clashes on Wednesday.
Luo said the group will decide on its next step after reviewing the response of the Democratic Progressive Party and Presidential Office pension reform committee.
Meanwhile, retired Lieutenant General Wu Sz-huai (吳斯懷), deputy chief executive of the group, said protests have been temporarily suspended because the adjournment of the committee meeting was its goal and any further action will depend on the bill's progress in the Legislature.
The Association of Taiwan Journalists on Thursday condemned the violence of protesters, saying the group had failed because it ignored its social responsibility and did not control its supporters resulting in nearly 100 police officers and reporters being injured.
The association said it has asked the police to identify and bring to justice the perpetrators of violence and encouraged media outlets to provide legal assistance to injured personnel seeking compensation or set up a reporters defense foundation to pay such compensation.
The military pension reform bill proposed by the Cabinet on April 12 passed its first reading at the Legislative Yuan on April 20 and has drawn strong opposition from military retirees, who will see their pensions cut as a result of the measure.