President Tsai lauds success in pushing pension reforms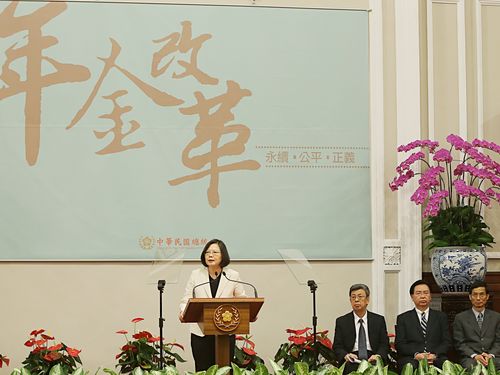 Taipei, June 30 (CNA) President Tsai Ing-wen (蔡英文) on Friday hailed the completion of pension reforms involving civil servants, public school teachers and political appointees, saying the achievement proved that such reforms are not a "minefield" for the government or "a taboo that cannot be touched."
Tsai lauded passage of the deep cuts in retirement benefits during a speech at the Presidential Office after an amendment to the Act Governing the Recompense for the Discharge of Special Political Appointees cleared the Legislature earlier Friday.
The legislation, along with two other bills covering the retirement benefits, pensions and severance of civil servants and public school teachers in the past three days, represented major steps forward in making the pension systems for the two groups of public employees more sustainable.
"Finally, pension bankruptcy is no longer an urgent crisis to Taiwan," Tsai said in the speech, even if the one pension system that was truly on the verge of bankruptcy, that of the military, was not addressed by the government in this week's legislation.
The pension systems for civil servants and public school teachers were projected to run out of money after 2030 if they were not adjusted while the one for the armed forces is expected to go bust in 2020 or earlier.
Tsai said the legislation passed "cut the income replacement rate for public servants and public school teachers, lowered or canceled the 18 percent preferential savings rate, and extended the retirement age."
Those measures are expected to save national coffers NT$1.4 trillion (US$46 billion), the president said, adding that with the money, "we can maintain the pension funds for civil servants and public school teachers for at least one generation, approximately 30 years."
Expressing her thanks for all those who were involved in the reforms, Tsai said they helped Taiwan achieve something remarkable.
With the passage of three important pension bills, "we proved pension reforms are not a minefield for the government, nor a taboo that absolutely cannot be touched," Tsai said.
"In the Tsai Ing-wen government's pension reforms, no one will struggle to live because of the reforms," she vowed.
The administration pushed through the reform with the help of the ruling majority in the legislature despite opposition from other parties and a coalition of retired civil servants and teachers.
(By Sophia Yeh, Hsieh Chia-chen and Elizabeth Hsu)ENDITEM/ls