Taiwan invites arbitrators, Philippine lawyers to visit Taiping
Taipei, March 23 (CNA) President Ma Ying-jeou (馬英九) on Wednesday invited Philippine lawyers and international arbitrators working on a South China Sea case to visit Taiping Island, which Taiwan claims as its territory in the contested South China Sea area.
Ma noted that questions have been raised recently about whether the 0.51-square-kilometer Taiping, the largest of the Spratly Islands, can be defined as an island under international law.
A case pending in the Permanent Court of Arbitration in The Hague, brought by the Philippines against China, has triggered interest in how the land formations in the South China Sea should be defined.
At a news conference in Taipei shortly after a group of international journalists returned from a trip to Taiping, Ma said he was inviting five arbitrators from the court and lawyers from the Philippines to visit Taiping.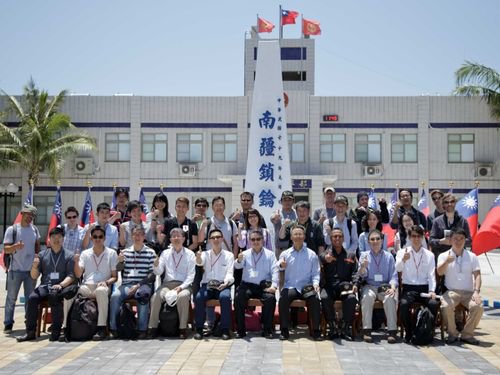 Photo courtesy of the Ministry of Foreign Affairs
"This will allow them to see for themselves whether Taiping is an island with potable water, where crops and poultry can be raised and human habitation can be sustained," Ma said.
He said the Philippines was making false statements about Taiping because it knew little about the island and had not sent any representatives to see for themselves.
Manila is hoping the court will rule that many of the formations claimed by Beijing in the South China Sea are reefs or rocks, entitled to no more than 12 nautical miles of territorial waters, rather than islands, which generate 200-nautical-mile economic zones.
Such a ruling would negate many of China's claims to fishing or resource rights in the region.
Taiwan has taken an interest in the case because a lawyer for the Philippines has argued that Taiping is not an island but rather a rock that cannot support human habitation.
As part of Taiwan's efforts to seek international support for its stance that Taiping meets the definition of an island, the Ministry of Foreign Affairs arranged for a group of local and international journalists and experts to travel Wednesday to Taiping, which lies about 1,600 kilometers southwest of Kaohsiung.
During the three-hour tour, they drank water from a well and ate lunch made from produce of a farm on the island, according to the ministry.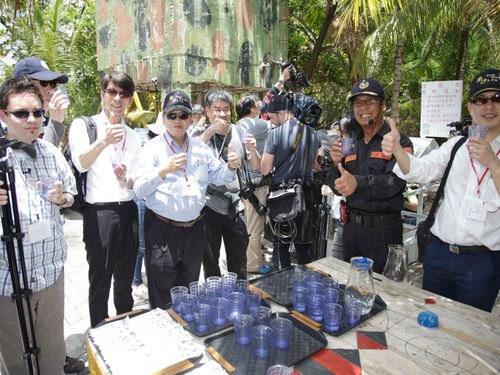 Photo courtesy of the Ministry of Foreign Affairs
That was proof that the island's natural environment can sustain human habitation and economic life of its own, the foreign ministry said.
The group also visited Nansha Hospital, which provides not only emergency treatment to Republic of China citizens but also humanitarian assistance to foreign nationals, the ministry said.
After the tour, some international journalists said they agreed that Taiping met the definition of an island.
"This is absolutely an island. How can it be just a reef?" one journalist said, noting that Taiping can support human habitation and that trees and food crops are grown there.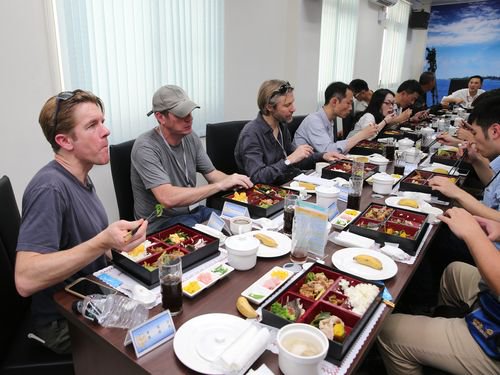 Others said they were impressed by what they saw on Taiping. Not only can it sustain economic life of its own, it has a hospital that provides humanitarian assistance, they said.
One journalist said that while she had "no special knowledge" of whether Taiping was an island or a reef, she fully understood Taiwan's stance.
Before Wednesday's media tour, Ma visited the disputed island on Jan. 28 in an effort to counter the claim that Taiping Island, which has been under the control of the Republic of China government since 1946, is only a reef.
Taiwan, China, the Philippines, Vietnam, Malaysia and Brunei claim all or part of the South China Sea and its waters, which are thought to be rich in oil and natural gas reserves.
Amid tensions due to competing territorial claims in the region, Ma has proposed a South China Sea peace initiative that calls on all parties concerned to shelve their disputes and seek joint development of the area's resources.
(By Lu Hsin-hui, Hsieh Chia-chen and Elaine Hou) ENDITEM/pc