Taiwan urges Japan to apologize over comfort women issue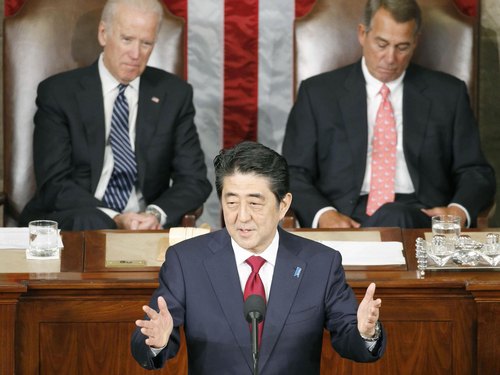 Taipei, April 30 (CNA) Japan should apologize for its military's abuse of "comfort women" who were forced into sexual slavery during World War II, a Taiwanese official said Thursday, one day after Japanese Prime Minister Shinzo Abe paid homage to Americans killed in the war but offered no apology for Japan's wartime atrocities.
"Our stance on the comfort women issue has been consistent, which is that Japan should apologize to the victims and offer compensation," said Lo Koon-tsan (羅坤燦), secretary-general of the Association of East Asian Relations, which handles Taiwan's ties with Japan in the absence of formal diplomatic relations.
The Taiwan government will continue to press Japan for an apology to the comfort women, Lo said at a news briefing, when asked to comment on Abe's statement, which was made in a speech to the United States Congress.
More than 2,000 Taiwanese women and many more across Asia were forced into sexual slavery by the Imperial Japanese Army during World War II, according to the Taipei Women's Rescue Foundation, which is dedicated to helping comfort women cope with their mental anguish and seek compensation from Japan.
The issue is still a point of contention today between Japan and neighboring countries, particularly South Korea and China.
During his address Wednesday, Abe paid tribute to fallen WWII American soldiers and expressed "feelings of deep remorse over the war."
"My dear friends, on behalf of Japan and the Japanese people, I offer with profound respect my eternal condolences to the souls of all American people that were lost during World War II," he said in an unprecedented address to a joint session of Congress.
He acknowledged Japan's role in the anguish endured in Asian region during the war but avoided any specific mention of the sex slavery issue.
"Our actions brought suffering to the peoples in Asian countries," Abe said. "We must not avert our eyes from that."
(By Elaine Hou)ENDITEM/pc