Defector explains reason for Taiwan's nuclear plan to sink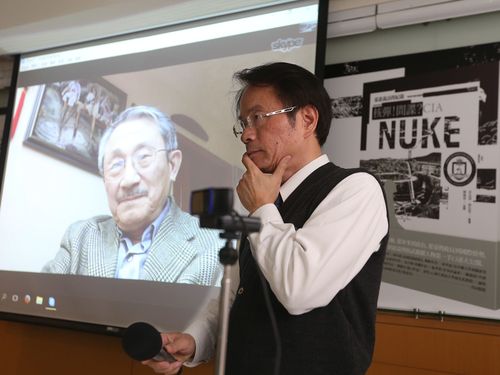 Taipei, Jan. 9 (CNA) A former member of Taiwan's doomed nuclear weapons development project, Chang Hsien-yi (張憲義), disclosed Monday that his fear of ambitious politicians using such weapons was the reason behind his decision to flee to the United States 29 years ago.
Back in 1988 when he decided to leave, it was because he was worried that "ambitious politicians might use nuclear weapons," Chang said in a video conference held to mark the release in Taipei of a new documentary book.
At the time he believed such people would not just be unable to foster the well-being of the Taiwanese people but would also pose a safety threat to them, he explained.
At Monday's video conference, the 73-year-old Chang was asked why he wrote that the Democratic Progressive Party (DPP), now the ruling party of Taiwan, was one of five reasons for his resignation from the Chungshan Institute of Science and Technology (CSIST) in 1988.
He replied that he is surprised at himself for why he singled out the DPP in his resignation note, because at the time it was not the DPP he was worried about, but ambitious politicians.
Such people include military strongmen, who he said could be from the DPP or the Kuomintang (KMT). "It does not matter what political parties are," Chang contended. "In my mind, there are only ambitious politicians."
Chang was the deputy director of the First Institute of the CSIST, which was later transformed into the government-run Institute of Nuclear Engineering Research, before his defection in January 1988 with the assistance of the U.S. Central Intelligence Agency (CIA).
With his testimony, Washington, in cooperation with the International Atomic Energy Agency, managed to have all facilities related to nuclear development at the CSIST dismantled and shut down the laboratory several days after Chang's arrival in the U.S.
In his capacity as a military colonel, Chang was listed as a fugitive by Taiwan's military in that year. The pursuit of the defector by the authorities lasted for 12 years and six months until July 2000, when the arrest warrant for him expired.
The details of Chang's defection were revealed in an interview by Academia Sinica associate research fellow Chen Yi-shen (陳儀深) last year, and the content of the interview was published in Chinese, titled "Nuclear! Spy? CIA: Record of an Interview with Chang Hsien-yi."
The 224-page book, published in December 2016, is now available in Taiwan.
Speaking of the new book, Chang said he did not publish the book for money or to reverse a miscarriage of justice.
Instead, he wanted people to develop an appreciation for this "historical incident" so that they can learn from it and help promote the welfare of Taiwan's people.
"That was my goal in my publishing the book," Chang said.
(By Lu Hsin-hui and Elizabeth Hsu)ENDITEM/J/ls