Trio presented with Taiwan-France Cultural Award in Paris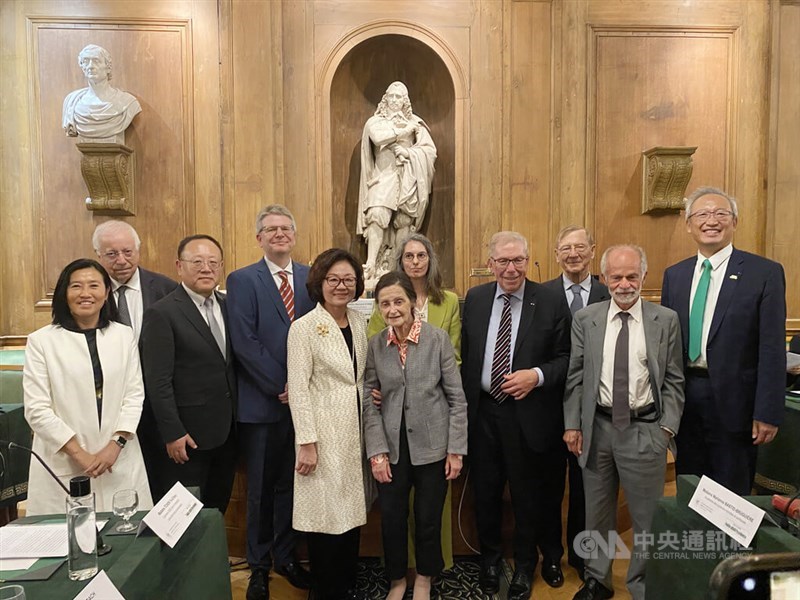 Paris, Sept. 18 (CNA) Taiwanese veteran pianist and senior cultural administrator Tchen Yu-chiou (陳郁秀) along with German translator Thilo Diefenbach and French academic Charlotte Pollet were presented with the Taiwan-France Cultural Award at the 26th Taiwan-France Cultural Award ceremony held in Paris on Monday.
The award ceremony was hosted by Taiwan's Cultural Minister Shih Che (史哲) and Perpetual Secretary of the Academy of Moral and Political Sciences Bernard Stirn, and took place at the French Academy for Social and Moral Sciences, with nearly 100 people in attendance.
The Ministry of Culture first announced the list of award recipients in November 2022.
Shih said that the award symbolizes the Taiwanese and French people's mutual pursuit of freedom, as well as resistance against oppression and inequality.
Shih also read excerpts from author Yang Kui's (楊逵) novel "Unflattened Roses," which explores Taiwan post-World War II when people faced government persecution.
Shih said that Taiwan would communicate with the world through culture which would help people from all over the world increasingly discover and understand Taiwan.
At the ceremony, Tchen, who was also honored with a Taiwan-France Special Contribution award, and is a former award ceremony organizer and presenter, told CNA that she had mixed feelings about receiving the award.
"The award has encouraged many people, and led to Taiwanese culture becoming more international," Tchen said.
"The world wants to know more about Taiwan, but if Taiwan does not brand itself properly, it is tough for the international community to understand us. This is the part Taiwan needs to work harder on," Tchen said.
Tchen said that winning the award was not her goal, but promoting cultural exchanges between Taiwan and France was important to her. "I will forever be a volunteer promoting Taiwan's culture," she said.
Tchen earned the titles of knight of the National Order of Merit in 1996, knight of the Legion of Honor in 2008, and officer of Arts and Letters in 2009, according to the Ministry of Culture.
After she took first prize at the Paris Conservatory in 1975, she returned to Taiwan to work as a professor at National Taiwan Normal University's (NTNU) Department of Music teaching French classical music, it said.
She went on to become the dean of the NTNU College of Arts and during her stint, she created French courses while pushing for exchanges between Taiwan and France in visual arts and crafts, it said.
Meanwhile, Diefenbach delivered his acceptance speech in Chinese at the ceremony, saying that the award had a long history and that he felt hugely encouraged to have received it. "I am happy that people value my works," he said.
As a self-described "Taiwan researcher," Diefenbach began studying Taiwan literary history in 2009 and has since penned several articles on Taiwan and Taiwanese literature in the Hefte fur Ostasiatische Literatur literary magazine, of which he later became deputy editor, the MOC said.
Diefenbach earned his doctorate from the University of Cologne, and is currently working in a Berlin institution, the MOC said.
Meanwhile, Charlotte Pollet, an associate professor at National Yang Ming Chiao Tung University, told CNA that she was surprised to win the award because it was usually given to those specializing in Taiwan, whereas her work focused on China, India and philosophy.
Pollet has lived in Taiwan for 15 years and is a naturalized Republic of China (Taiwan) citizen, the MOC said.
In recent years, the academic launched an event called "Philosophy Week" and established the non-profit organization PhiloZokids, to promote philosophy education for children.
"It is important for children to think independently, and to understand individual uniqueness and diversity," Pollet said.
Regarding Taiwan's politics, Pollet said Taiwan had a "healthy" democracy, and that it was vital for people to be able to mobilize, offer solutions, and learn to express their thoughts.
The Taiwan-France Cultural Award, established in 1996, is given to those who have done exemplary work in enhancing cultural exchanges between Taiwan and Europe, and to encourage institutions and individuals to carry out research activities related to Taiwanese culture.