Viral 'Avatar' photo of Matsu tourist stirs environmental debate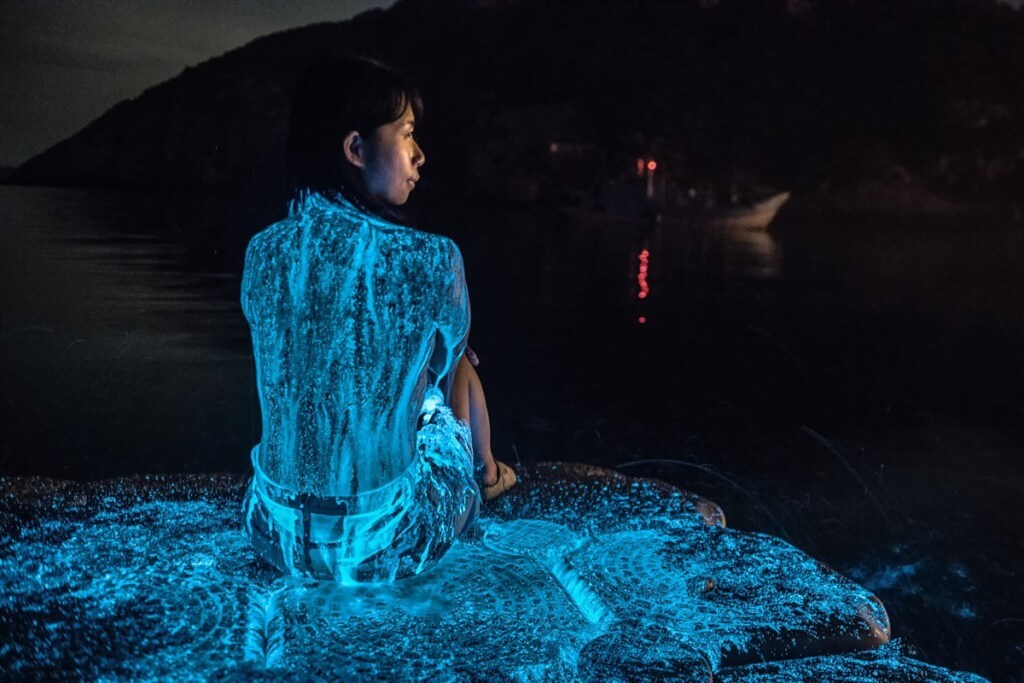 Taipei, May 23 (CNA) A viral photo of a tourist in Matsu covered in bioluminescent algae and glowing a fluorescent blue, which garnered comparisons to the science fiction film "Avatar," has stirred online debate in Taiwan over whether such actions harm the environment.
The photo was originally posted online on May 17 by Chou Chih-hsiao (周治孝), a resident of Matsu's Beigan Township who runs a Facebook group devoted to the luminescent phenomenon, which is known locally as "blue tears."
At the time, Chou said the unicellular species of algae that causes the blue light -- Noctiluca scintillans -- is buffeted around on the ocean's surface by the wind and tides, and often pools in small inlets along the Matsu coastline.
In the photo, Chou said he had managed to achieve the effect by splashing large amounts of algae-laden seawater onto the subject, and then quickly snapping a photo before it washed back into the sea.
Lin Wen-fu (林文福), a bed-and-breakfast owner on Matsu's Dongju Island, told CNA the area had experienced a massive bloom of the algae between May 14 and 17, creating the most vivid "blue tears" phenomenon so far this year.
While Chou's picture was widely shared in Taiwan's media over the weekend, with many praising its beauty, some netizens raised questions as to whether the algae blooms were indicative of a polluted environment, or whether scooping up algae to take such photos was itself harmful.
In an interview with CNA Tuesday, Chiang Kuo-ping (蔣國平), a distinguished professor at National Taiwan Ocean University's Institute of Marine Environment and Ecology, played down both concerns.
According to Chiang, the blue tear phenomenon occurs annually between March and early July, when the Min River in China dumps large amounts of silicates into the waters around Matsu.
This influx of silicates drives an explosion in the population of microalgae called diatoms, and in turn, the Noctiluca scintillans that feed on them, Chiang said.
The bioluminescence, meanwhile, is caused when the algae is exposed to various types of disturbance, he said.
Chiang said the silicates that drive Noctiluca scintillans blooms often come from land-based sand rather than pollutants, and that "blue tear" phenomenon is relatively "normal" in areas with turbid, nutrient-dense waters like Matsu.
As to whether photos like Chou's might harm the environment, Chiang said the vast majority of the algae captured in the photos flow right back into the sea, meaning that the impact "is not very large."
As Noctiluca scintillans is a non-toxic species, it is also unlikely to have any negative effects on the human body, Chiang added.