Visiting Japan high school band does pop-up show in Taipei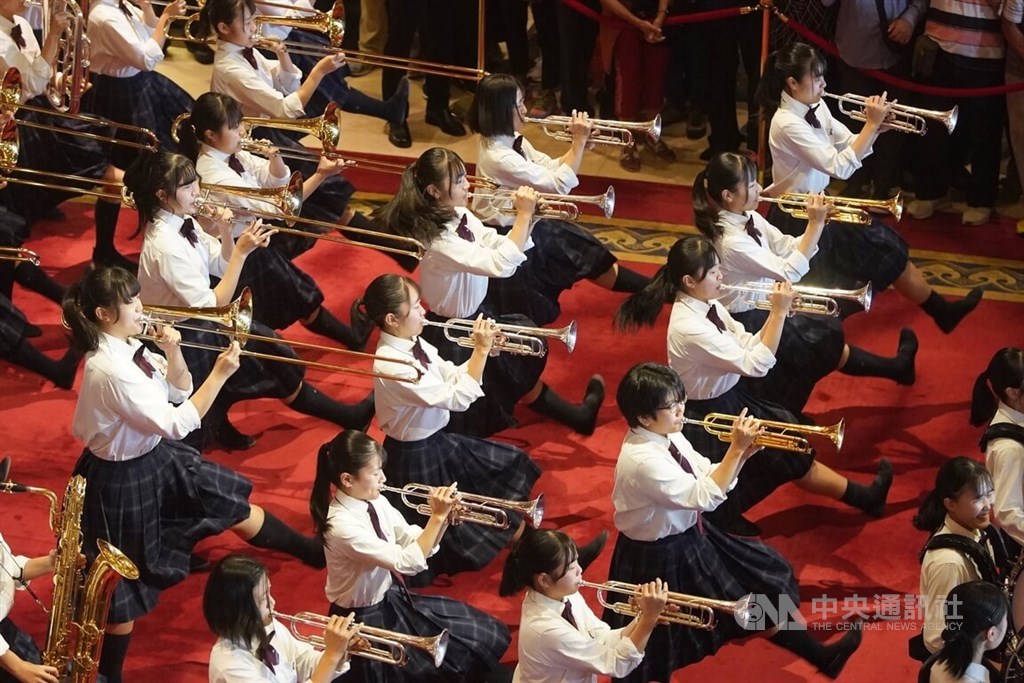 Taipei, Oct. 6 (CNA) The visiting Kyoto Tachibana Senior High School (SHS) Band, which will perform at Taiwan's Double Ten National Day celebration on Oct. 10, put on a pop-up show at the Grand Hotel in Taipei on Thursday.
The group, composed of 88 students and five teachers from the school, arrived in Taiwan Wednesday afternoon for a six-day visit that will end on Oct. 10.
On Thursday morning, members of the band showed up at the Grand Hotel for a short performance. Wearing shirts, pleated skirts, or suit pants, the student performers appeared in the lobby of the Grand Hotel at 9 a.m., before moving to the hall to perform.
The band then put on a five-minute performance, which attracted a crowd who rushed to take pictures.
Later on Thursday, members of the band paid a visit to Taipei First Girls' High School to engage with teachers and students there.
During the event at the school, the Japanese guests were presented with pearl milk tea and vintage cakes sent over by President Tsai Ing-wen (蔡英文), in her capacity as the chairwoman of the General Association of Chinese Culture (GACC), GACC Secretary-General Lee Hou-ching (李厚慶) said Thursday.
Tsai also thanked the Japanese high school band with a card that said, "Welcome to Taiwan! I look forward to your performances, and I believe the Double Ten National Day will be even more glorious because of you."
Invited by the GACC and the National Day Preparation Committee, the Japanese SHS band, nicknamed the "Orange Devils" because of their orange costumes, will perform during a massive ceremony to mark the Republic of China's (Taiwan's official name) National Day, Lee said in a statement on Wednesday.
Over the past two years, due to the COVID-19 epidemic, neither Taiwanese nor Japanese have been able to travel to each other's country, Lee indicated.
However, through the donation of masks and vaccines to each other during the epidemic, the friendship between Taiwan and Japan is getting stronger, he said.
This is the first time a large foreign performing group has been invited to participate in the National Day event, according to Lee.
While in Taiwan, the band will engage in exchanges with performing bands from three Taiwanese schools on Oct. 9, Lee added.
The band's videos of their performances often get millions of views on YouTube, with four videos having received over 10 million views each.