National Symphony Orchestra names Jun Märkl to take helm in 2021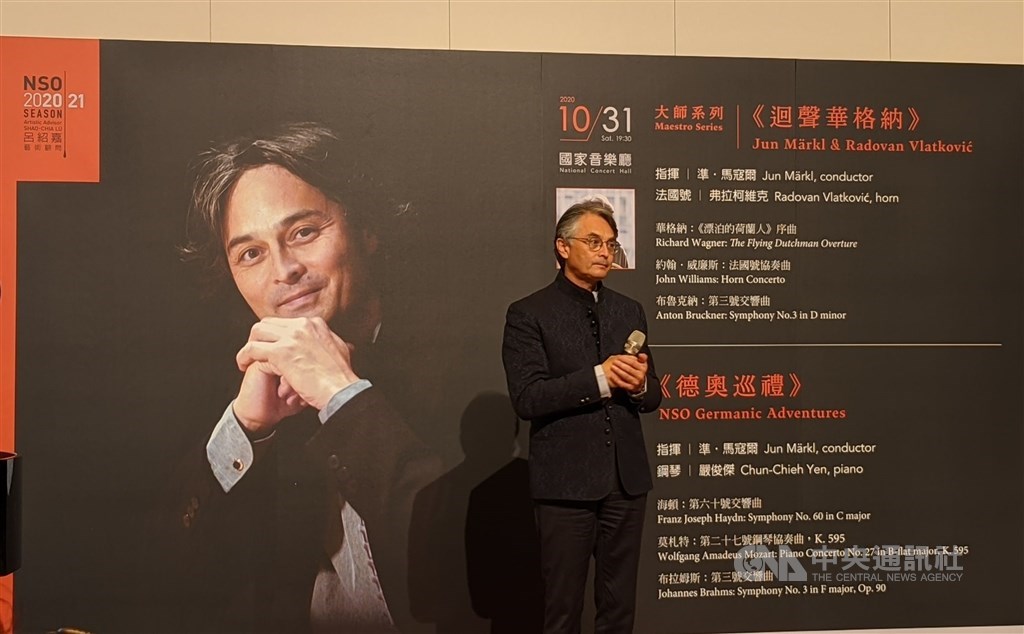 Taipei, Oct. 28 (CNA) The National Symphony Orchestra (NSO) has named Jun Märkl, a guest conductor from Germany set to conduct two in a series of three upcoming concerts in Taipei, as its new artistic adviser from summer 2021, the NSO said Tuesday.
"I'm coming with a lot of happy, positive ideas for the future," said Märkl in a press conference in Taipei on Tuesday, adding that he is happy to work with the orchestra as a partner to create great music and improve its international visibility.
The new man at the helm will succeed Lü Shao-chia (呂紹嘉), who was named as artistic adviser for the current season after finishing a 10-year tenure as the NSO's artistic director.
Märkl, who worked with the orchestra once in 2018, was the top choice in the NSO's two-year search for a new artistic director, but came to an agreement for him to take a role as an adviser on a three-year contract due to his existing engagements.
The 61-year-old pianist-turned-conductor, whose parents are musicians from Germany and Japan, respectively, said he seeks to "build bridges, between cultures, between people, between mentalities, bridges in a way of helping understand each other."
"What we want to do is fantastic performances that we can give to our audience a very special experience they will have in memory for a long time. And in this sense, we are working on making life better, giving positive experience," Märkl said.
"This happens to be something special about our profession," he said.
Noting his preference for collaborating with others and working as a member of a team, Märkl said he does not intend to change the NSO's direction but hopes to further develop it based on its history over the past three decades.
The conductor said that "to find the special Taiwanese component in what we do" will be a big part of his future job, because when the orchestra goes on international tours, it is an ambassador for Taiwan.
Asked about the COVID-19 pandemic's impact on his plans for the orchestra in such an uncertain time, Märkl said the pandemic has changed the way events are planned into years ahead, therefore planning needs to become more flexible, with more alternatives available.
Märkl and French horn player Radovan Vlatković returned to Taipei after their previous performances scheduled to take place at the National Concert Hall in March were cancelled. The venue was forced to close because of a confirmed COVID-19 case of a musician that had performed there before them.
The first concert, to be held at the National Concert Hall in Taipei Saturday, brings back the program cancelled seven months ago, when they were just days away from going on stage.
The concert will open with "The Flying Dutchman Overture" by Richard Wagner and then Vlatković will join the orchestra for John Williams' "Horn Concerto" before the interval.
The second half of the concert will feature Anton Bruckner's "Symphony No.3 in D Minor."
Vlatković will then headline a chamber concert on Nov. 3 at the Recital Hall, where he will be joined by local musicians to perform "The Swan," a quintet for horn and string quartet by Alexandre Ouzounoff, Brahms' "Horn Trio in E-flat Major, Op.40," and ErnőDohnányi's "Sextet for Clarinet, Horn, Violin, Viola, Cello and Piano, Op.37."
Following the two concerts, Märkl will give his second concert of this trip at the National Concert Hall on Nov. 6, which will feature Haydn's "Symphony No. 60 in C Major," Mozart's "Piano Concerto No. 27 in B-flat Major, K. 595," and Brahms' "Symphony No. 3 in F Major, Op.90."
Pianist Yen Chun-chieh (嚴俊傑), who studied at the same German music institute in Hannover as Märkl, will be the guest musician for the Mozart piece.
Pianist Yen Chun-chieh plays during Tuesday's press conference.
Born in Munich, Märkl won the conducting competition of the Deutsche Musikrat in 1986 and a year later, won a scholarship from the Boston Symphony Orchestra to study at Tanglewood with Leonard Bernstein and Seiji Ozawa.
He previously directed the Nationaltheater Mannheim (1994-2000), the Orchestre National de Lyon (2005-2011), and the MDR Symphony Orchestra Leipzig (2007-2012). He was also the chief director of the Basque National Orchestra (2014-2017).