Gay couple finds common ground with Taiwan's traditional values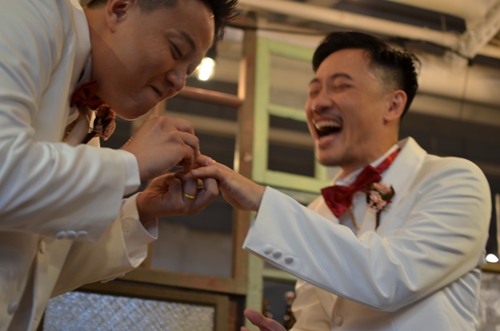 [Editor's note: Taiwan's Legislature is scheduled to vote on three same-sex relationship bills on May 17 to legalize same-sex marriage before May 24, the deadline set by the Constitutional Court to amend the law to legalize same-sex marriage. CNA has interviewed three same-sex couples who plan to register to get married on May 24, regardless of the outcome of the legislation process. This is the story of the first couple. The two other stories will be published in the coming days.]
By Stacy Hsu, CNA staff reporter
Lin Meng-huan (林孟寰) and Chou Chun-peng's (周浚鵬) wedding had many things one would find at typical weddings. There were family, friends, laughter, tears and dancing, but it lacked an important element often heavily featured in weddings: public displays of affection.
Throughout the couple's hours-long wedding in Taipei on May 5, they completely avoided kissing or hugging. The only time they had somewhat intimate physical contact was when Lin's mentor forced them to briefly hold hands after they had exchanged wedding rings.
The absence of displays of affection at the ceremony may seem odd, but it was actually part of many "considerate arrangements" the couple had carefully planned to ensure that their wedding was suitable for both their progressive friends and conservative parents.
"Basically, I think most parents want to see their children grow up to be normal, meaning heterosexual. So a part of them will always feel like they are forced to accept our homosexuality," said Lin, a 31-year-old playwright from Taichung.
"It was good enough that they were willing to come to our wedding...so we thought we should not put more burden on their hearts."
The two's story epitomizes the experiences of many gay people in Taiwan, who are struggling to find a place in a conservative society whose stringent adherence to traditional family values and perceptions about gender has made their coming out and pursuit of social acceptance all the more difficult.
In addition to the "no-displays of affection" rule, the couple also went to great lengths to make sure they did not step on any "conservative landmines" at their wedding.
They refrained from using the term "groom" to refer to either of them, as some in society have worried that legalizing same-sex marriage may disrupt the long-held system of "normal" social appellations in Taiwan.
They also resorted to rock-paper-scissors games to decide the order in which they gave their speeches, so as to avoid sparking a sensitive debate over which of them was "the man in the marriage" - something Taiwan's patriarchal society still cares a lot about.
Lin Meng-huan (left), Chou Chun-peng (right)
Although Lin is now able to joke about the time his mother deemed his homosexuality as "a sign of possession" by evil spirits, and tried to treat him with the Taoist version of "holy water," it was not easy for both him and his parents when he first came out to them at age 17.
Lin said he used to take a more rebellious approach to make his parents accept his homosexuality. He would bring his boyfriends back to his parents' house in disregard of how they might feel about it.
"You know how families in central or southern Taiwan are like. Parents usually play dumb and avoid pointing out the elephant in the room," Lin said. "So they would only briefly greet my boyfriends without actually talking to them, or asking what we were doing in my room."
Lin said he believed his parents must have made great efforts trying to reconcile with the fact that their son was gay after he went to Taipei for college.
"I could tell they became less uptight about this. They also stopped asking me what kind of girls I could possibly like," Lin said.
Changes in Lin's parents' attitude became more obvious after his relationship with Chou, a 37-year-old performer, became more serious. Lin said he noticed his parents started to interact with Chou and even allowed him to spend nights at their house when Chou traveled to Taichung by himself for gigs.
Chou said one time when he was helping Lin's mother do the dishes she suddenly blurted out: "Pon Pon (鵬鵬), you really feel like family." Pon Pon is Chou's nickname.
"I was so happy that I immediately called Dazi (大資, Lin's nickname), telling him that I think I had been accepted by his mother," he said.
For Lin, he also felt that Chou's parents had come to accept him after he started spending more time at their house in New Taipei City. Relations between the two families also became warmer after they took a five-day trip to Thailand together earlier this year, they said.
Asked why they decided to get married, Lin said one of the reasons was that he had been with Chou for eight years and knew for sure that he was "the one." Another reason, he said, was that starting his own family and being a father had always been his dream.
"I had to let those dreams go when I realized I was gay because I thought I would never be able to do that," Lin said.
To his surprise, Taiwan's Constitutional Court issued an interpretation on May 24, 2017 in favor of legalizing same-sex marriage, ruling that the Civil Code's prohibition of marriage between two people of the same gender was unconstitutional and demanded a legislative remedy within two years.
Ever since then, Lin said he had been waiting for the right moment to propose to Chou, but it was not until he saw what he called the devastating result of an anti-same sex marriage referendum on Nov. 24 last year that he decided to act right away.
More than 7.65 million Taiwanese voted in favor of restricting the definition of marriage in the Civil Code to one between a man and a woman, forcing the government to draw up a separate law - an approach deemed by the gay community as discriminatory - to legalize the union of homosexual couples as ordered by the court.
Lin said while the result filled him with excruciating pain and rage, describing it as "having 7 million people spit in his face," it helped put things into perspective and made him realize the only opinion that should matter was that of the person next to him.
"What is one more opponent of same-sex marriage when there are already more than 7 million of them? I just thought: 'Screw them,'" he said. "So I proposed to Pon Pon the very next day."
The couple's next move is to register their marriage on the first day gay unions become legal on Friday (May 24), in the hope of inspiring more people like them to pursue happiness despite their non-mainstream sexual orientation.
They also hope their story will show society that they are not that different from most people, who are merely trying to make a living to support those they love.
"For many, especially those living in central or southern Taiwan, they have never met any gay people in their lives," Lin said.
"When there are more and more people like us who are able to win the support of their families and relatives and get married...gay people will gradually stop being 'they' and start being 'one of my relatives or colleagues,'" he said.
Echoing his son's views, Lin's mother, Wu Li-ying (吳麗櫻), said his son has lived a difficult life because of his homosexuality.
"So I hope (this wedding) would at least offer some form of encouragement to other people with a similar sexual orientation, and also their families."
Enditem/cs