Taiwan's new submarine boosts nation's defensive capabilities: scholar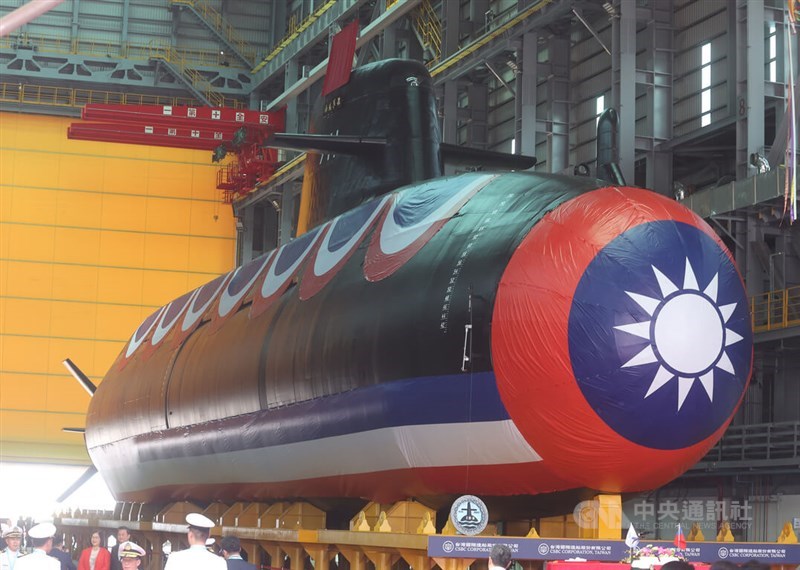 Taipei, Sept. 28 (CNA) A Taiwanese defense expert said Thursday that the newly unveiled Taiwanese 'Narwhal' submarine will boost Taiwan's defense capabilities and could deter Chinese aircraft carriers and amphibious landing groups in eastern Taiwan when it goes into active service at the end of 2024.
Su Tzu-yun (蘇紫雲), a research fellow at Taiwan's Institute for National Defense and Security Research (INDSR), told CNA that the submarine will play a vital role in enhancing Taiwan's combat readiness in the eastern part of the country.
Su's comments were made following the unveiling of Taiwan's first Indigenous Defense Submarine (IDS), named "Narwhal," in Kaohsiung the same day.
According to Su, submarines have the ability to effectively control critical maritime passages such as the Bashi Channel, located between southern Taiwan and the Philippines, and the Miyako Strait in the East China Sea.
Su also noted that in the event of a blockade by the People's Liberation Army (PLA), the submarine can serve as vital counter-blockade asset, adding that domestically-produced submarines not only contribute to military strength but also bolster economic development.
Meanwhile, Chieh Chung (揭仲), an associate research fellow at the National Policy Foundation in Taipei, told CNA that during wartime, a sufficient number of submarines could be stationed in strategically chosen underwater ambush points around Taiwan, and be used to launch attacks against passing PLA fleets or high-value targets such as amphibious assault ships.
However, if the People's Liberation Army Navy (PLAN) were to occupy these ambush areas, which are mostly located near eastern Taiwan, with a few near Keelung in northern Taiwan and Kaohsiung in the south, it would enable Chinese forces to blockade Taiwan, restricting the movement of Taiwanese aircraft, he noted.
As such, it is important to increase the nation's submarine fleet, according to the defense scholar.
Lin Yin-yu (林穎佑), an assistant professor at Tamkang University's Graduate Institute of International Affairs and Strategic Studies, also noted that based on previous PLAN military exercises, Chinese aircraft carriers have been more active in the Western Pacific, apparently practicing establishing a naval blockade around Taiwan.
Lin argued that if Taiwan's military can develop sufficient underwater combat capabilities, it would be able to delay Chinese forces, thereby providing additional response time.
The completion of 'Narwhal' means that Taiwan's Navy is on track to have a total of three combat-ready submarines by 2025 and four by 2027, including two existing Chien Lung-class (Sword Dragon) subs bought from the Netherlands in the 1980s.