Chinese dissident stranded at Taiwan airport seeks U.S., Canada asylum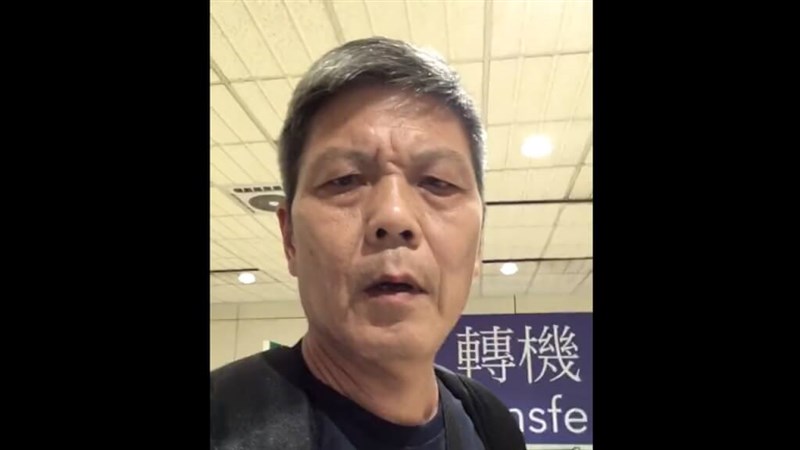 Taipei, Sept. 22 (CNA) Chinese dissident Chen Siming (陳思明) refused to return to China Friday after his flight from Thailand made a transit stop in Taiwan, where he appealed for asylum in either the United States or Canada.
"I have come to Taiwan to avoid persecution by Beijing," the Hunan-based dissident said in a 40 second video on his X account, in which he also asked the Taiwanese government not to deport him to China.
In an interview with Radio Free Asia, Chen said he fled China on July 22 for Laos, where he later learned about the arrest of Chinese human rights lawyer Lu Siwei (盧思位).
Chen said he was frightened by the news and decided to go to Thailand, where he was granted United Nations refugee status. He also indicated he had a Chinese passport with him but said it had been cancelled by the Chinese authorities.
However, Chen said, while in Thailand he lived in constant fear of being sent to an immigration detention center and therefore purchased a China-bound ticket on Sept. 21, deliberately selecting one that involved a transit stop in Taiwan.
Asked how he was able to purchase what local media said was an Eva Air ticket and board the flight without valid travel documents, Chen said only that he was helped by friends.
Chen also mentioned in the report that people are subject to arbitrary summoning and detention in China.
A dissident from Zhuzhou, Hunan, Chen has been on Beijing's blacklist for many years and was arrested in 2017, 2018, 2020 and 2021 for holding a placard to mourn the victims of the 1989 Tiananmen Square protests, known as the June Fourth Incident.
On May 26, Chen said on Social media platform X, formerly known as Twitter, that with the approach of the anniversary of Tiananmen uprising, national police would accompany him "day and night through this sensitive period."
According to Jane Wang (王劍虹), an activist with U.S.-based human rights group Humanitarian China, Chen was threatened with imprisonment for refusing to delete that post, and there were reports that he was "taken for questioning and detained in detention center No. 430."
In response to Chen's arrival in Taiwan, the Mainland Affairs Council ,Taiwan's top government agency handling cross-strait affairs, said it is trying to clarify the matter with the relevant authorities.
Meanwhile, a human rights activist told CNA that the Taiwanese government should try its best to relocate Chen to a third country rather than send him back to China.