Taiwanese man arrives in Japan after serving time in China for spying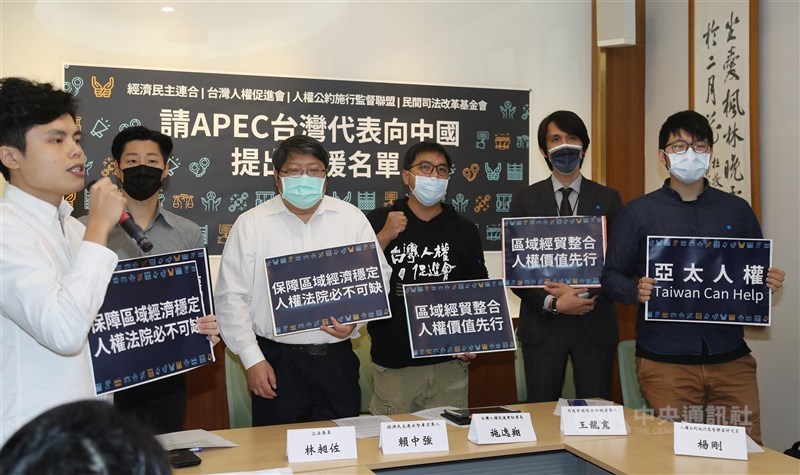 Taipei, July 27 (CNA) Taiwanese businessman Lee Meng-chu (李孟居), who was banned from leaving China for two years after completing a sentence for spying in 2021, arrived in Japan on Monday.
The Chinese language service of BBC News released a video interview on Thursday, in which Lee, who was found guilty of "spying for external entities" and "illegally providing state secrets," described his arrival in Japan as "returning to the free world."
A source familiar with Lee also told CNA on Thursday, on condition of anonymity, that Lee is "safe" and still in Japan.
Lee, originally an adviser to Fangliao Township in southern Taiwan's Pingtung County, reportedly went missing on Aug. 20, 2019, shortly after crossing the border to Shenzhen from Hong Kong. He resurfaced on a Chinese state media television program in October 2020 in which he confessed to the charges.
According to an official document shown in the BBC video, Lee was sentenced in January 2021 to 22 months in prison and deprivation of political rights for two years.
Lee told the British public broadcaster that he was convicted by the Chinese authorities for having taken photos of a military drill in Shenzhen from his hotel with his mobile phone.
"I was merely a curious passerby" he said, adding that he was framed for spying, arguing there was nothing confidential about activities that could be seen from a hotel about 50 meters away.
Lee said he made the confession in the hope of being set free as soon as possible. "The most important thing was to get out as soon as possible," he said in the interview, adding that with that goal in mind "self-esteem could be set aside."
Lee was released in April 2021 after completing his sentence, with his time in detention counted as time served, but was banned from leaving the country.
China's Taiwan Affairs Office (TAO) confirmed on April 27, 2021 that Lee had completed his prison sentence, but said he was still "serving an additional sentence," without elaborating.
The office was most likely referring to the two years of deprivation of political rights, which according to Chinese law, commences after the end of Lee's imprisonment.
TAO also said the government would enforce the sentence regarding the deprivation of political rights according to law and based on the situation in individual cases.
According to Lee, he traveled in China after his release from prison spending his own savings and with assistance from family, visiting more than 100 cities over the past two years.
Earlier this month, a Chinese national security official notified Lee that he would be able to leave China after the additional sentence ended, but suggested that he should not return to Taiwan immediately.
The official expressed concern that his return would attract a lot of media attention in Taiwan and affect the presidential election there in January 2024, according to Lee.
That is why he decided to fly to Japan, Lee said, adding that he would not return to China in the short term.
He told the broadcaster he had been "naive" thinking he could make a fortune from China's huge market as long as he stayed away from politics.