Ma mentions Taiwan's official name during China visit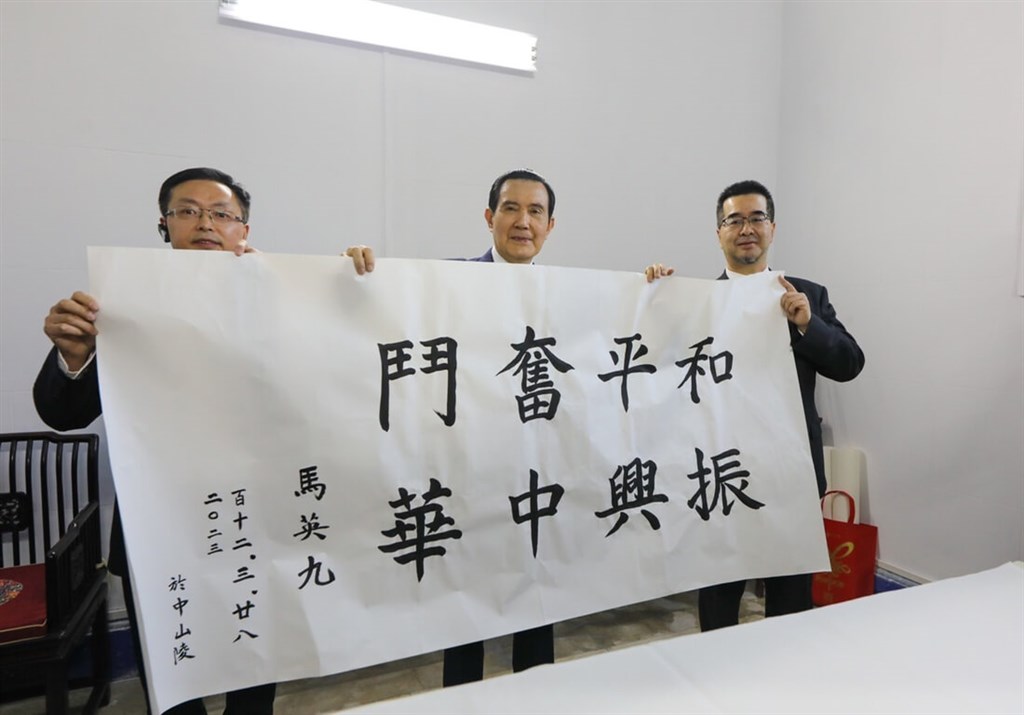 Taipei, March 28 (CNA) Former President Ma Ying-jeou (馬英九) on Tuesday mentioned the Republic of China (ROC, Taiwan's official title) during a public statement he gave in the complex housing Sun Yat-sen's (孫逸仙) mausoleum in Nanjing, China.
In a public statement he gave outside the Sun Yat-sen Memorial Hall in the compound, Ma said: "It has been 112 years since Sun Yat-sen dedicated his life's work to ending more than 4,000 years of imperialism to found the Republic of China, the first democratic republic in Asia."
People on both sides of the Taiwan Strait belong to Chinese ethnicities and have benefited from Sun's doctrines regarding the founding of the ROC, he said.
It is significant that Ma, who was greeted by People's Republic of China (PRC) officials when he arrived in China on Monday, mentioned the ROC, which is not acknowledged by the PRC.
Ma proposed in his statement that the two sides of the strait make "striving for peace to rejuvenate Zhonghua" a common goal, adding that the pursuit of peace, prevention of war, and rejuvenating "Zhonghua" are the unavoidable responsibility of "Chinese people across the Strait."
The term "Zhonghua" refers to China in a cultural or ethnic sense rather than a political one and is found in the official names of both Taiwan and China.
When asked by a reporter what he hoped to see younger generations in China and in Taiwan learn from Sun, Ma said it was that "the two sides must pursue peace, or there will be no future for either side."
Asked about his reception by Chinese authorities so far, Ma said he was "very satisfied," adding that greeting his delegation had received "exceeded his expectations."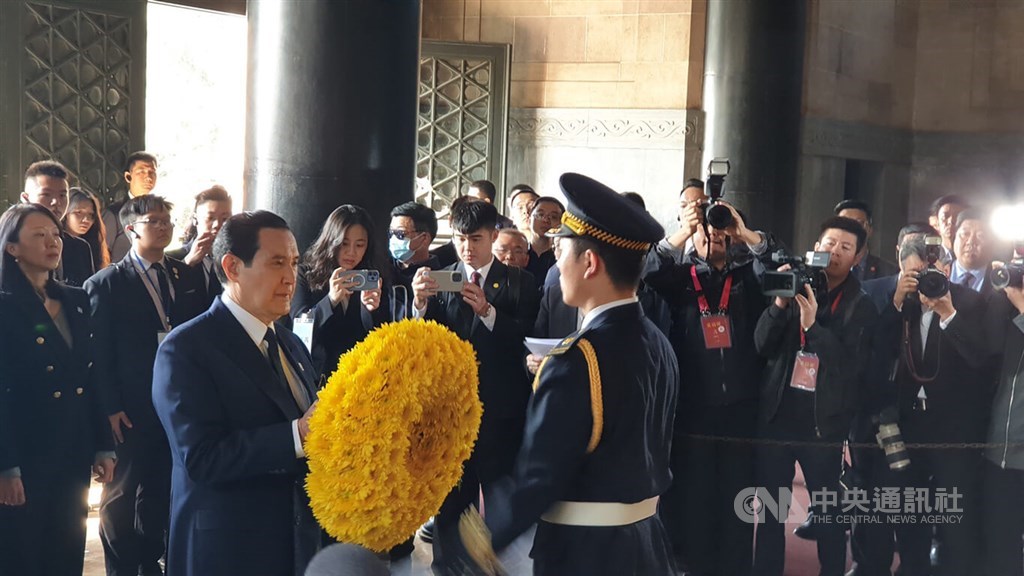 Earlier in the day, Ma paid his respects to Sun by bowing, offering a wreath and reciting Sun's will at the mausoleum. A tribute he prepared was read by National Chengchi University Associate Professor Liao Yuan-hao (廖元豪) on his behalf.
In the tribute, Ma referred to himself as "former Kuomintang (KMT) chairman" and praised Sun for "fending off regional forces to found the republic."
He also said that people on both sides of the Taiwan Strait belong to the Zhonghua Minzu (ethnic Chinese people) and that "the 1992 consensus has been the foundation for peace."
The controversial "1992 consensus" refers to a tacit agreement between China and the KMT that there is only "one China," with each side having its own interpretation of what that means.
It is not accepted by Taiwan's ruling Democratic Progressive Party, because it sees the formula as implying that Taiwan is part of China.
Although Chinese authorities deployed a large number of police officers to the compound, civilians were not barred from entering the compound, and as a result some reporters were told to leave the scene by police who were busy trying to disperse spectators.
Upon touching down at Shanghai Pudong International Airport, Ma was greeted by Taiwan Affairs Office (TAO) Deputy Minister Chen Yuanfeng (陳元豐), Shanghai Municipal People's Government's Taiwan Affairs Office head Zhong Xiaomin (鍾曉敏), and the Chinese Communist Party's Shanghai Standing Committee member Zhang Wei (張為).
Ma's delegation consisted of 30 students in courses offered by the Ma Ying-jeou Foundation, foundation Director Hsiao Hsu-tsen (蕭旭岑), former National Security Council Advisory Committee member Chiu Kun-hsuan (邱坤玄), and former Presidential Office Secretary-General Tseng Yung-chuan (曾永權).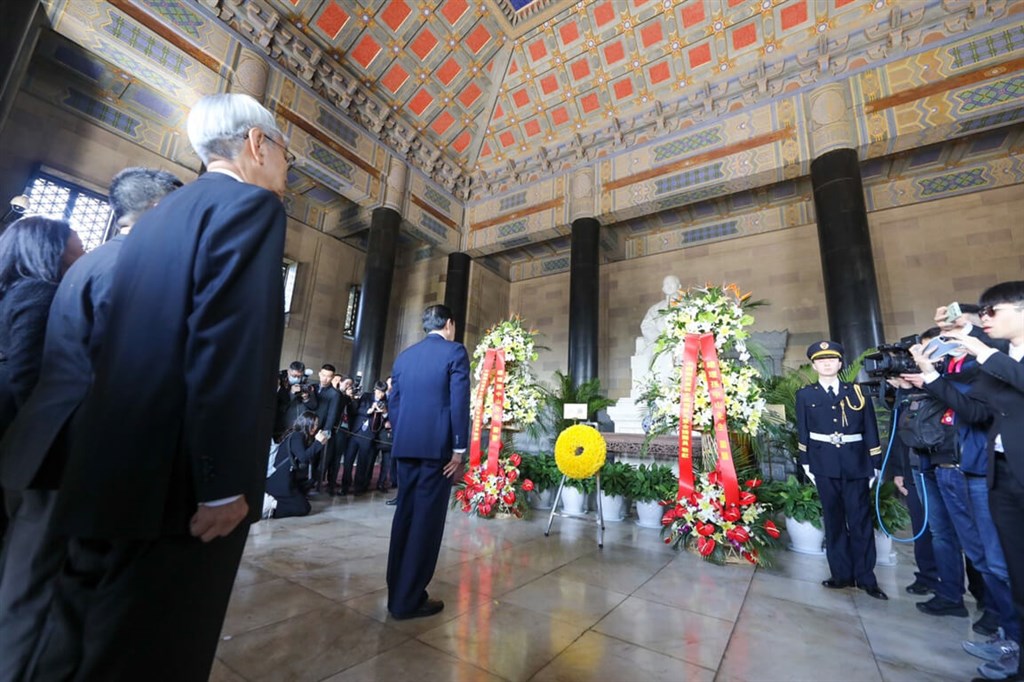 The ranks of the officials that greeted Ma sparked debate in Taiwan.
Chao Chun-shan (趙春山), an honorary professor at Tamkang University's Graduate Institute of China Studies, told CNA that Ma's visit was not an official one, and that Chen greeting Ma at the airport was already an act of courtesy.
Chao suggested that Taiwanese not read too much into Ma's visit, which he described as transparent and could bring positive results for cross-strait exchanges.
Fan Shih-ping (范世平), a professor at National Taiwan Normal University's Graduate Institute of Political Science, disagreed, saying that the choice of officials greeting Ma was a belittlement of the ROC.
When former Vice President Lien Chan (連戰) visited China in 2005 in his capacity as then-KMT chairman, he was greeted by then-TAO Minister Chen Yunlin (陳雲林), Fan said.
However, Ma, a former president, was only greeted by the deputy TAO minister, which belittled the nation, Fan said.
He also called on Ma's office to be more transparent about Ma's itinerary by disclosing the officials he is scheduled to meet in advance to avoid unnecessary speculation.
According to Ma's office, the purposes of the visit are to engage in cross-strait exchanges and pay respects to ancestors.
The delegation will "respect the arrangements of the host" regarding Chinese officials that will meet with Ma, the office said.
Ma is scheduled to, in chronological order, visit Wuhan, Hunan, Chongqing and Shanghai before wrapping up his visit on April 7.
A news report published in China on Monday about Ma's arrival in China referred to Ma as simply "Ma Ying-jeou" without mentioning any offices he previously held.
Meanwhile, other Chinese news outlets mostly referred to Ma as a "former Taiwan region leader."