Taiwan's diplomatic ties stable amid possible China retaliation: FM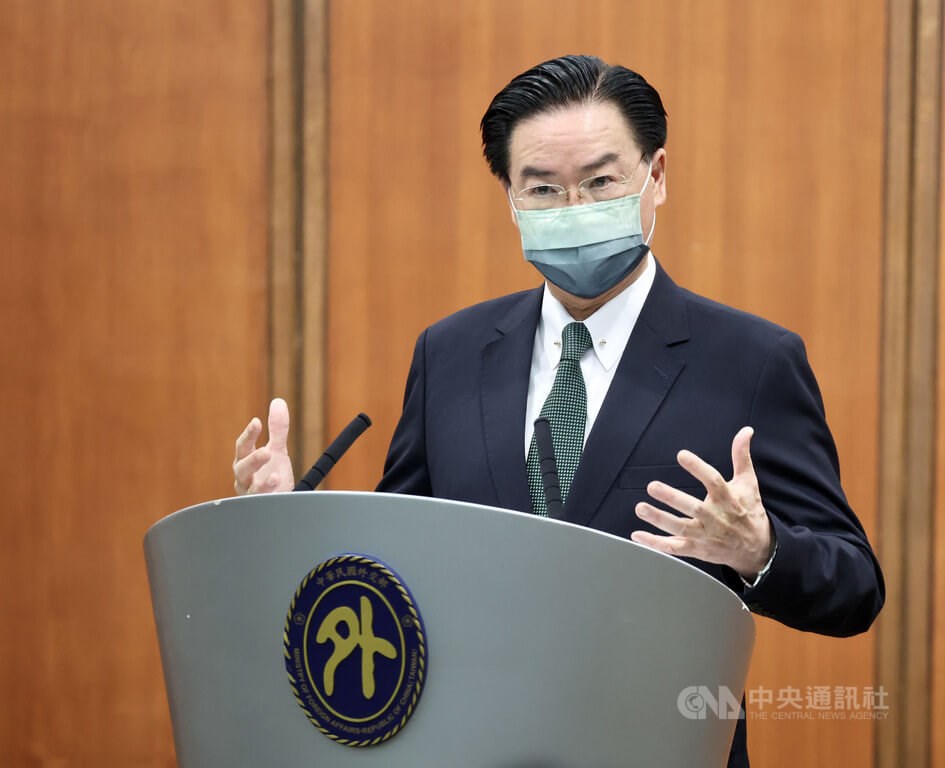 Taipei, Aug. 9 (CNA) Taiwan's diplomatic ties with all of its allies are solid, Foreign Minister Joseph Wu (吳釗燮) said Tuesday, amid fears Beijing could try to snatch away more of Taiwan's allies in retaliation for United States House Speaker Nancy Pelosi's visit last week.
"Our relations with all 14 diplomatic allies have remained stable," Wu said at a press event in Taipei, when asked if China was trying to lure Taiwan's allies to change their loyalties in response to the Pelosi visit, the first by a U.S. House speaker to Taiwan in 25 years.
Wu indicated that some senior officials and heads of state from these diplomatic allies are planning to visit Taiwan in the near future to show their support amid rising cross-Taiwan Strait tensions.
He did not give further details, citing only the example of St. Vincent and the Grenadines (SVG) Prime Minister Ralph Gonsalves, who arrived in Taiwan on Sunday for a six-day-visit.
Gonsalves has repeatedly said during his visit that he is here to show solidarity with Taiwan while urging Beijing to stop its military drills.
China responded to the Pelosi visit by holding live-fire military drills in six maritime areas around Taiwan and suspending imports of some Taiwanese foods and agricultural produce.
There have also been rumblings that it might try to steal away some of Taiwan's few remaining diplomatic allies.
Taiwan has already lost eight diplomatic allies -- Burkina Faso, the Dominican Republic, El Salvador, Kiribati, Nicaragua, Panama, Sao Tome and Principe, and the Solomon Islands -- to China since May 2016, when President Tsai Ing-wen (蔡英文) came to office.
Beijing has reacted so strongly because it objects to other countries treating Taiwan as a nation, including by sending high ranking officials to visit, and believes the U.S. is violating its commitments to the "one China" policy and fueling Taiwan independence efforts.
Wu said Tuesday that Pelosi's visit was simply an excuse to launch large scale military drills around Taiwan that had already been planned.
Source: Ministry of Foreign Affairs
The PLA's retaliatory missile launches, drone deployments, cyberattacks, and disinformation campaign took a relatively long time to prepare, meaning Beijing has always been ready to launch a similar attack on Taiwan whether Pelosi visited or not, Wu argued.
He believed the moves will only backfire and lead to more senior officials from allies and like-minded countries visit Taiwan soon.
In his opening address, Wu said China's decision to carry out military exercises in areas surrounding Taiwan was a gross violation of Taiwan's rights under international law, particularly in the way it designated the zones for its exercises.
In terms of the range of its missile tests, Wu said China is clearly trying to deter other countries from interfering in its attempt to invade Taiwan and gives the world a clear image of "China's geostrategic ambitions beyond Taiwan."
"In other words, China's real intention behind these military exercises is to alter the status quo in the Taiwan Strait and the entire region. This has already brought significantly unstable elements into the mix, threatening regional security," Wu said.
Related News
Aug. 11: Government to spend NT$200 million on marketing food amid China bans
INTERVIEW: SVG will not cut diplomatic relations with Taiwan: Prime minister
Aug. 9: Chinese customs blocks Taiwan shipment not labeled 'Taiwan, China'
Aug. 9: 45 warplanes, 10 warships spotted near Taiwan as PLA drills continue