Beijing confirms jail sentence for Taiwanese professor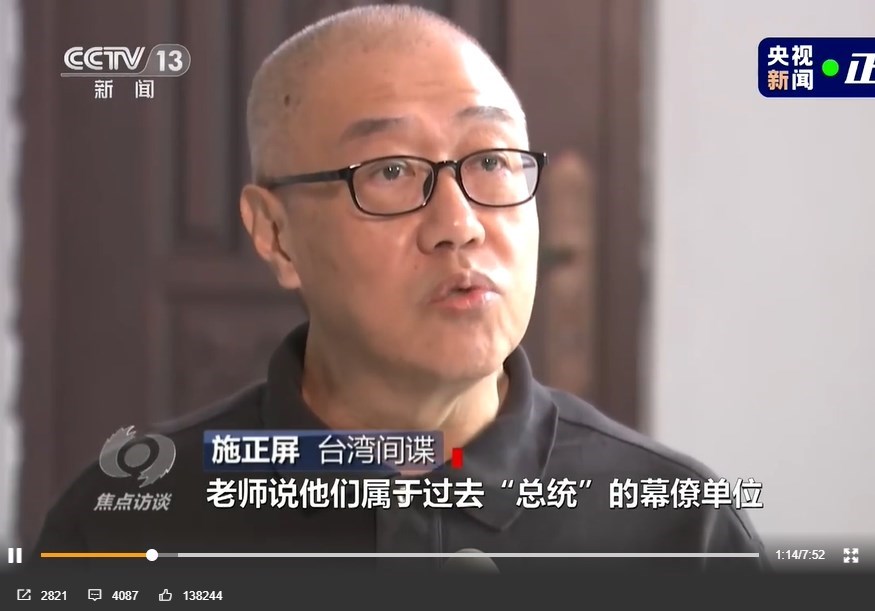 Beijing, Nov. 25 (CNA) A retired university professor who was arrested shortly after visiting China in August 2018 has been sentenced to four years in prison on national security charges, China's Taiwan Affairs Office (TAO) said Wednesday.
Retired National Taiwan Normal University professor Shih Cheng-ping (施正屏) was sentenced by a court in the city of Ma'anshan, Anhui province on Tuesday, TAO spokesperson Zhu Fenglian (朱鳳蓮) said at a routine press conference.
In addition to the four-year sentence, property valued at 20,000 Chinese yuan (NT$88,940) was confiscated and he will be stripped of his "political rights" for two years, Zhu said.
In China, an individual stripped of their political rights cannot vote or stand in an election, loses their right to freedom of speech and assembly, is barred from holding a position in state organizations and cannot hold a leading position in any state-owned company.
When asked by reporters whether Shih has appealed the case, Zhu said she had no more information.
In October, Shih was one of several "Taiwanese spies" who made public "confessions" on Chinese state television.
Shih said at the time that he was recruited by Taiwan's National Security Bureau (NSB) in 2005 while working at Taiwan's representative office in the United States.
According to the television program, Shih collected confidential Chinese government information from 2005-2018 by attending cross-strait academic conferences in China, which he then passed to the NSB in exchange for NT$1.6 million.
In a statement late Wednesday, Taiwan's Mainland Affairs Council (MAC) slammed the sentencing, saying that China's "fabricated charges" seriously damaged cross-strait relations.
Shih's case is a "fabrication," a threat to the Taiwanese people, and "political manipulation" on the part of China, MAC said.
The council said that it has repeatedly asked the TAO to explain the details of Shih's case, allow his family to visit him in China and grant him full judicial rights.
His family, however, has not been able to contact Shih and his basic human rights have been completely ignored, the MAC said.
The MAC will do its best to assist Shih's family regarding the case, it said.