Fleet of 19 Chinese warplanes flies near Taiwan in pincer formation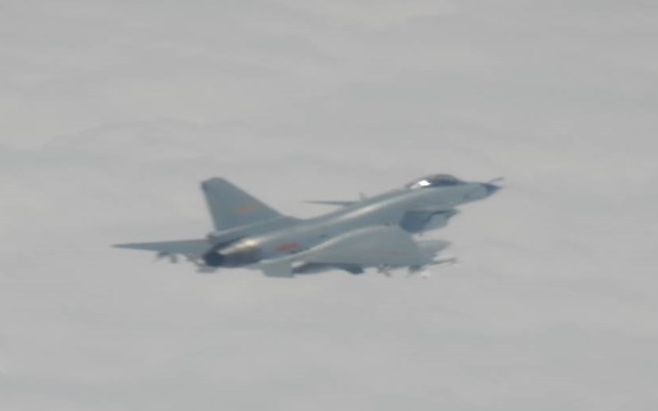 Taipei, Sept. 19 (CNA) A fleet of 19 military aircraft from China flew into Taiwan's airspace in a pincer formation Saturday morning, marking the second consecutive day of such an incursion, according to Taiwan's Ministry of National Defense (MND).
Taiwan's military responded by scrambling jets, issuing radio warnings, and mobilizing surveillance and air defense assets, the MND said.
The Chinese aircraft fleet comprised 12 J-16 multi-role strike fighters, two J-10 lightweight multi-role fighters, two J-11 air superiority fighters, two H-6 strategic bombers and a Y-8 anti-submarine patrol plane, according to the MND.
An MND chart showed that the J-10s and J-11s crossed the median line in the northern part of the Taiwan Strait, while the H-6s and the Y-8 entered Taiwan's southwest air defense identification zone (ADIZ).
A pincer movement, also known as a double envelopment, is designed to attack by facing the enemy in front, on both flanks, and in the rear.
Such maneuvers by the People's Liberation Army (PLA) of China are provocative actions that infringe on Taiwan's sovereignty, the MND said Saturday, urging Beijing to exercise restraint and stop being a "troublemaker" in the region.
On Friday, 18 Chinese military aircraft entered Taiwan's airspace, according to the MND.
Taiwan's Defense Minister Yen De-fa (嚴德發) and Chief of the General Staff Huang Shu-kuang (黃曙光) rushed to the command center to monitor the situation, a military source told CNA later Friday.
The PLA's two consecutive incursions into Taiwan's airspace coincided with a visit by U.S. Under Secretary of State Keith Krach and a delegation of other American officials, who are attending a memorial service Saturday for the late Taiwanese President Lee Teng-hui (李登輝).
Krach, who arrived with his delegation Thursday on a three-day trip, is the highest-ranking State Department official to visit Taiwan since 1979, when Washington switched diplomatic recognition from Taipei to Beijing.
The visit has been interpreted by the Taiwanese government as a leap in its relations with the U.S.
China, which sees Taiwan as part of its territory and opposes any official contact that implies an elevation of Taiwan's status as an independent nation, has said it will "respond accordingly" to Krach's visit to Taiwan.
According to a military source in Taiwan, the recent entry of PLA aircraft into Taiwan's airspace may be part of a "combat exercise" aimed at intimidating Taiwan and wearing down its Air Force.