Lennon Wall incidents reflect anxiety of Chinese people: scholar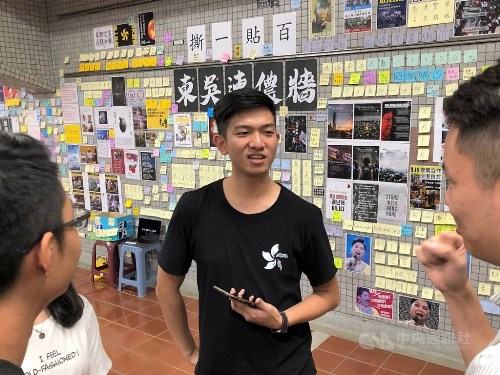 Taipei, Oct. 11 (CNA) A string of recent incidents in Taiwan involving Chinese students and tourists destroying Lennon Walls supporting Hong Kong demonstrators is a reflection of a collective anxiety among Chinese people, a scholar said Friday.
Since September, incidents have repeatedly occurred on Taiwanese campuses, an indication that the pro-democracy movement in Hong Kong has created ripples in Taiwan and given rise to a debate between those pro or against the issue.
Although these incidents are not isolated cases, National Tsing Hua University professor Cheng Chih-peng (鄭志鵬) said they have been committed by just a small number of Chinese students and that it is wrong to think that all of the Chinese students here share such violent tendencies.
Taiwan has allowed Chinese students to pursue higher education here since 2011, and the pro-democracy protests in Hong Kong that began in June have stirred up the strongest-ever responses from Chinese people in Taiwan over a political issue, which is worth exploring, Cheng said.
He said that ripping down pro-Hong Hong messages posted on Lennon Walls erected on Taiwanese campuses reflect a collective anxiety among some Chinese people resulting from three areas.
First, Chinese people, pushed by an expanding economy and the "Chinese dream" touted by President Xi Jinping (習近平), are keen to gain worldwide recognition, he said.
Secondly, because many countries are not friendly toward China, some Chinese students studying in those countries have started to feel uncomfortable and have resorted to vandalism such as damaging Lennon Walls in Taiwan and some Western countries, he explained.
Thirdly, with Taiwanese students becoming increasingly wary about China's ambitions toward Taiwan, Chinese students here are inclined to become more sensitive and willing to debate sensitive issues with their Taiwanese peers more frequently, he analyzed.
As to questions whether the vandalism carried out on Taiwanese campuses by Chinese students has been systematic, Cheng said he does not believe that they are an organized group, adding that Taiwan's people should realize why they have acted in the way they have.
Echoing Cheng's view, Puma Shen (沈伯洋), an assistant professor at National Taipei University, said that while the Chinese vandals in Taiwan do not appear to be an organized group, there is evidence that Chinese students in some other countries have indeed conspired to commit offenses collectively.
Shen, however, contended that Taiwan must strengthen its risk management and build a legal mechanism to deal with contingencies.
Apart from handing out punishments, he suggested, the government should also provide consultancy services for Chinese students studying here to help them better blend in with local schools and society.