Taiwan important for understanding China's 'economic bullyism': expert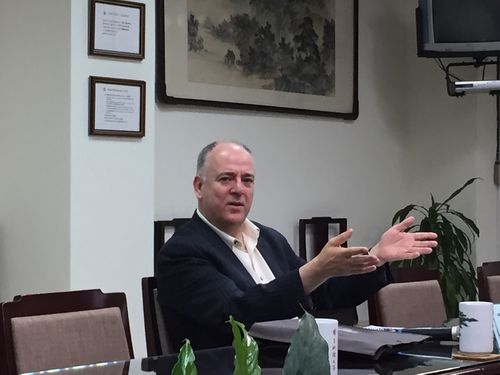 Taipei, Sept. 6 (CNA) China's use of economic coercion has given Taiwan a more important geopolitical feature for understanding China because Taiwan is on the frontline of confronting the "economic bullyism" facing the world today, a China expert from the United Kingdom said Wednesday in Taipei.
Taiwan has emerged as "a more and more important place for geopolitical understanding" of how a country uses more "democratic humanism" to deal with structural challenges posed by another country using "economic bullyism," said Kerry Brown, a professor of Chinese Studies at King's College London.
Brown, a former U.K. diplomat, delivered a speech titled "The Great Chinese Game: What Does Xi Jinping's China Want From the World -- and How Does Taiwan Figure," at the Institute of International Relations at National Chengchi University.
The two centenary goals -- to create a moderately prosperous society by 2021 at the centennial of the Communist Party of China and to rejuvenate the nation at the centennial of the People's Republic of China in 2049 -- China has set are "real objectives," Brown said.
He said that China has "practical strategies" to achieve the two goals, including investing most of its efforts and time to understand the American system and using its economy as a diplomatic tool to convince its neighbors that recognizing China will bring benefits, while picking fights with China can carry big risks.
Meanwhile, China sees Europe as a partner from where it can gain high-quality technology to develop stronger technology of its own and has invested heavily almost everywhere around the world, including Latin America and Africa, and even the Arctic and Antartica, he said.
Brown said there has been "big confusion" in many countries around the world over what a world that follows China's beliefs would look like, because China is a country with wholly different values and different political systems to anywhere else.
Toward the end of his speech, Brown said that his visit to Taiwan is aimed at seeking more deep and intellectual exchanges with local experts on related issues.
In Britain, politicians get yelled at when they refer to Taiwan as a "country," Brown said. "And yet, of course Taiwan is a country. So what language do we start to use?"
The "weird" language that Britain uses when it talks about Taiwan --the "one China policy" and the "1992 Consensus" that endorses the policy -- needs to be clarified, Brown said.
He argued that "when we think about the Taiwan issue, we have to think about these big concepts -- identity, nation and sovereignty."
Brown said that the meaning of Taiwan's existence has become more significant because it is on the frontline of dealing with China's exertion of its sharp power "that is so pushing and trying to smother everything around you."
Taiwan used to face the challenges by itself, Brown said, "but now in Europe, in Britain, within the EU, in Australia, every day you have this kind of fight between your security interests and your economic interests."
"What are the links between these? For many countries, China is an economic partner. It's not a security partner. Everyone is ending up very confused," Brown said.
Taiwan has emerged as a more and more important place for geopolitical understanding of the challenges at the global frontier, he said.