Taiwan proposes measures to counter China's incentives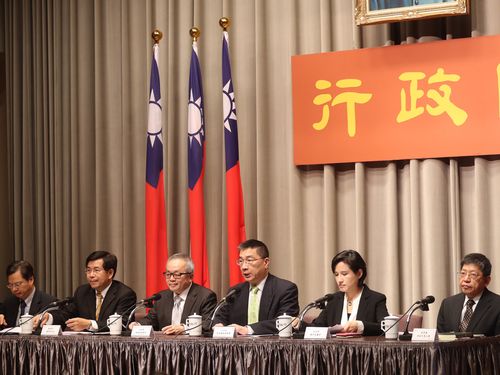 Taipei, March 16 (CNA) Taiwan's Cabinet on Friday announced "eight major strategies" to counter China's latest attempt to attract Taiwanese people to study, work and invest in the mainland through 31 incentives.
Along with the measures, the government also announced it has formed a permanent task force under the Mainland Affairs Council (MAC) to monitor and assess subsequent developments related to China's incentives.
Speaking to reporters, Taiwan's Vice Premier Shih Jun-ji (施俊吉) accused China of proposing the measures to lure Taiwanese investments, cutting-edge talent and new college or doctoral graduates to help it achieve its economic development goals and to bring Taiwan into its political fold.
"We take this very seriously. With the eight major strategies, Taiwan would go from strength to strength and withstand the purported magnetic effects (from China)," Shih said.
China's Taiwan Affairs Office on February 28 issued the incentives which grant Taiwanese investors and individuals equal treatment as their Chinese counterparts when they set up companies, tap Chinese markets, seek jobs, and study in the mainland.
After studying the sweeping package of incentives for two weeks, Taiwan's Cabinet on Friday called a press conference to propose an evaluation of its potential impacts on Taiwan and to roll out 39 response measures that were categorized into eight major strategies.
Of the 39 countermeasures, 16 were new, Shih said, citing plans to sweeten employees' compensation packages to retain talent, to offer rebates for investments in intelligent equipment to enhance industrial competitiveness, and to streamline the review process of initial public offerings (IPO) to boost momentum in the stock market.
Some of the incentives in the Chinese package target faculties at Taiwan's universities, young academics who recently graduated from doctoral programs and have trouble finding faculty or research positions, and professionals in certain fields such as medicine.
In response to the incentives for young academics, the government has since this year earmarked NT$500 million (US$17 million) for universities to establish research centers of excellence that would create up to 800 jobs for postdoctoral researchers, Minister of Education Pan Wen-chung (潘文忠) said at the press conference.
Pan said that the ministry has also launched a project of NT$2.3 billion this year to help retain academics at home and attract foreign talent under which universities that offer lucrative perks and benefits to faculties would receive government subsidies to offset half of their additional costs, adding that the project is expected to benefit 10,000 academics.
As with the previous measures China rolled out, such as relaxing requirements for Taiwanese students to enroll in Chinese universities, which was announced late last year, the latest incentives were introduced by China unilaterally without negotiations with the Taiwanese side, officials said.
"Without negotiations between the two sides, some of the measures are not feasible," MAC deputy head Lin Cheng-yi (林正義) said at the press conference.
A case in point was one initiative in which Beijing said that banks in Taiwan can cooperate in sharing credit information with banks in China, Lin said.
Taiwan's Financial Supervisory Commission, the agency regulating the banking sector, has been open to possible cooperation in this regard but the Chinese side has refused to talk on how to ensure protection against abuse of personal information, Lin said.
"With that, Taiwan must maintain its ban that prohibits the cooperation," Lin said.
He added that the task force under the MAC will be led by incoming minister Chen Ming-tung (陳明通), who is due to take office on March 19.
Some incentives that would enhance cross-strait exchanges, including making greater access to the Chinese market available for Taiwanese films and television shows, facilitating imports of Taiwan's publications, and allowing Taiwanese investors to bid for government procurement contracts, appear to be beneficial to Taiwan, Lin said.
But China has yet to unveil detailed rules to implement the incentives, Lin said.
Lin said that the task force will examine whether they are introduced with concomitants that attempt to infringe the right to freedom of expression by Taiwanese nationals.
"The task force would let the public know that where there are business opportunities in China, there are risks involved, many associated with freedom of expression," he said.
Vice Premier Shih, however, admitted that it was a fact of globalization that talent would go wherever the good jobs and career advancement opportunities are and investors would head for places with good investment opportunities.
"For every country, these are challenges and also opportunities," Shih said.