Taiwan Cement Group to build Canada's largest lithium-ion battery plant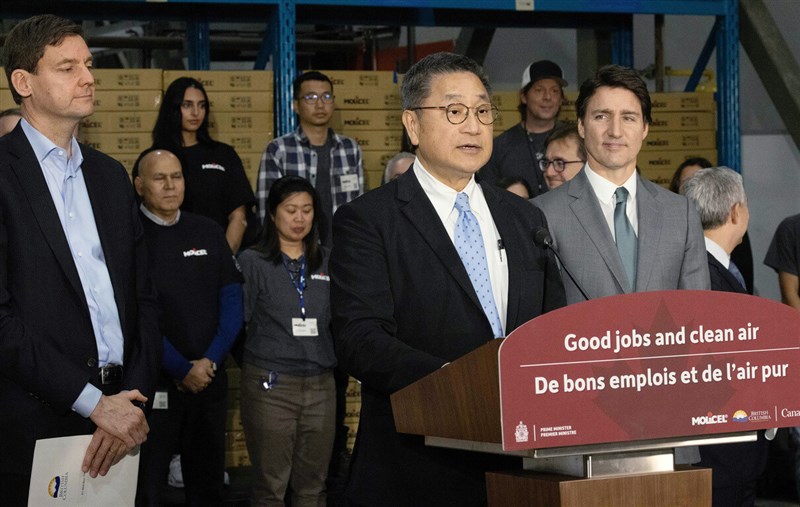 Taipei, Nov. 15 (CNA) Taiwan Cement Group (TCC Group) announced Wednesday that one of its subsidiaries will build a high-performance lithium-ion battery cell plant in Vancouver, which is expected to produce up to 135 million battery cells per year and become the largest factory of its kind in Canada.
The NT$25.5 billion (US$795 million) facility, to be constructed by battery company E-One Moli, will create up to 450 new jobs and become the largest private-sector employer in Maple Ridge, Taiwan Cement said in a press statement.
The statement said that Canadian Prime Minister Justin Trudeau visited E-One Moli's Canadian branch in Maple Ridge Wednesday (Taiwan time), where he touted local expertise with this major clean battery manufacturing project.
Trudeau was cited as saying "we build on that expertise to secure hundreds of middle-class jobs while fighting climate change."
Construction of the manufacturing facility is expected to begin in June 2024, with the plant to be fully operational by 2028, said E-One Moli.
According to the company, TCC Group will contribute NT$10 billion to the project, with the federal government of Canada pledging NT$4.8 billion and the rest coming from private sources.
E-One Moli "looks forward to producing a pure green battery to support the world's energy transition," said Nelson Chang (張安平), chairman of the company and TCC Group.
Meanwhile, the company said the lithium-ion battery cells produced in Maple Ridge will be used to electrify devices that have traditionally relied on diesel -- including consumer electronics, power tools, medical devices, high-performance vehicles and aerospace applications.
However, not everyone is pleased with the development, according to the Canadian Press.
The national news agency reported that the Canadian Taxpayers Federation released a statement criticizing the multimillion-Canadian dollar handout to the battery firm.
Federation Director Franco Terrazzano said the Trudeau government has recently given "buckets of cash" to corporations such as Volkswagen, Stellantis, the Ford Motor Company and Northvolt, according to the Canadian Press.
"Instead of raising taxes on ordinary Canadians and handing out corporate welfare, governments should be cutting red tape and taxes to grow the economy," Terrazzano was reported as saying.