July-August winning uniform invoice numbers released
Taipei, Sept. 25 (CNA) The winning number for the NT$10 million (US$310,911) special prize in the July-August uniform invoice lottery is 21981893, the Ministry of Finance announced Monday.
The winning number for the NT$2 million grand prize is 39597522, while the three numbers for the first prize of NT$200,000 are 09505831, 54219897, and 17469638.
The holders of receipts whose serial numbers match the last seven digits of the first-prize numbers win NT$40,000, while those with invoices whose serial numbers match the last six digits win NT$10,000.
Other prizes are NT$4,000 for receipts with the last five digits of the first-prize numbers, NT$1,000 for receipts with the last four digits, and NT$200 for invoices with the last three digits.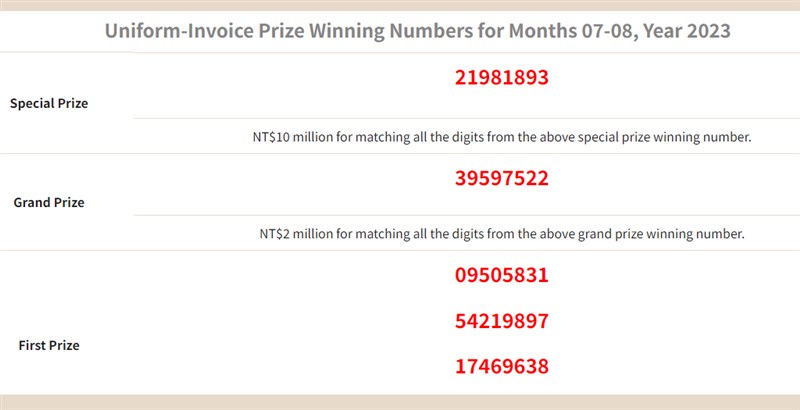 Those holding prize-winning receipts can claim their winnings from Oct. 6, 2023 to Jan. 5, 2024, the ministry said, adding that prizes up to NT$1,000 can be collected from 7-Eleven, FamilyMart, OK Mart, Hi-Life, PX Mart and Simple Mart.
Prizes up to NT$40,000 can be collected from credit cooperatives across the nation, while First Commercial Bank, Chang Hwa Bank, and the Agricultural Bank of Taiwan offer cash redemptions for all prizes, including those larger than NT$200,000, according to the ministry.
Winners need to bring their national identification card and the winning receipt when collecting the prizes, the ministry said.
Digitally-stored invoices
The ministry has also released the winning numbers for its cloud-based uniform invoice lottery, which includes 30 NT$1 million prizes, 16,000 NT$2,000 prizes, 100,000 NT$800 prizes, and 1.65 million NT$500 prizes.
Unlike the regular draw for paper receipts, which randomly draws winning serial numbers, winners in the cloud-based lottery are drawn directly from digitally-stored receipts.
Winners can redeem their awards using the "uniform lottery redemption" app (Android/iOS), which can store and check receipts and enables winners to claim their prizes through electronic transactions, with the prize money remitted directly into their bank account.
The uniform invoice lottery system, which draws winning numbers every two months, was created to encourage consumers to ask for a receipt when making purchases as part of the ministry's efforts to rein in tax evasion.
The lottery prizes are funded through a 3 percent levy on business tax revenues included on the prices of most goods and services, excluding certain banking, insurance, and food and beverage transactions.