COST OF LIVING
/
Consumer confidence up in May but caution remains on economy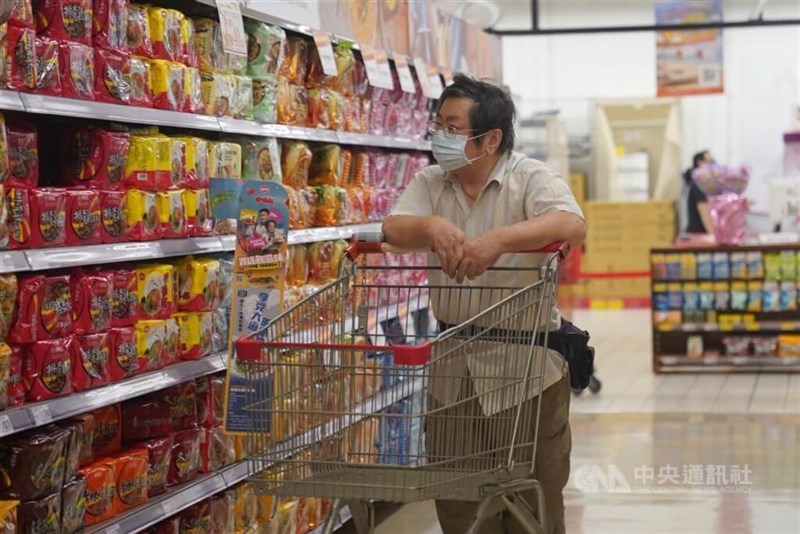 Taipei, June 3 (CNA) Consumer confidence improved slightly in May as domestic consumption picked up in the post COVID-19 era but caution toward the local economy remained due to weakening global exports, according to National Central University (NCU).
The consumer confidence index (CCI) rose 0.49 points from a month earlier to 63.67 in May after a 1.29 point month-on-month drop in April, NCU said, citing its latest survey conducted May 18-21.
The CCI gauges the level of confidence people have toward employment prospects, family finances, consumer prices, the local economic climate, the stock market, and the likelihood of purchasing durable goods over the next six months.
Among the six factors in the May CCI, only the sub-index on consumer prices moved lower, falling 2.45 from a month earlier to 24.4 in May, while the other five factors moved higher from the previous month, the survey found.
The sub-indexes on confidence related to the likelihood of purchasing durable goods, employment, the local economic climate, family finances and the stock market rose 1.65, 1.2, 1.2, 1,2 and 0.1, respectively, from April to 110, 65.1, 80.5, 75.2 and 26.8 in June.
Analysis
Dachrahn Wu (吳大任), director of NCU's Research Center for Taiwan Economic Development, said the rebound in the May CCI may be short-lived and simply reflect rising spending as COVID-19 controls are eased.
He cautioned that weaker exports continued to haunt the local economy, citing a downgrade of Taiwan's gross domestic product growth forecast for 2023 by the government last week.
The Directorate General of Budget, Accounting and Statistics (DGBAS) cut its forecast for Taiwan's 2023 GDP growth by 0.08 percentage points from its February forecast to 2.04 percent, which would be the lowest since 2015, when the economy grew 1.47 percent.
According to the DGBAS, which cut the country's merchandise and service export growth by 0.64 percentage points to minus 0.60 percent, weakening global demand was the major reason behind the downward revision of its forecast.
Wu also cited the National Development Council-compiled composite index of monitoring indicators, which showed the local economy staying in contraction mode for a sixth consecutive month in April, sign0aling continued weakness in the local economy.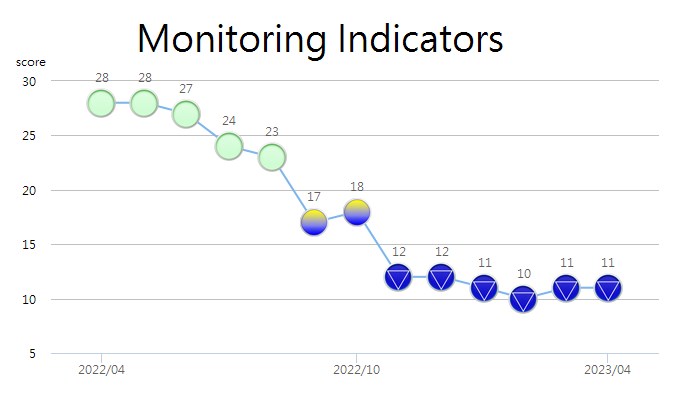 The May CCI did get a boost from growing domestic spending, however, at a time when consumers in Taiwan began eating out more and traveling, injecting new life into the local service sector and even sparking a labor shortage, Wu said.
In contrast, there was no sign Taiwan's exports were ready to rebound, meaning that local manufacturers, who depend heavily on exports, could freeze hiring and even institute furlough programs, affecting local employment and even family finances, Wu said.
The addition to the labor pool of new university graduates looking for their first jobs in June could send the unemployment rate higher, Wu said, and the CCI could reflect these trends resulting from export weakness later this year.
Durable goods, real estate
A sub-index score of 0-100 indicates pessimism, while a score of 100-200 shows optimism, NCU said, noting that there was only optimism over the likelihood of purchasing durable goods over the next six months.
Meanwhile, another NCU survey conducted jointly with Taiwan Realty showed a month-on-month increase of 2.05 points in May in the index for home buying, which rose to 105.35.
Along with an increase in the sub-index on the durable goods purchases in the May CCI, Wu said, the spike in the index for home buying showed that consumers felt there could be property buying opportunities over the next six months.
Respondents apparently believed that recent government measures to rein in speculation in the property market would lead home prices to move lower.
The university's CCI survey in May collected 2,922 valid questionnaires from consumers in Taiwan aged 20 and over. It had a confidence level of 95 percent and a margin of error of plus or minus 2.0 percentage points.
View All