COST OF LIVING
/
First-time jobhunters seeking tourism jobs, average wage of NT$32,000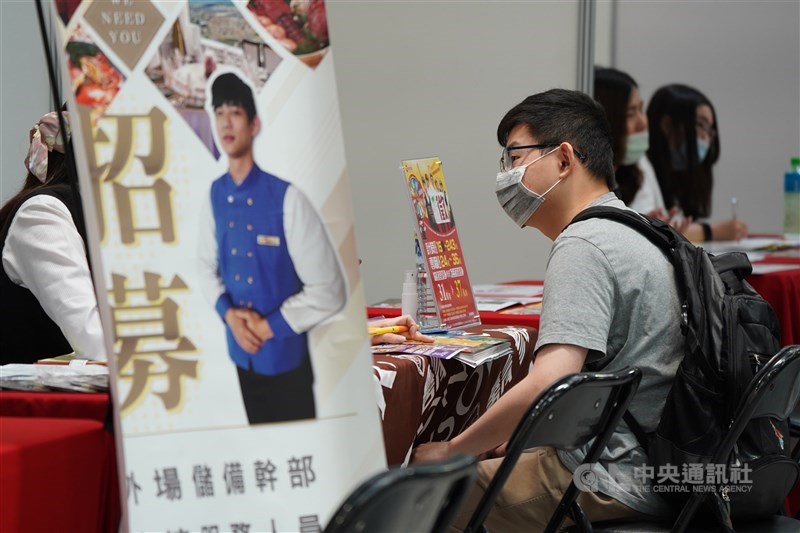 Taipei, May 27 (CNA) First-time jobseekers that will soon graduate with a bachelor's or master's degree, or will leave military conscription, have listed jobs in tourism as their top target, and on average are seeking a monthly starting salary of around NT$32,000 (US$1,042), according to online job bank yes123.
In a survey released Friday, the job listings website said 32.7 percent of the 1,270 respondents said they wanted jobs in the lodging, leisure, and food and beverage industry. While 31.6 percent were hoping to find work in the information technology sector, 30.6 percent were eyeing jobs in the financial insurance and accounting industry.
Other sectors jobseekers were targeting included retail, wholesale and trading, and mass communications, public relations and advertising.
Bingo Yang (楊宗斌), a spokesman for yes123, said amid eased COVID-19 rules, restaurants and hotels need to urgently recruit staff to fill job openings with relatively low requirements.
Yang added that the entry threshold for jobs in the financial and informational technology sectors is normally higher, but salaries are often better.
Yang explained that new graduates, born in or after 2001, tended to jump into the job market soon after graduation, instead of pursuing higher education, with some even offered a job before leaving universities.
The survey found only 6.9 percent of respondents said they wanted to pursue another degree, rather than finding a job. Another 67.2 percent said they had already started their job search, higher than 64.4 percent in the 2022 poll, and 62.7 percent in the 2021 survey.
Yang added that the figures suggest many new graduates are sensing escalating competition in the job market, especially after the impact of COVID-19 on the economy.
The average starting salary expectation was NT$32,030, up NT$333 or 1.1 percent from 2022. Employers were willing to offer an average of NT$30,471 as a starting wage for those with bachelor's degrees, and NT$33,625 on average for those with a master's degree, according to the figures.
The survey, which was conducted on May 10-23, collected questionnaires from 943 new graduates holding a bachelor's degree and 327 holding a master's degree in Taiwan. It had a confidence level of 95 percent and a margin of error of plus or minus 2.75 percentage points, the job bank said.
View All