Taiwan's GDP growth forecast cut to 2.04% for 2023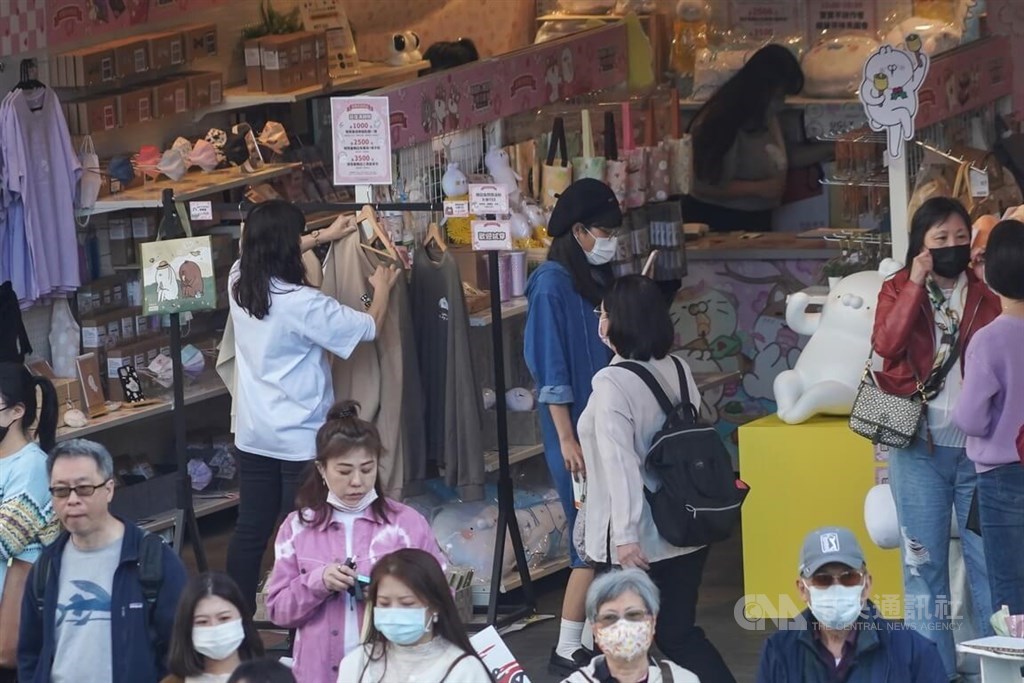 Taipei, May 26 (CNA) The Directorate General of Budget, Accounting and Statistics (DGBAS) said Friday that it has lowered its forecast of Taiwan's gross domestic product (GDP) forecast for 2023 to 2.04 percent, citing a weaker export performance.
The DGBAS has cut the country's GDP growth forecast by 0.08 percentage points from its earlier estimate made in February to 2.04 percent, which will be the lowest level since 2015, when the local economy grew 1.47 percent.
Tsai Hung-kun (蔡鴻坤), deputy head of the DGBAS, told reporters that high inflation, an aggressive rate hike cycle, and a war waged by Russia against Ukraine was still affecting global demand, forcing the supply chains to go through inventory adjustments, leading the agency to cut Taiwan's 2023 economic growth forecast.
In the wake of weakening global demand, the DGBAS has lowered its forecast for Taiwan's merchandise and service export growth by 0.64 percentage points to minus 0.60 percent, saying a relatively high comparison base last year also attributed to the downgrade.
According to the DGBAS, Taiwan's merchandise exports for 2023 are expected to fall 7.27 percent from a year earlier to US$444.6 billion.
The DGBAS, however, has raised its forecast for Taiwan's merchandise and service import growth by 0.16 percentage points to 0.82 percent, citing an increase of Taiwanese travelers heading overseas, which lent support to services imports.
According to the DGBAS, Taiwan's merchandise imports are expected to hit US$387.3 billion, down 9.51 percent from a year earlier.
While Taiwan is faced with falling outbound sales, the DGBAS said the country will see robust private consumption as eased COVID-19 controls encourage spending.
In addition, the government's issuing of NT$6,000 (US$195) cash handouts to all citizens and certain foreign nationals is expected to further boost private consumption by about 0.3 percentage points, the DGBAS said.
As a result, the DGBAS has upgraded its private consumption growth forecast for 2023 by 1.68 percentage points to 6.92 percent.
However, the DGBAS has lowered Taiwan's private investment growth forecast for 2023 by 1.36 percentage points from the previous estimate to minus 2.49 percent as global economic uncertainties have prompted many companies here to turn cautious about expansion by cutting capital expenditure.
The downgrade in private investment growth forecast also reflected a relatively high comparison base in 2022, the DGBAS said.
The DGBAS went on to say that despite the expected fall in private investment, the absolute value is expected to stay high, topping the NT$5 trillion level to hit around NT$5.27 trillion.
After taking into account private and public investments, the DGBAS said that Taiwan's capital formation is expected to fall 1.46 percent from a year earlier in 2023, a downgrade of 1.28 percentage points from the agency's previous forecast.
The DGBAS said that in the first quarter of this year, Taiwan's GDP fell 2.87 percent, an upgrade of 0.15 percentage points from a preliminary reading of minus 3.02 percent in April. According to Tsai, Taiwan's GDP data for the first quarter is the worst in 14 years.
The agency said the upward revision of the first-quarter GDP data came on the back of the higher-than-expected capital formation, growth of which stood at minus 3.24 percent, an upgrade of 0.91 percentage points from April's reading.
After a contraction in the first quarter at a time of inventory adjustments, Tsai said Taiwan's economy will improve, starting from the second quarter to return to a growth pattern for the rest of this year.
The DGBAS said Taiwan's GDP is expected to grow 1.82 percent in the second quarter, 3.18 percent in the third, and 5.77 percent in the fourth.
According to the DGBAS, inflationary pressure is expected to continue to haunt Taiwan, with the consumer price index expected to grow 2.26 percent in 2023, compared with a 2.16 percent increase estimated in February, above the 2 percent alert set by the Central Bank of the Republic of China (Taiwan).
The DGBAS said the higher CPI growth forecast largely reflected rising demand for leisure activities and travel in the post-pandemic era as well as increases in rent.