Taiwan still seeking steel tariff exemption from U.S.: top negotiator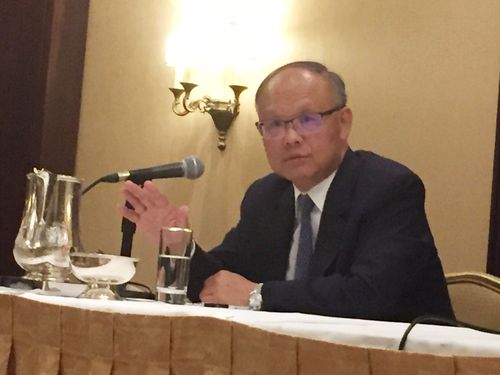 Washington, June 22 (CNA) John Deng (鄧振中), Taiwan's top trade negotiator and a minister without portfolio, said on Friday that the country is still seeking an exemption from tariffs on steel and aluminum recently imposed by the administration of U.S. President Donald Trump.
So far, Taiwan has failed to secure such an exemption status from the United States despite recent negotiations between Washington and Taipei during which Deng repeatedly raised concerns that the financial burden of tariffs could hurt Taiwanese steel and aluminum exporters.
Deng said while the U.S. side has to take into account its own considerations, he has conveyed Taiwan's government policy to boost local steel production to lower the content of China-made steel in Taiwanese steel products that local manufacturers sell to the U.S. market.
On March 8, Trump signed an order under Section 232 of the Trade Expansion Act of 1962 to impose a 25 percent tariff on imported steel and a 10 percent tariff on aluminum. The duties took effect in 15 days after the signing.
It was the first time in more than three decades that the law has been invoked to implement measures to protect a U.S. domestic industry from competition posed by imports.
To increase its bargaining chips with the U.S. so that it can secure a tariff exemption, Taiwan has launched anti-dumping and anti-government subsidy investigations into select China-made steel products sold in Taiwan from 2015 to 2017.
Taiwan said it has no intention of getting involved in a trade war between the U.S. and China, but launching a probe into China's steel products could prevent Beijing from using Taiwan as a transit point to sell its cheap steel products to the U.S., a move which could lower the content of China-made steel in Taiwanese steel products sold to the U.S. market.
Taiwan's International Trade Commission found last week in a preliminary ruling that China's steel imports imposed "threats of material injury" on Taiwan's steel industry.
Deng, who is leading a delegation to Washington for participation in the "SelectUSA" investment summit, said he had met with several U.S. officials from the State Department, the Commerce Department and Department of Energy, and had also met with some U.S. lawmakers, including Ted Yoho, chairman of the Subcommittee on Asia and the Pacific of the House Foreign Affair Committee.
Speaking of a newly signed contract, in which Taiwan's state-own gasoline supplier CPC Corp. will buy liquefied nature gas (LNG) from U.S.-based Cheniere Energy Inc., Deng said the agreement is expected to cement trade ties between Washington and Taipei.
CPC and Cheniere Energy signed the Heads of Agreement (HOA) on Wednesday for the Taiwanese firm to buy 2 million tons of LNG from the United States' largest LNG exporter every year for 20 years.
Although an HOA is not a binding agreement, it is close to being a done deal.
Deng announced the agreement during the "SelectUSA" summit, which focuses on generating direct investments in the U.S. market.
Deng said Taiwan wants to buy LNG from the U.S. to diversity its energy portfolio, a move which is expected to secure energy supply for Taiwan.