Costco to offer discounts not free breakfast at new shop opening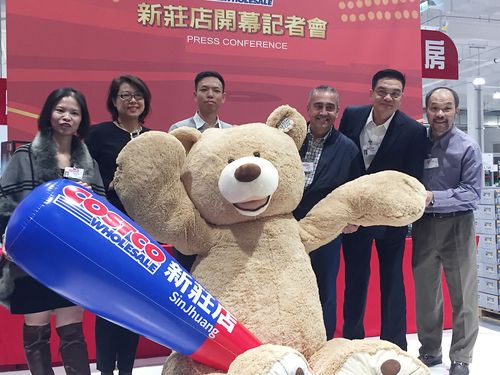 Taipei, Dec. 29 (CNA) Costco, an American membership-only wholesale club, said on Thursday that it plans to offer discounts to members at the opening of its new store in New Taipei's Xinzhuang District instead of free breakfast and gifts as it did in the past.
This will be the first time Costco has not offered free breakfast and gifts at the opening of a new outlet in Taiwan. The decision is intended to prevent a traffic jam in the vicinity of the new Xinzhuang store when it opens on Jan. 7.
In April, the wholesale operator opened a store in the Taipei suburb of Beitou, the 12th outlet for Costco in Taiwan and the fourth in Taipei and New Taipei. Its offering of free breakfast and gifts attracted a great number of members who lined up before the store opened, causing serious traffic congestion , which prompted police to impose traffic controls.
Chao Chien-hua (趙建華), an executive at Costco Taiwan, said that the Xinzhuang store will provide exclusive incentives to members who shop there on the opening day, including up to 50 percent off selected products, such as U.K. made detergent, scallops from Hokkaido and food supplements.
Chao said the new outlet will work with Fu Jen Catholic University, which is nearby, to help visitors locate the parking lot as quickly and conveniently as possible.
The new store has more than 650 parking spaces for cars and over 220 for motorcycles, according to Costco Taiwan.
The Xinzhuang branch will be the 13th Costco outlet opened in Taiwan since the big-box wholesale hypermarket operator arrived in the country in 1997.
The new store, will have a floor area of about 13,200 square meters and be the tallest Costco in Taiwan with five floors above ground and one underground.
Chao said that the Xinzhuang branch will be Costco's first green building in Taiwan as it was built using recyclable materials and is equipped with solar energy panels on the roof. The executive said that the new store's LED lighting meets 95 percent of its total lighting needs.
As of the end of last year, Costco had 2.6 million members in Taiwan, which has a population of 23 million, with membership renewal as high as 90 percent.
(By Chen Cheng-wei and Frances Huang)enditem/AW