Over 30 central banks include yuan in their foreign exchange reserves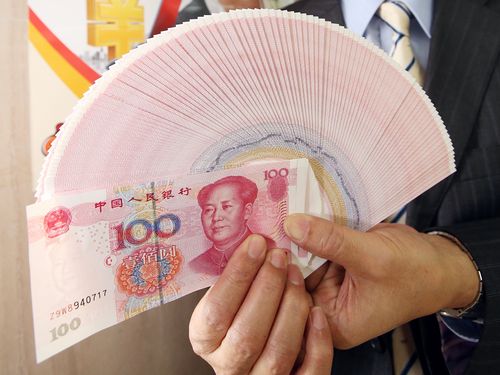 Shanghai, Nov. 29 (CNA) More than 30 central banks in the world have included the Chinese yuan in their foreign exchange reserves, indicating that the currency is gaining importance in the global market, according to China's state-run Economic Daily.
Hu Xiaolian, deputy governor of the People's Bank of China (PBOC), was cited by the report as saying that after China's efforts to boost the global visibility of the yuan, more than 30 central banks in the world had made the currency part of their forex portfolios as of the end of October, while a total of 28 central banks have signed bilateral currency swap agreements with the PBOC.
Due to the closer ties with other central banks in the world, the trading volume through currency swaps has topped 3 trillion yuan (US$489 billion), Hu said.
Hu added that 169 offshore institutions had participated in yuan trading of the China banking system as of the end of October.
In addition, 16 Chinese financial institutions had issued 105.5 billion yuan worth of bonds overseas, while foreign enterprises had sold 500 million yuan in bonds in the China market, Hu said.
Amid the PBOC's yuan globalization efforts, Hu said that the bank had signed agreements with 12 of its counterparts in the world in the yuan clearing settlements as of the end of October.
Taiwan is one of the 12 countries or regions to sign an agreement to set up a yuan clearing mechanism. The cross-strait agreement was signed in late August 2012 before the local central bank lifted a ban to allow banks in Taiwan to conduct yuan-denominated transactions, including deposits, lending and remittances, in February 2013.
In October, yuan-dominated remittances through the Taiwan banking system hit a new high of 200.44 billion yuan, up more than 62 percent from a month earlier, as Taiwanese investors rushed to send their yuan overseas in preparation for the Shanghai-Hong Kong Stock Connect trading platform, which kicked off Nov. 17.
While building closer ties with China, Taiwan is gearing up to transform itself into an offshore yuan trading hub.
Economic Daily cited Hu as saying that the PBOC has stopped its regular intervention in the China foreign exchange market, so the yuan has been moving in a larger range, either upward or downward, against the U.S. dollar.
She said that the PBOC is determined to push for financial liberalization in a bid to allow the yuan and domestic interest rates to fluctuate based on market reality.
(By Kao Chao-fen and Frances Huang)enditem/cs