Taiwan issues sea warning for Typhoon Haikui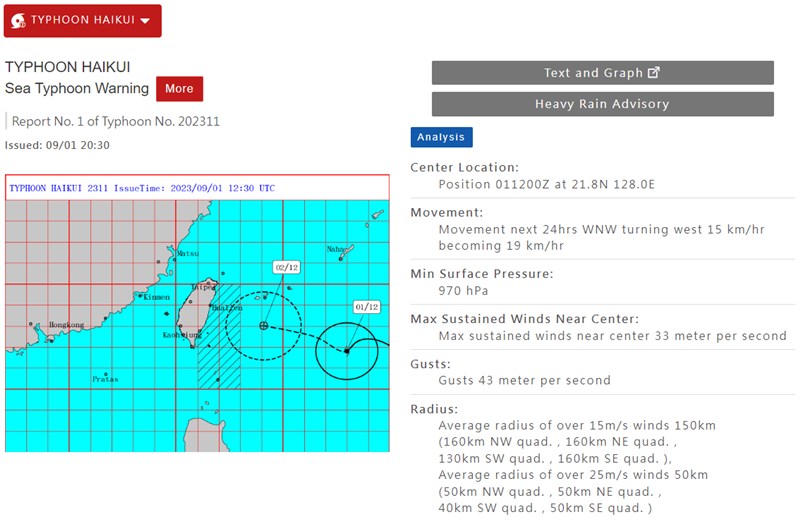 Taipei, Sept. 1 (CNA) The Central Weather Bureau (CWB) issued a sea warning for Typhoon Haikui at around 8:30 p.m. Friday, as its storm circle approaches waters to the east of Taiwan and the Bashi Channel.
As of 8 p.m. Friday, the eye of Haikui was located 730 kilometers east of Taiwan's southernmost tip, Eluanbi, and was moving west-northwest turning west at a speed of 15-19 kilometers per hour, with sustained winds of 119 kph and gusts of up to 155 kph, CWB data showed.
Due to the approaching Haikui and the effect of its periphery, Taiwan could experience heavy rain from Saturday to Sep. 6, according to the CWB.
From Sep. 7 to Sep. 8, Taiwan will still see rain under the effect of a low-pressure zone, the CWB said.
Lu Kuo-chen (呂國臣), director of CWB's Weather Forecast Center, told CNA Haikui was forecast to make landfall in eastern Taiwan before affecting the entire country.
A land warning is expected to be issued between early Saturday to Saturday morning, he added.
Lu said that Haikui was likely to slow down as it moves across the Taiwan Strait, which will result in Taiwan being affected by the typhoon for a longer period.
According to the announcements made by local authorities as of 10 p.m. on Friday, all schools and offices will remain open on Saturday.
➤ Please visit the Central Weather Bureau's website for the latest information; Directorate-General of Personnel Administration website for announcements of school and office closures across Taiwan.
Related News
Sept. 1: Ferry services, art and cultural events to be disrupted by Typhoon Haikui
Sept. 1: Flights canceled as Typhoon Haikui approaches Taiwan